People of action around the globe
El Hondo is home to 172 species of birds, including the marbled teal and the white-headed duck.
Uruguay
In March, the Interact Club of Rivera Frontera de la Paz converged on an empty parcel behind the local sports stadium and cleaned up the garbage that had accumulated there. The 14 high school students, joined by members of the Rotary clubs of Rivera Fortín and Rivera Chico as well as community residents, spent five hours scouring the lot. Their participation in the #Trashtag Challenge — a global social media initiative to encourage volunteers to pick up litter — yielded 15 large trash bags filled with garbage, says club member Maria Rosano, who has since turned 18 and joined Rotaract. "Maybe it was a small change, but the small things can make a big difference."
Spain
Members of the Rotary Club of Elche-Illice, along with their families and friends, took a walk on the wild side during an excursion to El Hondo Nature Reserve and the Pusol School Museum, both of which are financially supported by the club. The visit, in November 2018, was fun but also educational. "Especially for our children, they are wonderful places to visit and learn the history of our environment," says club member Jesús Macario. The 45-member club participates in about 20 projects each year. Recent efforts include the purchase of an ambulance in Lebanon with a club there and assistance to a school serving disadvantaged children, he says.
Uganda
Since 1999, the Rotaract Club of Mbarara University of Science and Technology has supported the 40 visually impaired pupils at St. Helen's Primary School. The Rotaractors have held holiday parties and donated food, toiletries, and school supplies, including low-cost manila paper for Braille typing machines. In 2018, club members learned that only two of the school's machines were functioning properly, with two more frequently breaking down and 12 units not working at all. New machines cost $800 or more, but the club located one of Uganda's few specialists in Braille machine repair, who refurbished 14 Perkins Braillers manual typewriters.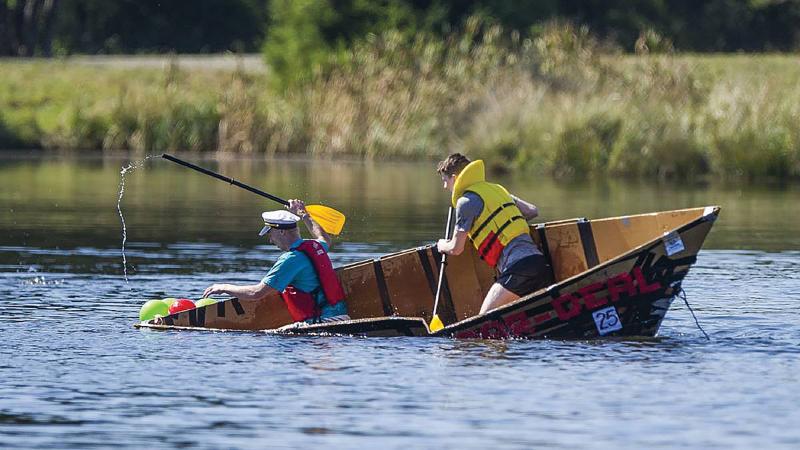 The earliest form of cardboard was produced in 17th-century China.
Australia
Combining friendly competition and community festivities, the Soggy Bottom Regatta Family Fun Day staged by the Rotary Club of Youngtown has raised more than $30,000 for charity in the past three years. This year, more than 200 contestants crafted boats and paddles using only cardboard and duct tape (those who wished to avoid getting wet had the option of participating in a "dry" footrace) and met at Waverley Park Lake in March. Prizes were awarded for creativity, team spirit, team garb, and design, with boat size limited to roughly 5 by 8 feet. "Teachers, parents, coaches, children, and families continually come up to members of our club and applaud us for an innovative and family-friendly event," says Youngtown club member George Manifold. "It is a feel-good event." Every year, some of the money raised has gone to funding mental health research, providing scholarships for rural medical and nursing students and indigenous students interested in health issues, and supporting a variety of general health research projects. The club has also used a portion of the proceeds to purchase insulin pumps and fund mental health initiatives for young people.
Lebanon
With role-playing and rolls of a die, 120 students at two schools in Saida honed their skills of empathy and cooperation by developing and playing a classroom game centered on Rotary's values. The Rotary Club of Saida led the anti-bullying project. Teachers, students, and Rotarians worked together to design the game, tailored to the sixth and seventh grades. Part board game with cards and game pieces, part charades, the game features superheroes dreamed up by the students. The goal is "to have fun taking up challenges as a team while testing their knowledge of the skills of a peacebuilder," says Ghada Ayoub, club president and project leader.
— BRAD WEBBER
• This story originally appeared in the November 2019 issue of The Rotarian magazine.