People of action around the globe
Spain's homeless shelters housed an average of more than 18,000 people daily in 2018, up 32% from 2014.
Spain
In January 2019, the Rotary Club of Mijas International implemented a project to provide food and warm clothes to homeless people, but after the club members learned that many of those people could not eat the food because of the poor condition of their teeth, they mobilized a team of dentists who provided some of the people with dentures. This January, the Rotarians saw the fruits of their efforts when they delivered bags of food to 30 homeless people, says Mario Bravo, club president. "The club is very grateful for the way dentists and technicians contributed to this worthy cause," he says.
United Kingdom
Members of the Rotary Club of Hitchin Tilehouse pitched a ShelterBox tent and braved near-freezing temperatures for an overnight campout designed to call attention to the international disaster response organization, which is a Rotary project partner, and the plight of local people in need. "There was a lot of interest from those passing by," says David McIntosh, one of the seven Rotarians who set up camp on the town square of Hitchin on 30 November, shortly after the town turned on the lights on its Christmas tree. In all, the club raised about $1,300 to help displaced people in the area and abroad.
Kenya
The Rotary Club of Nairobi Madaraka converted a local primary school's staff room into a library for the students. Teachers and administrators were happy to give up their space: "They understood the value of fostering a reading culture," says Sarah Maingi, the club's president. The club hired local carpenters to construct reading tables, benches, and bookshelves that can hold about 2,000 books. Members of the Rotaract Club of University of Nairobi Afya transported the furnishings. A local publisher donated 10 boxes of books, and the library opened in October. The club's contribution — roughly $2,000 — was funded in part by a golf tournament.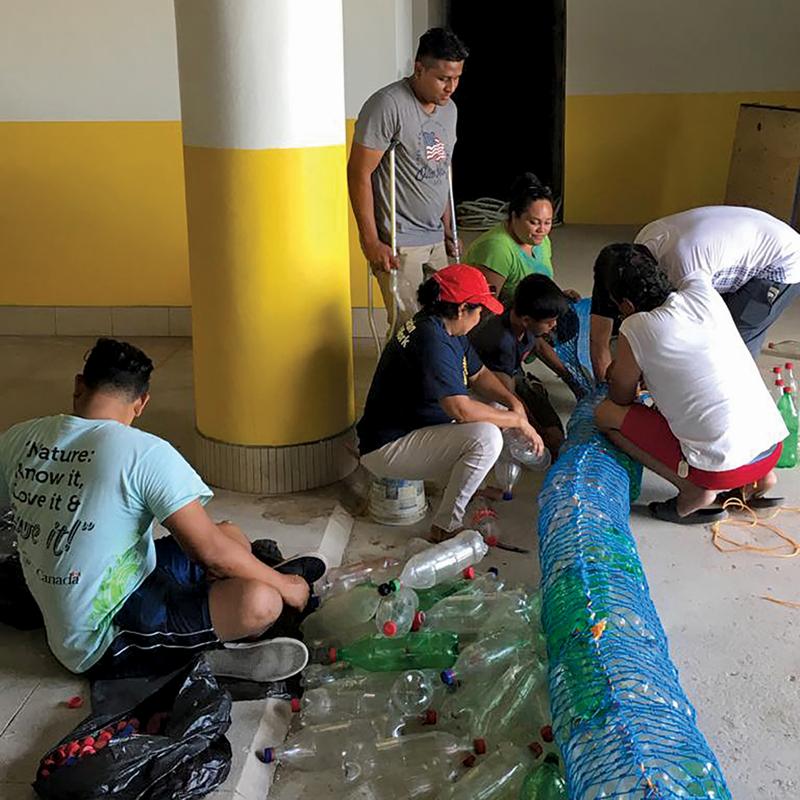 Belize
A 300-foot-long "bio-barrier" snaked its way through the town of Benque Viejo del Carmen in December as Rotarians and other volunteers hauled it to the Mopan River, where it now traps refuse that otherwise might make its way into the Caribbean Sea. An initiative of the Rotary Satellite Club of San Ignacio Benque Viejo, the bio-barrier — a loop net filled with some 1,000 recycled 1.5-liter plastic bottles — captured 130 pounds of garbage, much of it polystyrene foam, diapers, and plastic bags, over a two-day period shortly after its installation.
Anita Ochaeta, a club member, solicited the advice of the Ministry of Environment and Natural Resources in neighboring Guatemala, which donated the nets and rope and trained club members on the barrier's assembly and placement. Community members and a local company supplied the empty bottles. Besides boating across the Mopan periodically to collect the garbage, the Rotarians monitor the surface barrier, which is expected to last about a year before it needs to be repaired or replaced. "We hope that through this project, we can sensitize our communities about how much garbage we produce and what damage we cause when we do not properly dispose of it," says Carmencita Sosa, satellite club chair.
Evidence in Egypt suggests bowling may have existed in 3200 B.C.
Bahrain
For many years, the Rotary Club of Sulmaniya has supported programs for people with physical and mental disabilities. In October, the club sponsored a bowling tournament for 24 youths in Manama. Members of the Bahrain Paralympic Committee were on hand to demonstrate pro techniques and inspire the children, many of whom are blind or have Down syndrome. About 30 Rotarians, also representing the Rotary clubs of Manama and Adliya, greeted the participants, joined them for a meal, and bowled with them. "We encouraged the youths to have fun and showed them anything is possible," says Sulmaniya club member Faisal Juma.
— BRAD WEBBER
• This story originally appeared in the May 2020 issue of The Rotarian magazine.