People of action around the globe
Salvadoran per capita spending on health care was $293 in 2016, compared with the world average of $1,026.
El Salvador
Mustering assistance from doctors, dentists, nurses, and U.S. Rotarians, the Rotary Club of Santa Ana, El Salvador, conducted a five-day medical mission that provided free health care to more than 4,000 people from a region surrounding Santa Ana, the country's second-most populous city. From 30 June to 4 July, the Salvadoran and American volunteers screened patients for general medical, pediatric, cardiologic, psychological, dental, and vision needs. They also provided medications and prescription glasses, and referrals for follow-up care as needed. Area mayors coordinated transportation for patients, and El Salvador's Second Infantry Brigade provided logistical support.
Sweden
As part of a trend that combines exercise and environmental awareness, 15 members of the Rotary Club of Stockholm International and five family members converged on a city island, Långholmen, for an up-tempo park cleanup. The plogga — a Swedish portmanteau of plocka (to pick up) and jogga (to jog) — yielded 14 bags of trash in about an hour during the April outing, says Anthony Pearce, a club member. "Day by day, we have seen our streets and woods piled up with trash," says Pearce. "We had to do something about it." The club inaugurated its plogga pledge in 2018 after a visit to the club by a founder of the fleet-footed movement.
Hungary
For the Rotary Club of Budapest-Center, support for children undergoing bone marrow transplants has become a long-term commitment. Since 2015, the club has donated equipment including an industrial clothes dryer, 11 computers, and funds toward reconstruction of Démétér House, which provides lodging for patients of Budapest's Szent László Hospital and their relatives. The facility has been home to as many as 40 families a year. The young patients, on average, spend more than a month undergoing treatment. In tandem with the Démétér Foundation, the Budapest-Center Rotarians have also organized programs such as a Halloween party and an Easter egg hunt for the children.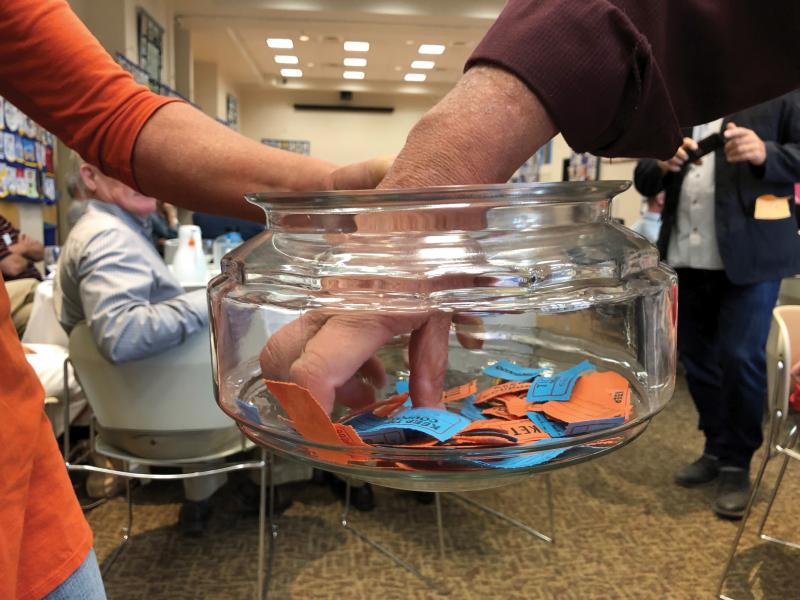 United States
Every week, the Rotary Club of Summit County (Frisco), Colorado, offers $5 raffle tickets for sale. The winner receives one-third of the total money raised that week. One-third helps fund a three-week trip across the southwestern United States for the two visiting exchange students that the club hosts annually. The final third goes toward "the big pot," which is distributed only if the weekly winner draws the ace of spades from an ever-shrinking deck of cards. The big pot had grown over nearly a year to a record $7,000 the week Bob Ashley drew the ace.
A month after his windfall, Ashley announced that his jackpot had funded two $1,000 gifts to charitable projects. He then distributed 100 envelopes, each with a $50 bill, to club members, with the instruction that they direct the money to a cause outside their normal spheres of giving. Inspired, members promised to match Ashley's $50 with $50 of their own for their various causes. "It became the unspoken rule: 'Heck yeah, we can match it,'" says club member Stu Dearnley. "It was extraordinary — the coolest thing to happen to our club." Topped-up donations went to a range of causes: ocean cleanups, tigers in India, guinea worm eradication, and search-and-rescue operations in the Summit County area, which is renowned for its ski resorts.
Japan
Tanabata is a festival celebrating the astrological tale of two lovers exiled to separate ends of the Milky Way. In the legend, Orihime and Hikoboshi — the seamstress star and the cowherd star, respectively — are permitted to reunite only once a year, ushering in a period when the country is resplendent with colorful floats, lanterns, balloons, and paper scrolls inscribed with wishes. The Rotary Club of Sagamihara Hashimoto used the festivities to raise money and awareness for End Polio Now. Working with members of other local clubs, the Rotarians collected about $12,000 over three days of the Hashimoto Tanabata Festival in Sagamihara in August.
Kanagawa prefecture in Japan has about two temples for every 10,000 people.
— BRAD WEBBER
• This story originally appeared in the January 2020 issue of The Rotarian magazine.