People of action around the globe
About $8 billion was spent on prosthetics and orthotics globally in 2017.
Mexico
In Mexico City, the Rotary Club of La Villa Ciudad de México partnered with MediPrint Mexico, a 3D-printed prosthetics manufacturer, to supply limbs to give people newfound mobility. "We have already delivered two prostheses," notes club member Laila Irene Sánchez Medrano. One recipient was Alberto Gutiérrez Rojas, a member of the Rotary Club of Alameda-Ciudad de México, whose leg was partially amputated because of complications from diabetes. The two Rotary clubs collaborated on fundraising for Gutiérrez's prosthesis. The La Villa club remains engaged in fundraising, with the aim of delivering more prostheses to people who need them.
Paraguay
With hard work and about $500, the Rotaract Club of Asunción converted a patch of a garbage-strewn field into a vegetable plot designed to teach disadvantaged teens about sustainable agriculture. In March, a team from the club met at the field outside the Don Bosco Róga educational center, a Salesian Missions facility in Lambaré serving children and adolescents. They tilled soil and planted crops. Rotaractor Nery Vera, who directed the effort, says the project nurtured teamwork and raised awareness about a healthy and nutritious diet, among other benefits.
Tanzania
During rainy season in Marangu, a village in the southeastern foothills of Mount Kilimanjaro, the rivers overflow, cutting off access to markets, schools, and hospitals. The dearth of pedestrian crossings has led to many drownings. To address this, members of the Rotary Club of Marangu have overseen the construction of a dozen bridges since 2012. "Our members identify areas that look as though they could do with a new footbridge and meet with the local village elders to ascertain needs," says club member Jackie Brice-Bennett. After the crossings — at a cost of about $4,000 each — are constructed, the villages take responsibility for maintenance, Brice-Bennett says.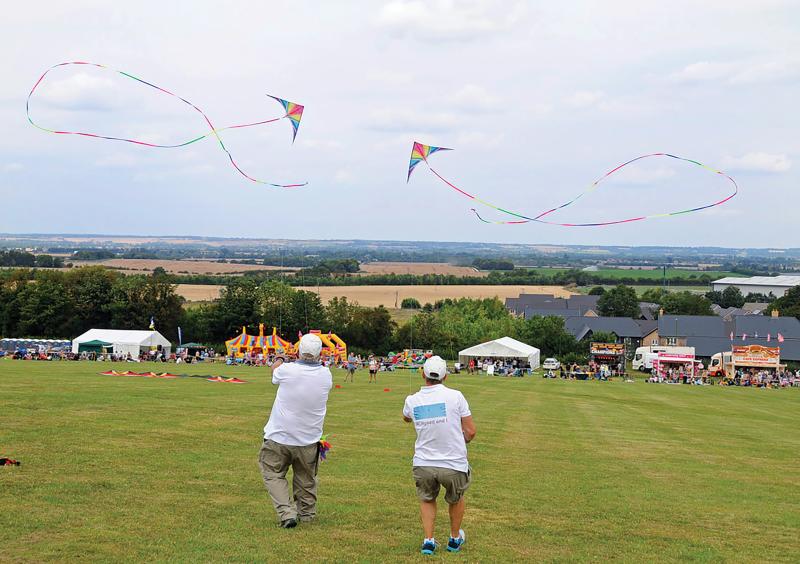 United Kingdom
In August, some 5,000 kite enthusiasts — flyers and fans alike — assembled at Therfield Heath, a chalk grassland habitat, in Royston, Hertfordshire, their eyes on a horizon alight with brightly colored kites. This was the 19th such festival unspooled by the Rotary Club of Royston; the event itself dates back another decade. A modest entry fee of about $4.50 for adults — children 14 and under attended free — raised about $9,000. The majority went to Acorn House, which provides accommodation to families of children admitted to Addenbrooke's Hospital in Cambridge. Families enjoyed picnics on the grass while watching the professional kite flyers, and kids had the chance to make and fly kites of their own. "The event has become a regular fixture in the social life of the town, and it's the 36-member club's biggest fundraising venture," says club member Neil Heywood. "Running the festival is very much a team effort, involving practically every member." Every year a member serves as event manager, while others take responsibility for signage, managing booths, parking, and physical facilities. Last year's event also included a display of vintage vehicles and a teddy bear parachute drop that organizers hailed as a "fur-raising experience."
The Philippines' doctor-to-population ratio is 1 to 784.
Philippines
The Rotary Club of Manila Magic and the Rotaract Club of Manila inaugurated monthly medical visits at a child care center in Tondo, one of their city's most crowded and hardscrabble slums. The program, begun in October 2018, taps volunteer professionals, including five doctors led by Lee Roi Buenaventura, a club member. They are joined by two Rotaractor nurses and three dentists who are members of the Rotaract Club of University of the East, College of Dentistry. Hundreds of patients have benefited from the visits and from medicines purchased by Rotarians and their families.
— BRAD WEBBER
• This story originally appeared in the February 2020 issue of The Rotarian magazine.