Hundreds attend peace summit
Peacebuilding Summit highlights the many Rotary programs that are helping to build a more peaceful world
By Geoff Johnson Photos by Alyce Henson
Nearly a thousand Rotarians, Rotaractors, and other peace leaders from around the world gathered Friday to discuss the power of peace at the Rotary Peacebuilding Summit.
RI President Ian H.S. Riseley, who has made peace a focus of his term, opened the summit at the Metro Toronto Convention Centre.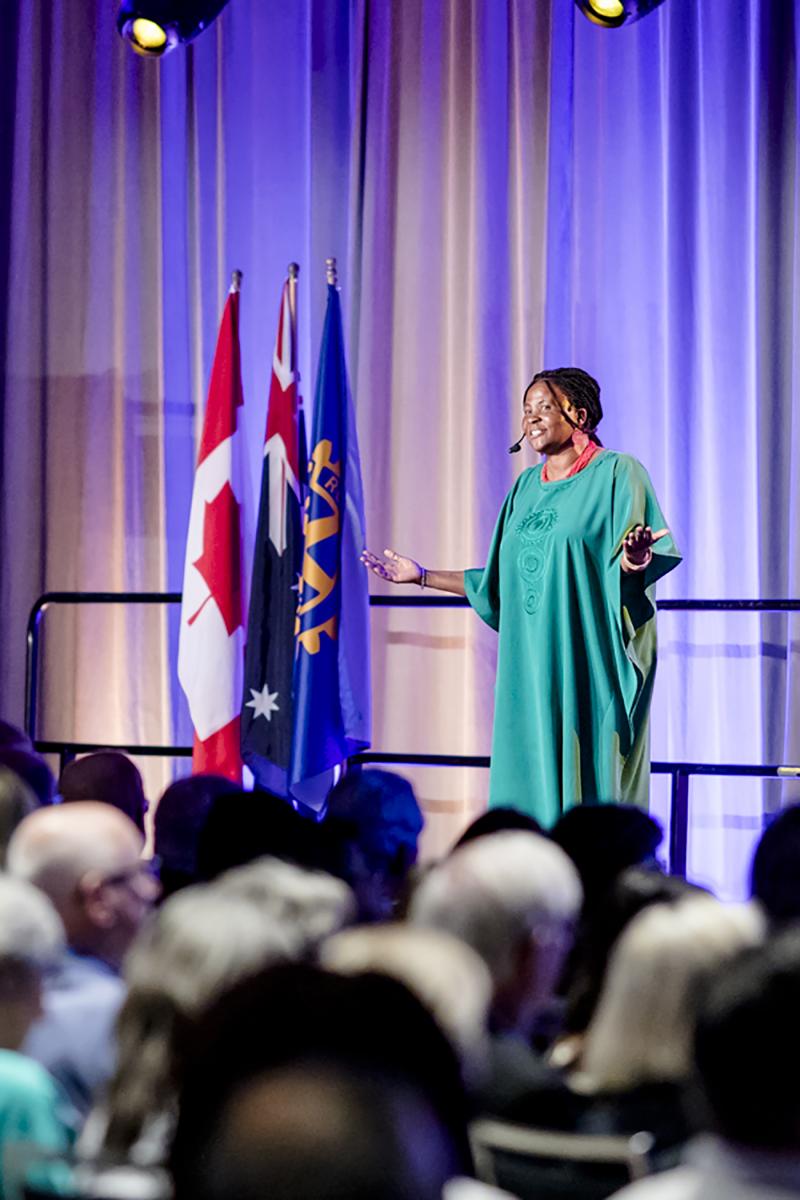 More than any other organization, Riseley said, "Rotary is uniquely positioned to make a difference on peace in this world."
Stressing the importance of both peace and the environment, Juliet Riseley challenged Rotarians to stand apart from others and serve as "strong mediators for, and stronger advocates to build, peace."
The summit precedes the Rotary International Convention, which starts Saturday.
Four other peace advocates spoke at the daylong summit: Stephanie Woollard, who created Seven Women; Dr. Tererai Trent, founder of the Tererai Trent International Foundation; Celina Caesar-Chavannes, parliamentary secretary to Canada's minister of international development; and Mike Akpata, Canadian Armed Forces Reserve veteran and town councillor in LaSalle, Ontario, Canada.
Each of them gave lessons in peace that resonated beyond the Canadian conference hall.
Trent, an author who was born in Zimbabwe and is known for her appearances on "The Oprah Winfrey Show," described how she overcame poverty and spousal abuse to earn a doctorate in the United States.
"All I wanted was an education," she said. Now her foundation helps thousands of African children attend school. "Education is the catalyst to peace and the pathway out of poverty,."
Caesar-Chavannes described Canada's efforts to make girls and women into "powerful agents of change, peace, and development." She told stories of how women worldwide have been forceful and effective leaders in resolving conflict. "Empower women and girls," she said, "and they are a force for good."
Twelve years ago, on her fifth visit to Nepal, Woollard discovered seven disabled women living in a tin shed. Since then, she and the organization she founded, which is now run by the women she first helped, have improved the lives of thousands of other Nepalese women by training them in trade skills and fostering their self-determination. "Once you empower people," she said, "you can't take that away from them."
Akpata brought the audience to its feet as he issued an impassioned plea: "Don't just dream your ideas; action them. Send a message of 'We can.'"
Akpata discussed his deployment to Afghanistan and was nearly in tears as he recalled the deaths of fellow Canadian soldiers. "One of the things that combat teaches you is what peace is about," he said.
The summit also included a dozen breakout sessions on the various ways Rotary and others can build peace through education, grants, and partnerships.
Among the highlights:
• In the Peace Around the World session, representatives from six presidential peacebuilding conferences Rotary held in 2018 described the results of those meetings. Each focused on one of Rotary's other five areas of focus or the environment.
• Zachary Angelini, the manager of environmental stewardship for Timberland, the footwear and apparel manufacturer, described a sustainable development project in Haiti that showed how for-profit corporations can effectively partner with nonprofits.
• Jeremy Dias, founder of the Canadian Centre for Gender and Sexual Diversity, spoke about ways to counter the effects of bullying.
Music and dance played an invigorating part in the day's activities.
The summit opened with Red Sky Performance, a Canadian group that mixes indigenous dance, theater, music, and other media. Blending the modern and the traditional, they concluded with a choreographed routine by Dallas Arkand, the three-time world champion of hoop dancing.
Aaron Blomme, a former Rotary Ambassadorial Scholar, used a 100-year-old violin crafted in a World War I prisoner-of-war camp to play "Liebesleid" ("Love's Sorrow"). Deborah Hui accompanied him on piano.
And in a rousing collaboration with hundreds at the summit, the four members of the Drum Cafe led the crowd in a "symphony of peace groove," which had the crowd rhythmically thumping and raising colorful Boomwhackers — long, differently pitched plastic tubes — and shouting, "Make peace happen!"
The Rotary Peacebuilding Summit continues Saturday with speeches from David Morley, president and CEO of UNICEF Canada; Michelle Breslauer, program director in the Americas for the Institute for Economics and Peace; and Muyatwa Sitali, a Rotary Peace Fellow alumnus.