Our World
A practice of peace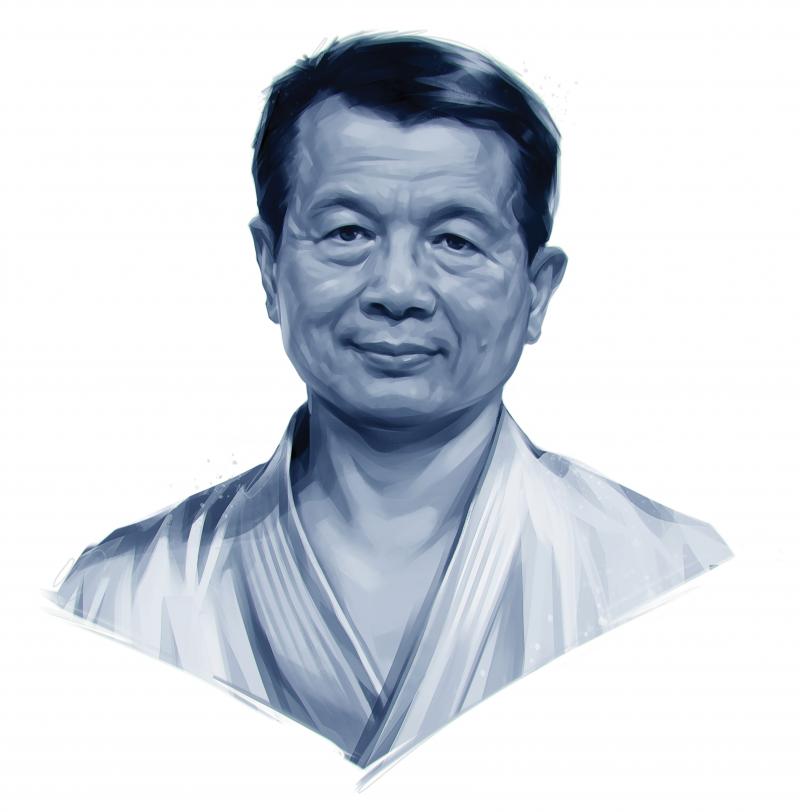 In a glass-enclosed dojo in the northern Thai city of Chiang Mai, Sombat Tapanya teaches children the principles of peace through aikido. Tapanya, a psychologist who has specialized in childhood trauma, has put to use insights he gained as a Rotary Peace Fellow at Chulalongkorn University in Bangkok in 2016.
Throughout his academic career, Tapanya focused on anti-bullying efforts, violence prevention, and helping people who were abused as children improve their parenting skills. Now retired from Chiang Mai University, where he taught behavioral science to medical students, he runs a small nonprofit, the Peace Culture Foundation, which promotes peace in the community.
He also continues his work with local government agencies and global organizations, most recently with UNICEF Thailand and the University of Oxford as a principal investigator on a project to teach better parenting skills. And he has worked on the Mekong Project, which trains therapists from throughout Southeast Asia in how to effectively treat the lifelong effects of childhood trauma.
THE ROTARIAN: What is the idea behind the Peace Culture Foundation?
TAPANYA: If we create a culture within the family and in schools that says using violence against others is OK, that leads to abuse. It would be more beneficial to create a culture of peace, where you treat others with respect, kindness, and empathy, as opposed to being No. 1 at the expense of others. That's something we feel we need to instill in children. Aikido is part of that.
TR: How can a martial art teach peace?
TAPANYA: Aikido is a physical manifestation of the principles of respect, kindness, compassion, and being in harmony with others. The movement of aikido is all about blending, not clashing, opposing, or struggling. There is no competition; it's about maintaining your center and balance, and we emphasize the spirit of loving protection. You don't teach students to punch or kick; you teach them how to deflect and control and manage aggression without the intention to harm. We can use that metaphor in daily interaction: knowing when to stop before you hurt someone but to be assertive at the same time, not allowing people to step all over you. Being assertive, but not aggressive.
You teach them how to deflect and control and manage aggression without the intention to harm.

— Sombat Tapanya

TR: When did you discover aikido?
TAPANYA: I started studying aikido in my late 20s in Connecticut, where I was in graduate school. Before that I did Thai boxing and judo. But when I hit another guy, I feel the pain, so I didn't enjoy boxing. And judo was really competitive. When you lose, you feel sorry for yourself, and when you win, you feel sorry for the other guy. I'm not a very competitive person, so when I found aikido, I liked it right away.
TR: What can we learn from your recent work on bullying prevention?
TAPANYA: In collaboration with the Thai Ministry of Education and the Rak Thai Foundation, the Peace Culture Foundation did a national survey on school bullying. The preliminary results are very similar to what I found 10 years ago, which is that 40 percent of Thai kids are bullied on a regular basis. The most frequent form of bullying is verbal. That can be very hurtful if repeated, and it usually comes with peer rejection. If it becomes prevalent and part of the school culture, it creates a culture of disrespect.
That's why it's important to promote a respectful culture. The Peace Culture Foundation is developing a program called Cultivating Peace Culture in School. It will be a three-year project in a small elementary school near my dojo. Teachers and parents will learn about positive discipline and bullying prevention, and we will start an aikido club at the school.
— ANNE STEIN
• Illustration by Viktor Miller Gausa
• This story originally appeared in the August 2020 issue of The Rotarian magazine.
Sombat Tapanya, Founder of Peace Culture Foundation in Thailand and Rotary Peace Fellow 2016 teaches children the principles of peace through aikido.