Our World
Flight path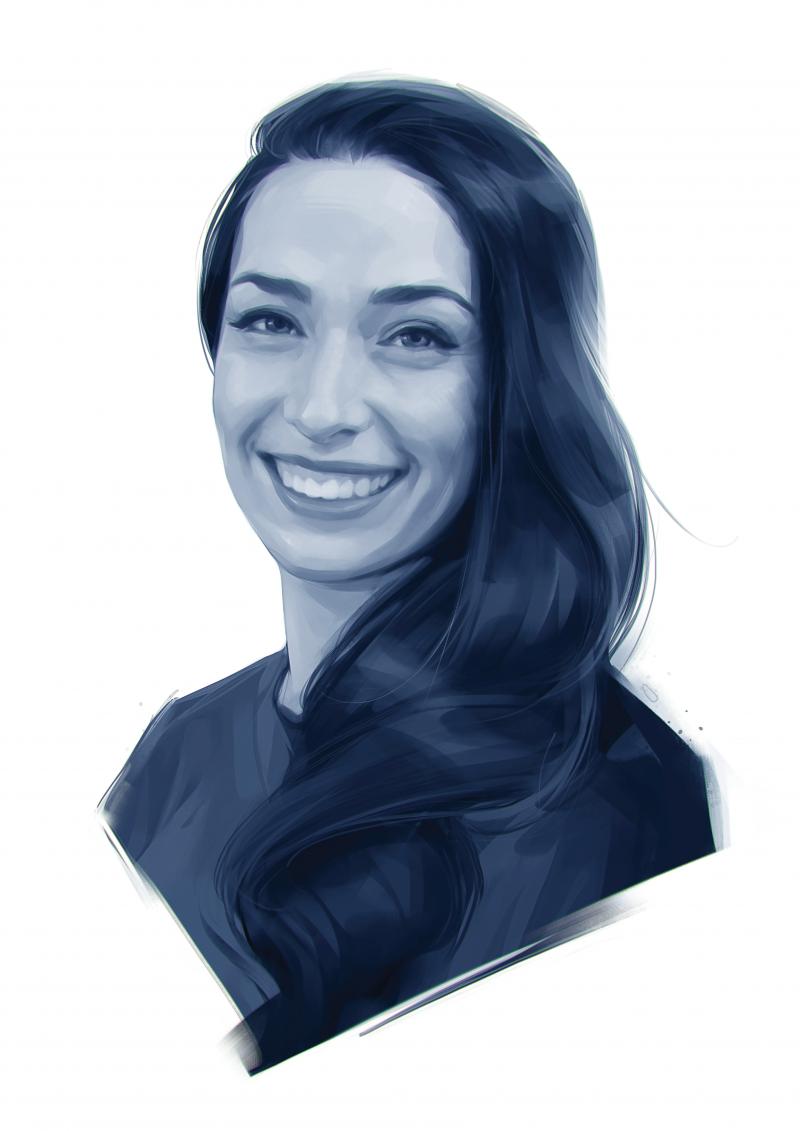 Sarah Tuberty is used to strangers asking her personal questions. "I have a limb difference," she says. "I was born 'missing' fingers on my left hand." She understands that many people think this makes her damaged or lacking. They ask what's wrong with her. Tuberty, a Rotary Youth Exchange alumna and a member of the Rotaract Club of Boston University Sargent College of Health & Rehab, wants them to see that that difference doesn't make her lesser. She has made advocacy a part of her life. As a flight attendant and, as of December, a registered occupational therapist, she wants to educate people who may not have encountered people with disabilities in their everyday lives, and she wants to help those with limb differences find ways to adapt. She has trained to be an aerial artist, performing acrobatics while hanging from fabric and ropes, and she hopes to integrate aerial arts into her occupational therapy practice.
THE ROTARIAN: How does your limb difference affect how people treat you?
TUBERTY: People ask what happened. I'll say I was born this way. And for some reason, people don't like that answer. They want to hear that there was an accident. Then they ask how I can do various things. There's a judgment that often comes with it, as if to say, "I don't know how you think you are ever going to do that." And the answer is, I do those things differently. When I am on the airplane doing my job as a flight attendant, people will ask, "How can you be here? How can you take care of these things?" The answer is that I can do these things. That's my job.
TR: Do you get tired of having to give an explanation?
TUBERTY: I have chosen to take on advocacy as part of my life, so I have chosen to explain myself. The questions can be exhausting, but people are curious and I want to educate them. People should think about it this way: If you ask a person about a disability, they should get to control that conversation and choose how much to talk about it. It's about their body and their identity.
If you ask a person about a disability, they should get to control that conversation.

Sarah Tuberty

TR: How did you get interested in circus and aerial arts?
TUBERTY: It happened when I started my graduate program in occupational therapy at Boston University. Given that school was going to be a very brainwork-heavy environment, I knew I needed to move. So I signed up for a class in the recreation department. And I fell in love with it. I was a ballerina for a long time in my childhood, so dance felt very natural. After two years, I did a performance my final semester at BU, and it was really the first time that I was proud of my body and how my body moved. I was able to think of myself as someone who is strong.
TR: How do you imagine integrating this into occupational therapy?
TUBERTY: Everyone always says do what makes you happy, and the aerial arts make me incredibly happy. I am not ashamed of my hand, though I spent a large part of my life feeling that way. I want to give that feeling to other people who have differences with their bodies or other disabilities. I especially want to work with young people. For them there is so much pressure about what their bodies look like. I'd love to work on building up self-esteem, so they can be proud of who they are. I was already looking for nontraditional ways that I could work in occupational therapy. I don't have a set path for this, but I'm really excited.
— HANK SARTIN
• This story originally appeared in the March 2020 issue of The Rotarian magazine.