Our World
Earl of sandwiches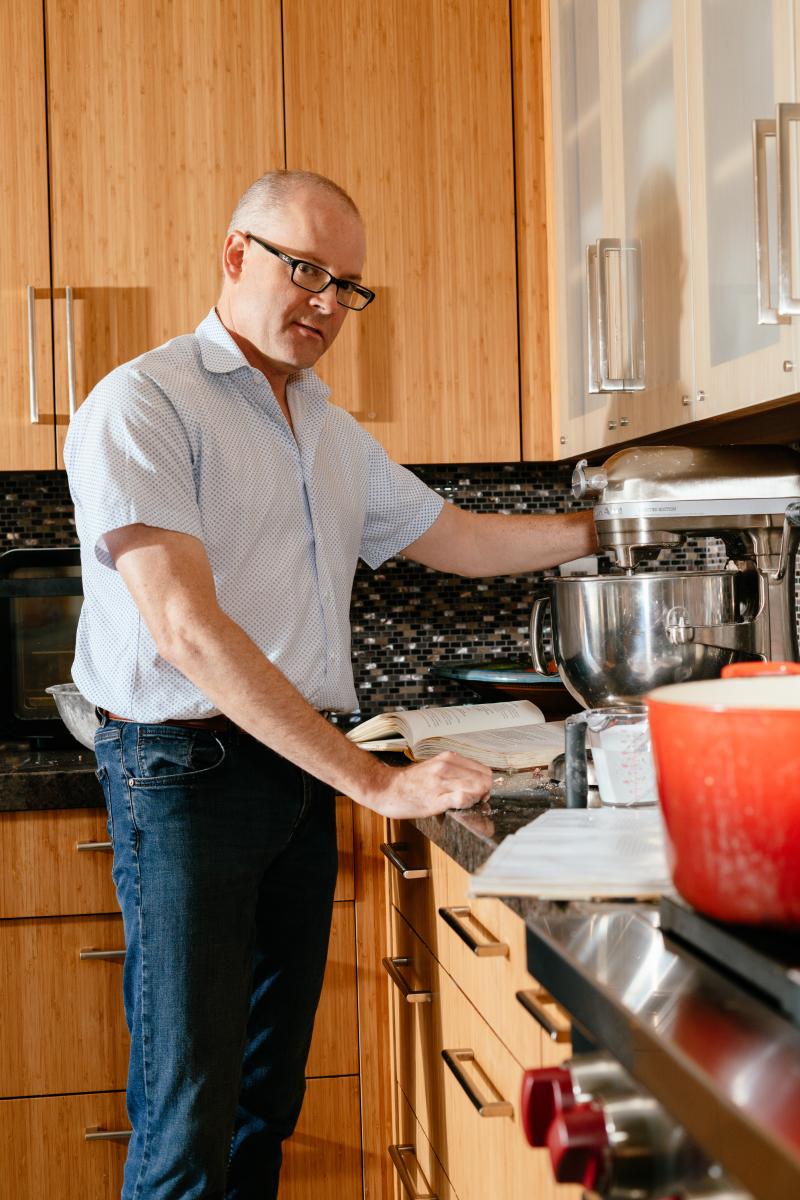 "Sorry, can't talk right now," Steve Carlson announces to all within earshot, and there's no need to ask why. He's frantically mounding home-crafted charcuterie onto a large serving platter, pausing just long enough to wedge another plate of high-end goat cheese into a 10-cheese spread. Farther down the 8-foot table, he has already arranged helpings of venison and cherry terrine, Tuscan cured salmon, four varieties of sourdough bread, several chutneys, and what he calls "the finest Reuben sandwiches this side of the Danube."
Carlson, a member of the Rotary Club of San Carlos, California, has prepared nearly all the dishes in this sumptuous gourmet spread, including the pastrami (lots of it), a product of teamwork with a fellow Rotarian who smoked it for 16 hours. About 120 guests are mixing and mingling between bites at his home on a bright September afternoon. They have paid $80 to attend this annual bash, and many have donated more. They know the funds will go toward transforming a dilapidated earthen ditch high up in the Atlas Mountains of Morocco into a sturdy concrete-lined irrigation aqueduct. The project will allow the people in the remote village of Ait Daoud to feed a steady flow of water to their crops.
In his 20s, as a Peace Corps volunteer, Carlson lived and worked in Ait Daoud, seven hours by car from Marrakech. He became conversant in the local dialect and developed a deep affection for the village and for the bighearted Berber culture that sustained it. "A wise elder, Si Abderahmen, told me, 'Always pack a warm lunch for the road,' " he recalls. "He said, 'I speak not of foodstuffs, but of generosity.' When you hike to a distant village as a nomadic Berber, he said, your reputation will precede you. Expecting and trusting you to be generous in return, people will welcome you into their homes to share their food, fresh from the fire."
That lesson of reciprocity had profound meaning for Carlson as he matured, married his wife, Suzanne, became the father of two boys, and chose a career in intellectual property law. At a meeting with his family's lawyer, who had Rotary plaques on his office wall, Carlson inquired about the organization and learned that it was a community of people who share his values.
"A wise elder told me, 'Always pack a warm lunch for the road.'"
And he never lost his itch to repay the Ait Daoud residents for their kindness to him. "I wanted to do a water project for the village, so I organized our first Reubens party in 2016 to raise funds. Suddenly I had almost $20,000 — now what?" he says. "But when I calculated the cost of building a functional aqueduct, it was like a punch in the gut. That is where the true power of Rotary kicked in."
Carlson went to Bay Area clubs and to the District 5150 assembly to talk about the San Carlos club's project in Morocco; he secured donations from more than a dozen clubs. With district designated funds and other contributions, they soon had $200,000.
When Carlson and his family went to Ait Daoud in December 2016 to see for themselves what needed to be done, their visit spurred the government to send a crew to build the first third of the aqueduct.
With Rotary support, construction of the next section of the aqueduct is underway. Inevitably there will be obstacles, but for a man who single-handedly turns out dozens of dishes for 100-plus guests, learns to speak Berber and Arabic, and persuades over a dozen clubs to help out with a project, creating an aqueduct out of a dirt ditch is duck soup.
— STEPHEN YAFA
• This story originally appeared in the February 2020 issue of The Rotarian magazine.