Rotary Youth Leadership Awards
Guide for our members
Rotary Youth Leadership Awards is an intensive leadership experience organized by Rotary clubs and districts where young people can develop leadership skills while having fun and making connections.
Interested in RYLA?
Rotary Youth Leadership Awards (RYLA) participants are nominated by Rotary clubs. Contact your local Rotary club to find out more about RYLA events in your area, how to apply, and any costs of getting involved.
How to plan a RYLA event
Download the RYLA Handbook to learn how to organize a planning committee, draft a budget, develop your program, and create an evaluation strategy.
How districts support RYLA
District governors, RYLA chairs, and district RYLA committees work together to plan events. Contact your district leaders to see how you can get involved.
Are you a district RYLA chair?
We can provide you with program updates, event ideas, promotional strategies, and the district RYLA chair directory to help you connect with your counterparts worldwide. Ask your district governor to report your role in My Rotary under Club and District Administration. Contact ryla@rotary.org for support.
Youth protection and risk management
The safety of young people is a top priority for any Rotary-related activity. All committee members and volunteers should attend a youth protection training seminar before holding a RYLA event. Visit the Youth Protection page on My Rotary or find our Statement of Conduct for Working With Youth and more information on student safety and risk management in the Rotary Youth Protection Guide (PDF). Take the online course Protecting Youth Program Participants in the Learning Center.
How to develop an innovative RYLA
Here are some ways to discover community needs:
Ask former participants, parents, teachers, and community leaders how your RYLA program can adapt to a changing world.
Focus on developing young leaders who celebrate diversity, create sustainable change, and become service-minded global citizens.
Offer a variety of RYLA experiences to different age groups.
Provide conflict resolution strategies alongside leadership training.
Emphasize professional development and connect participants with opportunities to serve the community through Rotary.
Combine leadership development and vocational training to help young people discover their potential and hone skills.
Include young people from underserved communities so they become local activists and create positive change.
Ask local experts to help your team make RYLA accessible to anyone with physical or cognitive disabilities.
Innovative RYLA events
Building communities

"Our Challenging Outdoor Personal Experience course includes group games, trust events, and ropes courses to teach RYLA participants leadership and problem-solving skills." — Sheila Rollins, past governor of District 7780 (Maine and New Hampshire, USA).

Fostering trust

A Rotary Youth Leadership Awards (RYLA) seminar brought together 23 participants from Germany and the Netherlands. "What I remembered the most was that we all felt proud to represent European values such as democracy, equality, and peace," said law student Cédric Schad.

Building connections

Rotarians in Gujarat, India built a leadership program after seeing that young executives wanted affordable training and mentors. More than 60 executives from 20 companies attended. The veteran executives established WhatsApp and email groups to continue their mentoring.
How to connect with Rotary
Connect with RYLA leaders, alumni, and the entire family of Rotary to share best practices and enhance your program:
That one week at RYLA shaped me in ways that are hard to describe, across all aspects of my personal and professional life. But most of all, I left with a raging desire to become a better leader and even move active and involved in my community.

Rhett Martin
Rotaract Club of Silverton, Oregon, USA
Promote your RYLA program
Customize promotional cards and posters with details about your program or download a RYLA banner from Rotary's Brand Center.
Work with Rotary's licensed vendors to design your own materials or buy supplies.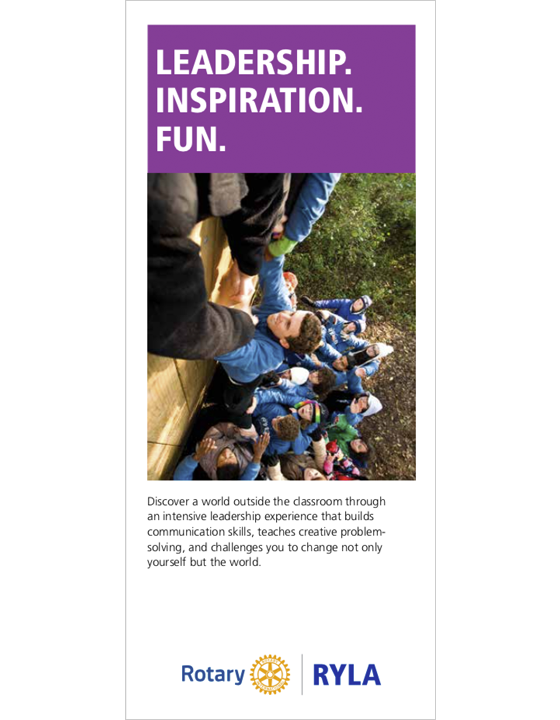 Keep RYLA alumni involved
Connect past RYLA participants with Rotary service, leadership, and travel opportunities:
Questions?
We're here to help. Email us.