New Generations Service Exchange
Guide for our members
Younger professionals can work with Rotary members to have unique vocational or community service experience through a New Generations Service Exchange.
How to develop a service exchange program
Rotary clubs can design great programs by matching members' skills and passions with professionals from different cultures. These steps can help you get started:
Interested in participating?
University students and professionals up to age 30 are encouraged to apply. You don't have to be a member of Rotary to participate. Contact your local Rotary club to see what exchange opportunities are available and what the application process involves.
Organize a group of interested Rotary members in your club or district.
Find out what skills, interests, and networks your group can offer to create a meaningful exchange.
Ask young professionals what type of service could improve their professional skills.
Decide on your goals for the program.
Craft a program that lasts from a few weeks to six months. It could be one-way or reciprocal, or for individuals or small groups.
To reduce expenses, consider providing homestay options, arranging no-cost internship or job-shadowing opportunities, and offering other financial assistance.
Promote your program and find districts to partner in an exchange.
How to emphasize service
A good exchange gives participants an opportunity to learn new skills and put them into action.
Invite participants to join your community service projects to develop their skills and create new relationships.
Expand a vocational training program to include international participants, and design ways for them to practice their skills through community service.
Incorporate an exchange activity into your next global grant project. Invite young professionals from the community to help out and receive training or learn about project management.
Plan a reciprocal exchange of younger professionals or Rotaract club members as part of an international service project. Ask participants to speak to your club about ways to develop stronger international partnerships.
Applications and program formats
There is no standard application form or program format. You have the freedom to create a program that suits the skills and interests of your members and participants, and the needs of your community.
Are you a district contact for New Generations Service Exchange? We can provide you with a district chair directory to help you connect with your counterparts worldwide. Ask your district governor to report your role in Rotary Club Central or email us.
How districts can support exchanges
District contacts for New Generations Service Exchange and district governors work with other districts to plan and implement exchange programs and to strengthen international networks. Contact your district leaders to see how you can get involved.
How to connect with Rotary
Successful exchange programs rely on strong networks of Rotary members, community partners, program participants, and alumni. Here are some ways to build connections:
This New Generations Service Exchange has ignited my flame for humanitarian service, one I hope will continue to burn brightly for many years to come.

Yannis Comino
Exchange alumnus who spent six weeks working at the ShelterBox headquarters. Read more
How to promote your exchange program
Customize promotional cards and posters with details about your exchange program or download a banner from Rotary's Brand Center.
Work with Rotary's licensed vendors to design your own materials or buy supplies.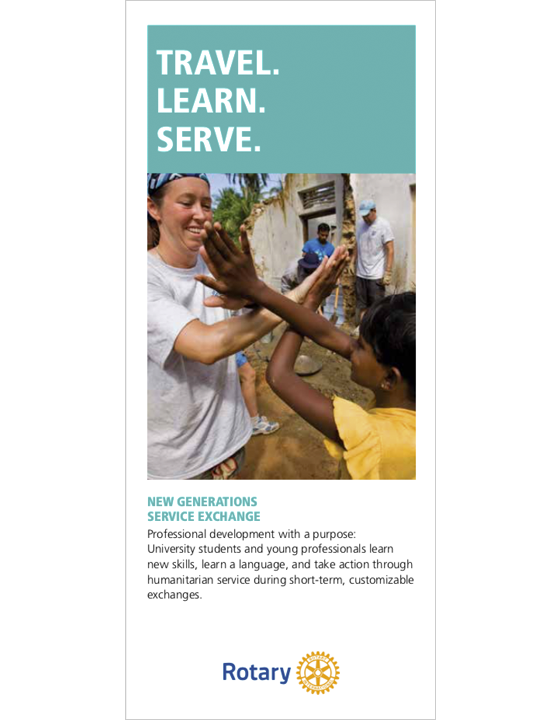 Keep exchange alumni involved
Whether participants are already part of the Rotary family or just discovering us, connect them to opportunities that will inspire them to stay involved:
Help alumni discover a new Rotary experience through Rotaract clubs, Rotary clubs, or Rotary Community Corps.
Encourage alumni to create a My Rotary account so they can share their experiences in a discussion group, subscribe to our newsletters, or network with other alumni.
Invite participants to talk about their experiences at your next club meeting or join a community service project.
Questions?
We're here to help. Email new.generations@rotary.org.