Our Clubs
Up to the challenge
Rotary Club of Phnom Penh Metro, Cambodia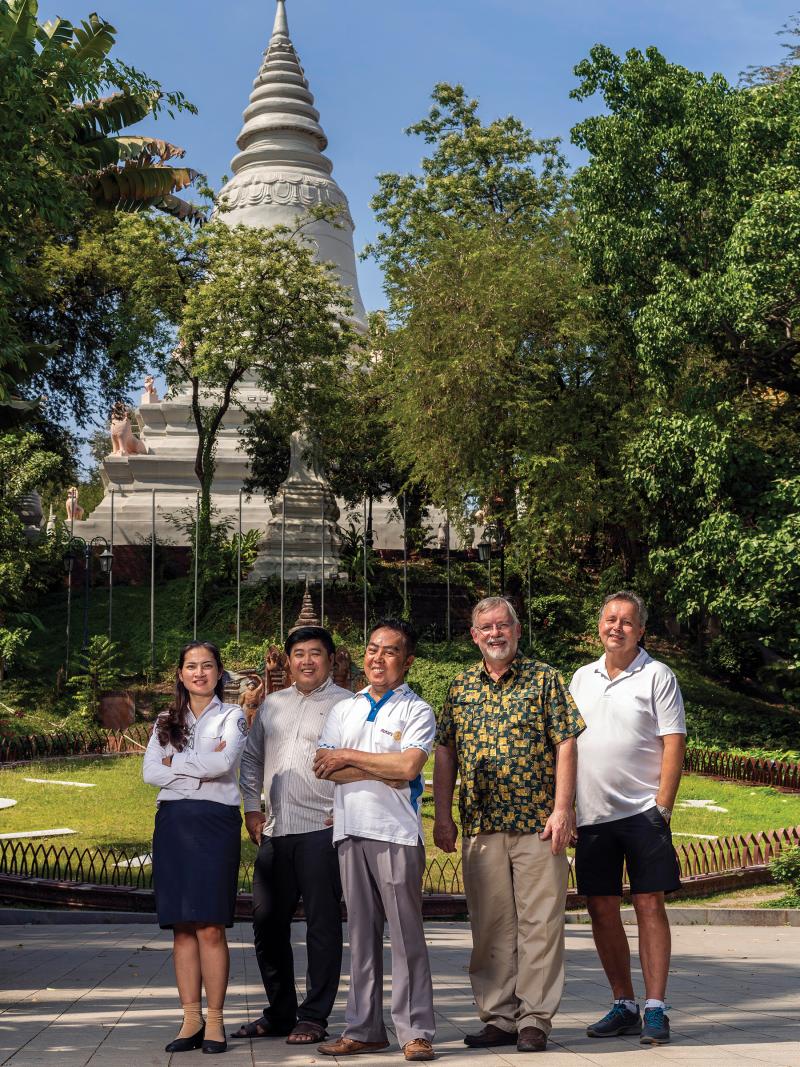 It's just before dusk as Marcus Mohlin takes his seat at the rooftop restaurant of the Grand Palais hotel. Below, the streets of the Cambodian capital are a tangled mess of traffic, where Audi and Range Rover SUVs jostle for space with three-wheeled rickshaws, wooden tuk-tuks, and endless streams of motorbikes. Yet up here, the air is peaceful as people arrive for a meeting of the Rotary Club of Phnom Penh Metro.
There's a visiting Rotarian from Croatia and a representative of an NGO that supports Cambodian schools. A Japanese Rotarian makes a brief appearance and leaves a club banner, a bottle of sake, and interest in working together on a local project. Mohlin, a Swedish expat who is the club's current president, says this is not unusual: His club has hosted 34 Rotary Foundation grants with a total budget of $1.2 million since it was chartered in 2004. "There are so many clubs reaching out to us because they want to do a global grant in Cambodia," he says. "We're overwhelmed by all the potential projects."
It makes sense that Rotarians around the world are drawn to Cambodia, a country still recovering from years of civil war and a brutal dictatorship. From 1975 to 1979, at least 1.7 million Cambodians perished at the hands of the Khmer Rouge, a regime that forced people to labor in slavelike conditions on collective farms. Four decades later, after years of political instability, the country remains one of the least developed in Asia.
On the surface, things are changing fast: Much of Phnom Penh is a giant construction site, with an influx of Chinese capital driving an unprecedented boom in high-rises. Yet the country still faces massive gaps in education, health, and sanitation. One-third of Cambodian children under five are stunted from a lack of adequate nutrition, and nearly a half-million do not attend school — some because of a lack of funds, others because their parents need them to work in the rice fields. Cambodia has one doctor for every 5,900 people, compared with roughly 1 for every 1,200 in neighboring Vietnam and Thailand. Half of rural households lack access to piped water or a well, and nearly one-third have no toilets.
From the beginning, Phnom Penh Metro — one of eight Rotary clubs in Cambodia and four in the capital — has worked to combat these challenges. Two of its first projects, in partnership with Veterans International Cambodia and the Rotary Club of Salisbury, Connecticut, supported Cambodians who have been injured by land mines — relics of the war period that still pose threats — or who have been affected by polio, which was endemic in Cambodia until the late 1990s. The club has hosted Foundation grants and organized other projects that have brought clean water to rural communities, equipped schools and health facilities with modern equipment, and helped restore eyesight for tens of thousands of Cambodians by providing eyeglasses and cataract operations. Most recently, in partnership with the Rotary Club of Kobe East, Japan, it supported the training of Cambodian technicians to screen patients for cervical cancer. "Now it will be up to the same standards as everywhere else in the world," says Steve Swartz, a retired surgeon and the club's president-elect.
The Phnom Penh Metro club has worked to combat Cambodia's challenges.
Although the Phnom Penh Metro club's record of service has been consistent, its membership has gone through many iterations. Its origins are local: Founding President Ty Peseth is a prominent Cambodian businessman. Today, most of its members are expatriates; several, including Mohlin and Swartz, are first-time Rotarians who felt a call to service after moving to Cambodia. But the club's roster also includes Suon Sotheara, who was the charter president of a Rotaract club that the Rotarians sponsor, and Rinet Aieng, a Phnom Penh-based physician who was inspired to join because, he says, "Now that I'm a doctor, I have the ability to help." During his childhood in rural Cambodia, he recalls, kids rarely went for medical checkups, and his school had no books.
Mohlin says a primary goal of his presidency has been to boost club membership, with a particular focus on bringing in more Cambodian members. Because local salaries tend to be low, he introduced a program where members pay fees on a sliding scale and shifted meetings from weekly lunches to biweekly evenings at the Grand Palais, a boutique hotel that's a short walk from Phnom Penh's central market.
On this evening at the Grand Palais, the club is focused on the work ahead. Since its last meeting, Mohlin and other club members have traveled to Siem Reap, the city near the famed Angkor Wat temple, with members of the Rotary Club of Sentosa, Singapore, which funded a pilot project there to build wells and equip homes with modern roofs. By purchasing materials from a Siem Reap-based manufacturer, the proj-ect also gave a small boost to the local economy. As night falls, the group continues to discuss Cambodia's many development challenges and ideas about how to overcome them.
— JONATHAN W. ROSEN
• This story originally appeared in the May 2020 issue of The Rotarian magazine.