First among equals: Rotary Club of Chicago
Editor's note: We'll be visiting clubs around the world to highlight the diversity of the Rotary experience. This is the first in a monthly series.
It's noon on Tuesday, and a waiter at Chicago's Union League Club is wondering if Cheryl McIntyre plans to eat lunch. "When I was president, I'd get so nervous about speaking in front of everyone that I'd barely touch my food," she says.
McIntyre was president of the Rotary Club of Chicago, also known as Rotary One, in 2015-16. That year, she changed the format of the meetings to allow more time for members to talk with visitors. She wanted people to feel welcome, she says, as though they were guests in someone's home. The club gets its fair share of visitors – as the first Rotary club, established in 1905 and home to founder Paul Harris, it's a must-stop for Rotarians from out of town.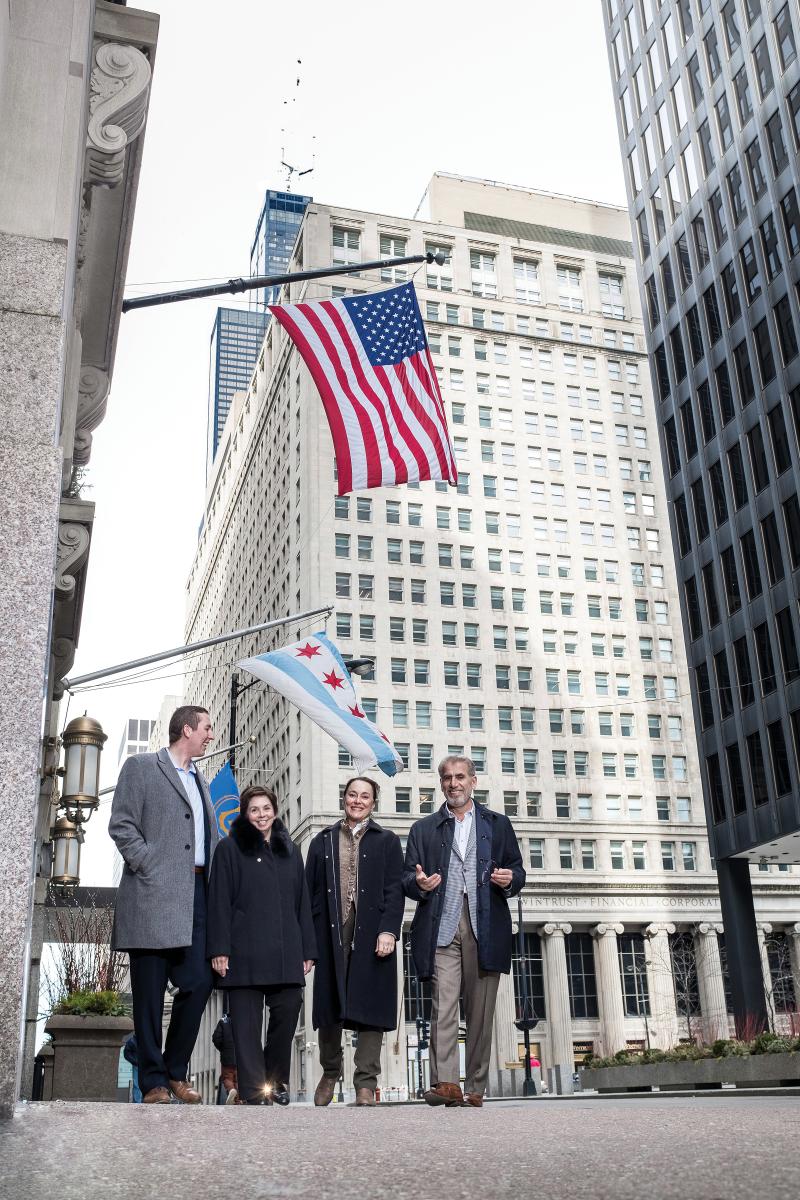 As a hearty lunch of turkey, mashed potatoes, and roasted vegetables is served – it's Thanksgiving week – Khaled Akkawi steps up to the podium. "This is my first time leading a meeting, so things will go as planned, right?" he jokes, a slight accent giving away his Jordanian roots. The club's president-elect, he's filling in for Conor Gee, who is in Geneva this week to attend Rotary Day at the United Nations. (At 32, Gee is one of the youngest people ever to serve as this club's president.)
Akkawi introduces the guests: two prospective members and five visiting Rotarians. One visitor, Alice Atemo, says she hopes to partner with the club on a water project in her home country of Kenya, where she runs a school for 900 orphaned children.
Rajendran Sabanayagam and his daughter Priya are in town for a steel conference. He's a member of the Rotary Club of Madras, India, and his daughter is part of a spinoff club created for younger professionals called Madras Next Generation. A couple from La Jolla, California, round out the visiting Rotarians.
Akkawi then shares a quote he heard on the radio: "It's so much easier to build a child than to rebuild an adult." It made him think, he says, about the club's signature project, Job1, a partnership with Chicago Public Schools that provides training and summer internships to high school students. As part of the program, the club sponsors job readiness training programs, puts together a job fair, and awards scholarships to graduating seniors. Rotarians also mentor the students in the program.
The club established its own foundation in 1938; it manages more than $3 million in assets and disburses between $200,000 and $250,000 every year, Gee says. Through the foundation, the club has funded rehabilitation services for disabled children, a clean-water project in Haiti, scholarships, and polio eradication.
Situated in Chicago's Loop, the historic Union League Club is a social, civic, and community hub for the city. It is sometimes referred to as the city's "other Art Institute" for its large collection of paintings and other works. Although the focus is primarily on American artists – the nearly 800 pieces include works by Grant Wood and John James Audubon – one of the highlights is an 1872 painting by Claude Monet called Apple Trees in Blossom.
Established in 1905 and home to founder Paul Harris, the Rotary Club of Chicago is a must-stop for Rotarians from out of town.
Club members gather for lunch every Tuesday in a ballroom lit by gilded chandeliers. Today, attendance is a bit lighter than usual because many of the 136 members went to an event over the weekend – a send-off for a fire truck and an ambulance for emergency responders in Jalisco, Mexico. Rotary One sponsored the donation together with the Rotary Club of Chicago Little Village; new member George Rabiela, a retired fire captain, helped organize the donation.
At the president's table, nearly everyone is a guest. Akkawi splits his time chatting with a lawyer considering joining the club and today's speaker, Jonny Imerman, a cancer survivor who established a support network that connects cancer patients with survivors.
Imerman started Imerman Angels after being diagnosed with advanced testicular cancer when he was 26. He survived grueling eight-hour chemotherapy sessions with the support of his family but wished he had someone to talk to who had been through a similar experience – someone who had beaten the odds and could give him hope that he would too. Once in remission, he created an organization to provide others with what he wished he had had; today, Imerman Angels operates in 90 countries.
Imerman's talk makes member John McKevitt tear up. His wife died of melanoma a few days after her 40th birthday, leaving two young children. J. Francisco Núñez, a retired physician, challenges the men in the room to not be embarrassed to talk about testicular cancer and to ask their doctor for a yearly exam. It's the No. 1 cancer in men ages 15 to 34, he notes.
After Imerman speaks, Akkawi and others brief members on upcoming events – labeling dictionaries and distributing them to local elementary schools, a social event at a cigar lounge – before the visitors get a chance to say a few words. Atemo, the Rotarian visiting from Kenya, stands up and says it's an inspiration to be at Rotary One: "This club reminds me of Paul Harris."
– Vanessa Glavinskas
• Read more stories from The Rotarian