Our Clubs
Don't knock their wurst
Rotary Club of Sheboygan, Wisconsin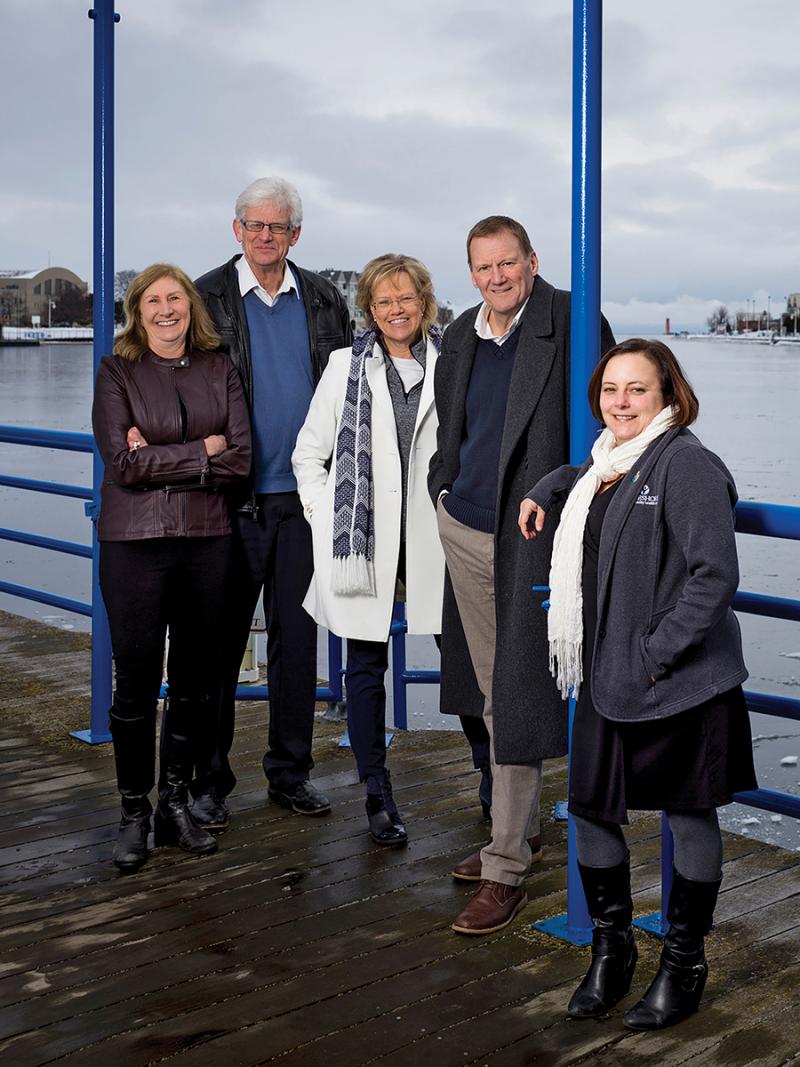 Situated on the shore of Lake Michigan — the fifth-largest lake in the world, with a surface area about twice that of Belgium —Sheboygan, Wisconsin, is known among surfers as the "Malibu of the Midwest." As home to generations of German Americans, it has been declared "Bratwurst Capital of the World," although Germans in Germany might have something to say about that. It's also where you'll find "America's Best Restrooms": at the Kohler Arts Center, where the bathrooms boast hand-painted toilets and floor-to-ceiling tile murals.
"People call it 'the Kohler,' like they do 'the Guggenheim,'" says Mike Vandersteen, the city's mayor and a Sheboygan Rotarian for more than two decades. The art museum is famous for its residency pairing artists with the Kohler Co., a plumbing fixture manufacturer located just west of the city. (The company's founder invented one of the first modern bathtubs here in 1883.)
As Vandersteen and Sheryl Dyksterhouse, the club's co-president, show a visitor around, the work of Sheboygan's Rotarians is visible throughout the community. In 2006, the club funded an eco-trail through the sand dunes along the lakeshore. And back in the 1980s, the Rotarians raised $75,000 to build Riverview Park along the Sheboygan River, whose banks are lined with rustic fishing shacks that have been converted into restaurants and shops.
"This club has a lot of projects, and any one of us could talk about them for an hour, or two or three hours," says Tony Fessler. He talks about trees: When Ian H.S. Riseley, 2017-18 Rotary president, asked Rotarians around the world to plant 1.2 million trees, Fessler headed the fundraising for the Sheboygan club. It wasn't a hard sell: Sheboygan has been named a "Tree City USA" by the Arbor Day Foundation for more than 40 years running. But the region is battling an infestation of an invasive beetle called the emerald ash borer, so the club also has a project to monitor ash trees and replant when needed, and to raise funds as well as awareness of the issue.
Judith Slawny talks about the club's many projects: making deliveries for Meals on Wheels; sponsoring projects in India and Malawi; providing support for students and building homes in Guatemala; organizing a fundraiser that "leases" 3-by-5-foot American flags to local residents and installs them on lawns for national holidays; erecting an elaborate holiday light display; and assembling kits for victims of human trafficking that include clothing, toiletries, water bottles, and journals.
German immigrants settled in the area and began dairy farming.
The club also sponsors two Interact clubs and a Rotaract club, and provides scholarships for local high school students to attend leadership programs. Stuart Schmidt, the club's youngest member at 25, was one of those students. He attended the World Affairs Seminar, an initiative organized by District 6270 that focuses on international issues. "I left the experience changed," he recalls, "and I needed to get involved." He joined the Interact club at his high school and, after he returned to the city after college, the Sheboygan Rotary club. "I dove right in," he says.
Sheboygan is believed to be a Chippewa name meaning "passage or waterway between the lakes." In the 1600s, French explorers encountered a large Potawatomi village at the mouth of the Sheboygan River, and beginning in the late 18th century, fur traders set up along the river. Later, German immigrants settled in the area and began dairy farming, helping to found Wisconsin's famous cheese industry.
In the late 1800s, Sheboygan was known as "Chair City"; although its once-booming furniture industry has all but disappeared, the Sheboygan area is still home to manufacturers including Vollrath (cookware), Sargento (cheese), and Old Wisconsin and Johnsonville (sausage). On the subject of sausage, Sheboyganites will tell you that their namesake brats are served — often two at a time — on a hard roll called a semmel, never on a hot dog bun. Appropriate toppings are mustard, ketchup, pickles, and onions. "And no sauerkraut," says Vandersteen. "It's a sin to put on sauerkraut here in Sheboygan."
The Rotary Club of Sheboygan, which was chartered in 1916, meets at the Elks Lodge, where a giant mounted elk's head looms over the buffet — today featuring chicken Kiev and baked potatoes. Even in Sheboygan, people can't eat bratwurst every day.
As the meeting starts, Dyksterhouse and Deborah Wente share the podium. Because the two are serving successive terms as president, they decided to share the duties. It has worked very well, Wente says, and the model has allowed the club to make progress on some long-term initiatives, including launching a satellite club. Kristin Stearns, the chair of District 6270's alumni committee, is heading that effort. Stearns first got involved with Rotary in 2005, when she participated in a Group Study Exchange trip to Australia. "I loved it. I loved everything about Rotary," she says. No matter how busy everyone gets, she says, she can count on Rotarians to pitch in. "I know things will get done."
— DIANA SCHOBERG
• This story originally appeared in the April 2020 issue of The Rotarian magazine.