Mobile clinic delivers free healthcare for Wisconsin's underserved communities
By Wen Huang
Rotary clubs in District 6250 (Wisconsin and Minnesota, USA) have donated a mobile clinic to St. Clare Health Mission, a community organization in La Crosse, Wisconsin, that provides primary and specialty health care services at no cost for those without access to insurance.
The mobile clinic, a shiny blue vehicle with Rotary logos painted on the side and front, was unveiled in August during a Rotary-sponsored evening concert, Moon Tunes, at Riverside Park in downtown La Crosse.
Josh Mansee, immediate past president of the Rotary Club of La Crosse-After Hours, one of the Rotary volunteers who drove the new mobile clinic and stopped by Rotary International Headquarters in Evanston, Illinois, recently, describes the vehicle as a "full-scale, full-service family medicine unit" which is equipped with two exam rooms, diagnostic equipment, and a wheelchair lift. "The clinic will deliver health care services, such as checkups and vaccinations, to many who simply cannot make their way to the land-based facility of St. Clare Health Mission," he says.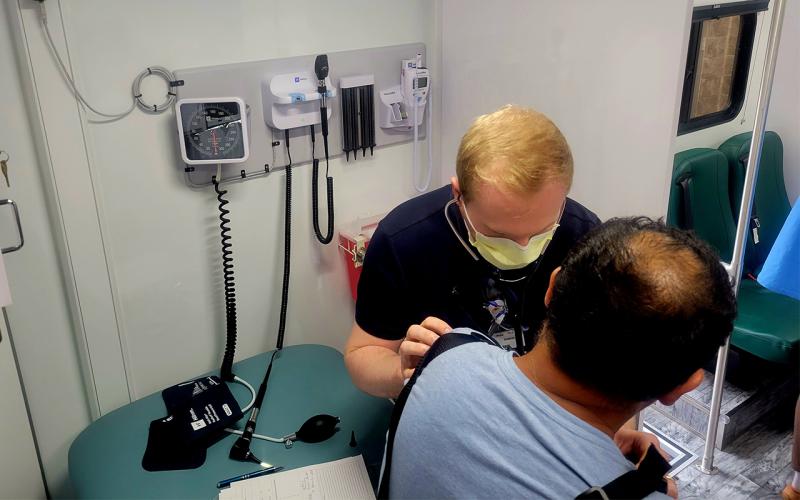 "This is truly a community driven project," says Rotary International Director Pat Merryweather-Arges. "The Rotary clubs saw a need in the rural community and they're partnering with clubs in other parts of the world and fulfilling the need."
Merryweather-Arges says nearly 20% of the U.S. population lives in rural areas where basic health care disparities affect millions. "When we talk about the underserved, we are referencing the economically deprived, the homeless, and a large immigrant population in the rural areas," she says. "Mobile clinics like this one are very important to the community because many people will not seek care, because they cannot afford it and lack proper access."
Marissa Dickinson, also a member of the La Crosse-After Hours club who served on the mobile medical clinic committee, said the project was more than two years in the making. In 2019, ten clubs in the La Crosse area teamed up and raised more than $170,000. They brought in an additional $160,000 through a Rotary Foundation global grant which includes international partnerships with three clubs in the Netherlands and one in Germany.
Since August, the mobile clinic, staffed by volunteers from local hospitals, has been traversing the Coulee Region, which includes La Crosse, Monroe, Vernon, and Trempealeau counties. Dickinson says the caseload capacity of St. Clare Health Mission will more than double with the use of the mobile clinic.
Given the recent outbreaks of polio in the United States, Dean Dickinson, past governor of District 6250 and a member of the mobile medical clinic committee says the Rotary clinic will play a major role in promoting vaccinations for children. "During the pandemic, many parents have deferred meeting the requirements of basic vaccinations, such as polio and MMR (measles, mumps, and rubella). The clinic will provide vaccinations and other types of preventive services," he says.