Mário César Martins de Camargo of Brazil selected to be 2025-26 Rotary International President
By Etelka Lehoczky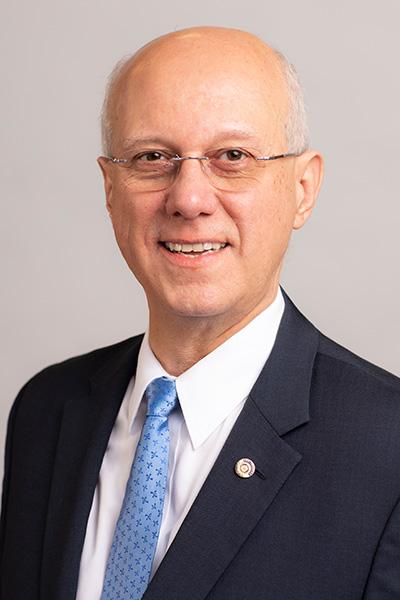 Mário César Martins de Camargo, a member of the Rotary Club of Santo André, São Paulo, Brazil, is the selection of Nominating Committee for President to become Rotary International's president for 2025-26. He will officially become the nominee on 15 September if no other candidates challenge him.
De Camargo plans to boost Rotary's public image by working from the top down.
"Rotary today has strong competition for members and funds," he says. "We need to rejuvenate the brand, especially in some zones. We should utilize post-pandemic meeting tools … to allow the president to address Rotarians all over the globe. We also need to develop more long-term partnerships with political, community, and business leaders. Let's emphasize our greatest asset: 1.4 million volunteers."
He also hopes to improve Rotary's process for appointments and governance.
"Rotary should adopt a more transparent system to appoint volunteers for positions, with clear criteria and data-based evaluation of results," he says.
De Camargo was president of Gráfica Bandeirantes and has been a consultant to the print industry in Brazil. He has also served as president and chair of several printing and graphics trade associations, including the Brazilian Association of Graphic Technology and ABIGRAF, the Brazilian Printing Industry Association.
He has served on the board of Casa da Esperança (House of Hope), a hospital sponsored by his Rotary club that serves 150,000 children with disabilities every year.
De Camargo studied in the U.S. and Germany and holds degrees from EAESP-Fundação Getulio Vargas in business administration and Faculdade de Direito de São Bernardo do Campo in law. He was a Youth Exchange participant to Minnesota, USA, in 1974-75, which inspired a lifelong commitment to the program.
A Rotarian since 1980, de Camargo served as his club's Youth Exchange Officer in 1981, at age 24. He has served Rotary as director, trustee, RI learning facilitator, committee member and chair, and task force member.
De Camargo and his wife, Denise, are Major Donors and Benefactors of The Rotary Foundation.
To learn more about de Camargo, read his interview and vision statement, which outline his goals for Rotary.
The members of the Nominating Committee for the 2025-26 President of Rotary International are:
Larry A. Lunsford (chair), Rotary Club of Kansas City-Plaza, Missouri, USA; Mary Beth Growney Selene (secretary), Rotary Club of Madison West Middleton, Wisconsin, USA; Şafak Alpay, Rotary Club of Istanbul-Sisli, Turkey; Ann-Britt Åsebol, Rotary Club of Falun-Kopparvågen, Sweden; James Anthony Black, Rotary Club of Dunoon, Argyll, Scotland; Basker Chockalingam, Rotary Club of Karur, Tamil Nadu, India; Celia Cruz de Giay, Rotary Club of Arrecifes, Buenos Aires, Argentina; Susan C. Howe, Rotary Club of Space Center (Houston), Texas, USA; Masahiro Kuroda, Rotary Club of Hachinohe South, Aomori, Japan; Roger Lhors, Rotary Club of Pont-Audemer, Eure, France; Frederick Hsiu-Ming Lin, Rotary Club of Taipei Tungteh, Taiwan; Anne L. Matthews, Rotary Club of Columbia East, South Carolina, USA; Akira Miki, Rotary Club of Himeji, Hyogo, Japan; Eun-Soo Moon, Rotary Club of Cheonan-Dosol, Chungcheongnam, Korea; Ekkehart Pandel, Rotary Club of Bückeburg, Germany; Sambasiva Rao Patibandla, Rotary Club of Jubilee Hills, Telangana, India; Steven Snyder, Rotary Club of Auburn, California, USA.
— 7 Aug 2023