Making a splash
Rotary Club of Playa del Carmen Seaside, Mexico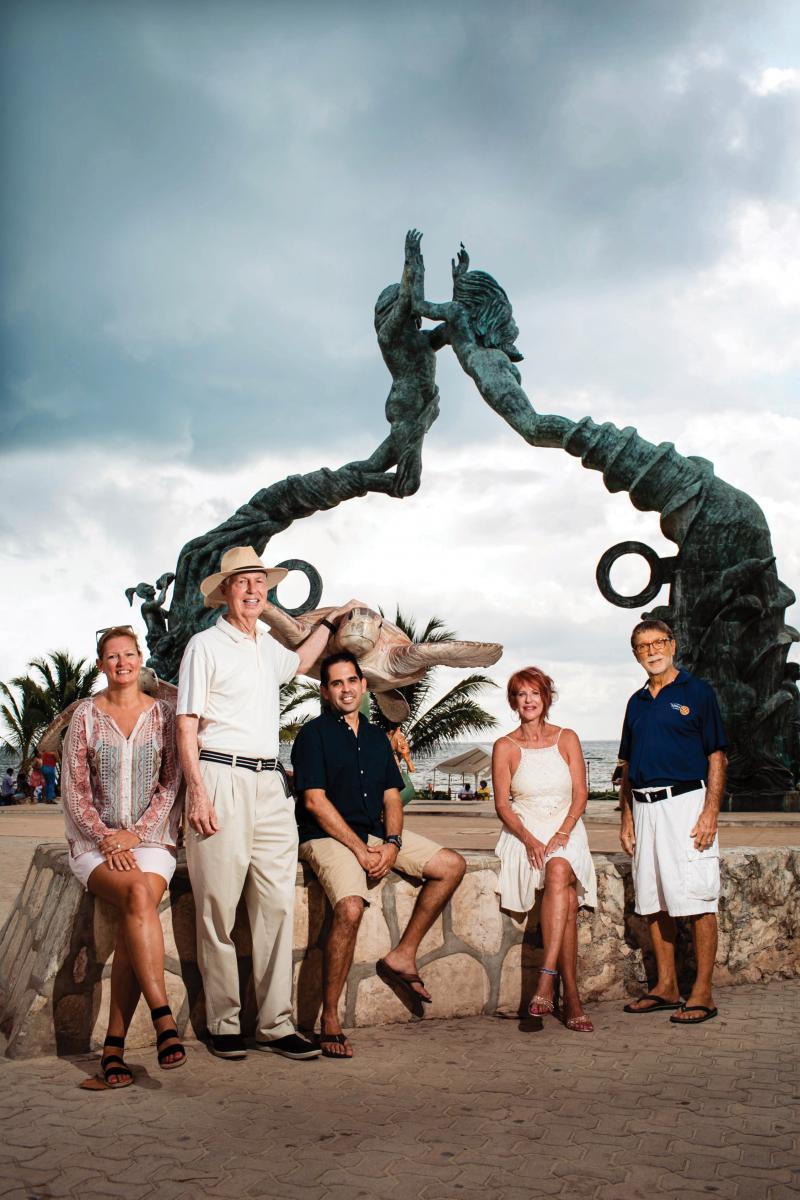 In 2012, three retired Americans met for a drink in a bar in Playa del Carmen, Mexico. All three had been members of Rotary clubs in the United States before moving to this low-key beach town on the Yucatan Peninsula, an hour south of Cancun. Like many people from the United States and Canada, they had spent time here on vacation — coming for the world-class diving, the fishing, the golf, the Mayan ruins. Eventually, each of them decided to move here permanently.
Sitting at the bar that day, they looked up and saw the familiar Rotary wheel on the wall. "Do you think," Doug Morgan mused, "that they'd let us start an English-language club here?"
In 2012, the Rotary Club of Playa del Carmen Seaside was chartered with 30 members — most of them expatriates from the United States and Canada, but also some local businesspeople. Within two years, they had made a big splash by delivering an entire truckload of medical supplies from the Denver-based Project CURE to a Red Cross clinic in Playa del Carmen, with an assist from John Klug, a member of the Rotary Club of Denver who spends winters in Playa del Carmen and attends makeup meetings at the Seaside club.
"That really put us on the map," says Morgan. "We were so proud. For a new club to get a half a million dollars in medical equipment for our new Red Cross hospital really was something."
"Other than my own club, this is the most incredible club that I know of," says Klug. "I've visited huge clubs and small clubs all over the world. I call this the 'Little Club That Could.' It's unbelievable what they accomplish."
The club, which meets on Tuesdays for lunch at Boston's Pizza on Avenida Constituyentes, is more informal than many clubs in North America, Morgan says. "I don't know that there are a whole lot of Rotary clubs that meet in shorts and flip-flops. This is a beach community. It's a retired community. And although we're very informal, even in our laid-backness we're laser-focused on doing good for our new community, on giving back, and on helping Playa's kids."
On a recent sunny Thursday, even though it's not a meeting day, roughly half the club's members show up to provide a formidable escort for a visiting reporter. After piling into cars and vans, they roll out of town. They continue until they reach a dirt road, then inch along until arriving at the Cristo Rey elementary school. The club learned about the school through member Gayle Collins, who runs a nonprofit called Keeping Kids in School that helps cover school fees for families in Playa del Carmen.
"The reason this club is so successful is the people," Collins says. "The members are very much activists who want to do something." In other words, many of them may be retired from their jobs, but they are not retired from being Rotarians.
Tourism has transformed Playa del Carmen from a small fishing town to one of the fastest-growing cities in Mexico. Many of the families that the Cristo Rey school serves came from other parts of Mexico looking for work. The Seaside Rotarians provided the teachers' desks and installed a water purification system, a solar array, and a shaded outdoor seating area at the school.
"Even in our laid-backness we're laser-focused on doing good."
After saying hello to the principal and getting a tour of the new water system, the group drives on to another school, whose name, K'iin Beh, means "Path to the Sun" in Mayan. A new water system from the Seaside club will soon provide that school and the surrounding community with clean water.
Next they roll on to Torres de la Paz, a tiny village whose residents have cobbled together homes under the massive power lines that cut through the jungle. The town is an unofficial settlement that receives no government services, so the residents built a school, and the Seaside Rotary club organized a lunch program for the students. The club also installed a solar array to power the kitchen, and soon the school will have a water purification system that will also serve the village.
The last stop is the Red Cross clinic, where a wall plaque thanks the Rotary clubs of Playa del Carmen Seaside and Denver for "essential medical equipment and provisions."
A steady stream of Rotarians from around the world who come to Playa del Carmen on vacation have seen what the Seaside Rotarians have accomplished.
"We're a fired-up club," says Morgan. Now the club is working on a project it calls the "Big 6": six truckloads of medical equipment to be delivered to hospitals in six states in the district. It started with a district grant the club received after the initial delivery from Project CURE. Working with the Rotary Club of Denver, the club then received a Rotary Foundation global grant of $150,000. Other funds came in from Rotary clubs across the United States and Canada, as well as another district grant from Costa Rica.
The language barrier and the absence of the deep connections to the community that most Rotary clubs enjoy has not deterred this little club from undertaking such impressive projects. "I think their story can be an inspiration to clubs around the world that size doesn't matter," says Klug. "You can do the most unbelievable things, if you just set out to do them."
— Frank Bures
This story originally appeared in the July 2019 issue of The Rotarian magazine.