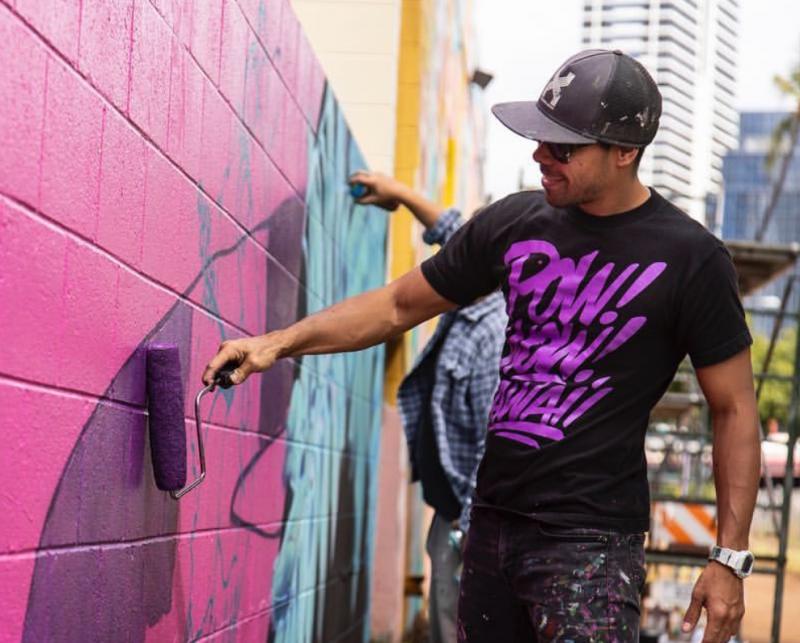 About the artist
Luke DeKneef is a self-taught artist born and raised on the island of Oahu in Hawaii, USA. Growing up surfing on the north shore, he developed a fascination with waves and the movement of water. Early in his career, DeKneef painted plumeria clusters growing in lush valleys, majestic Hawaiian mountains standing tall at sunrise, and turbulent blue waves cascading on the surface of the ocean. His early works sparked a curiosity for what lives under the surface, where he explored the movement of waves from the ocean floor and the refraction of light under water.
From small canvases to large-scale murals, DeKneef's art embodies the relationship between humans and the ocean. He uses acrylic and aerosol mediums to create his visions.
Now, DeKneef explores new subjects that stretch his creative thinking. While the ocean still influences his work, he's developing a passion for a variety of subjects that question our role as caretakers of the planet.
About the mural
"World peace and the advancement of unity involves humble hands and the minds that guide them to action. This design is the result of hundreds of stories from amazing people that have addressed conflict through Rotary club projects. They create conditions that foster long lasting peace. The different colors of hands and flowers with distorted fragments display the vast diversity of ethnicities from all walks of life and represent the importance to promote peace and togetherness around the globe."
- Luke DeKneef
About Rotary
Rotary is a global network of 1.2 million neighbors, friends, leaders, and problem-solvers. We see a world where people unite and create lasting change across the globe, in our communities, and in ourselves.
For more than 110 years, Rotarians have used their passion, energy, and intelligence to act. From fighting disease to providing clean water to supporting education and more, we are bettering our world.
Rotary International partnered with DeKneef to commemorate the 111th Rotary International Convention—where Rotary club members from around the world gather to share knowledge and network—held in Honolulu in 2020. DeKneef's work is part of POW! WOW! Hawaii, an art festival featuring local and visiting artists who contribute murals, gallery shows, concerts, and more to the Kaka'ako district of Honolulu every February.
Get involved
Whether you want to promote peace or grow local economies, you can make an impact. Learn more about Rotary International, Rotary clubs and find out how you can participate.