For 25 years, they have migrated to the site of the Rotary Convention. Look closely and you may spot them: The Fellowship of Birdwatching Rotarians.
There are thousands of species of birds on the planet, and in spring and fall, nearly half of them are on the move. And at any given time, anywhere in the world, you're likely to see a diverse mix of winged wildlife. For bird-watchers, the serendipity is part of the allure.
If you visit Rotary's headquarters in Evanston, Ill., in the spring, for example, you might spot species that use the Great Lakes as a stopover on their journey from Central or South America to their northern breeding grounds. In April and May, an observer might see an indigo bunting gliding over the Lake Michigan shore, a Baltimore oriole nibbling an orange on a backyard birdfeeder, or a shy brown ovenbird searching the ground for insects.
Around the same time each year, thousands of Rotarians flock to the site of the Rotary International Convention. For the bird enthusiasts among them, this is an opportunity to combine travel, camaraderie, and the chance to check a few species off their "life list."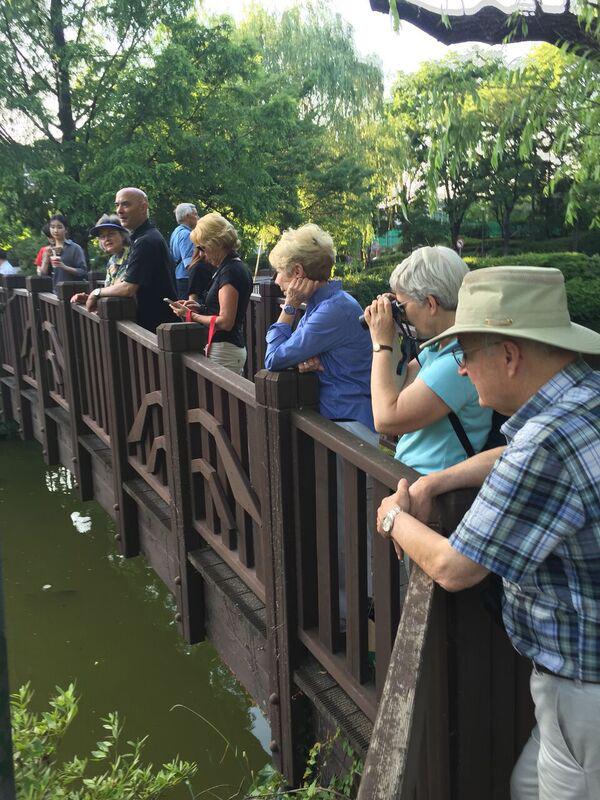 The International Fellowship of Birdwatching Rotarians – one of about 70 groups that bring members together around common interests – got its start at the 1991 Rotary Convention in Mexico City with a bird walk near the convention site. Since then, a few dozen Rotarians have gathered annually to explore the convention city on foot. Some years, they've identified up to 50 species in an afternoon.
And so, the day after the close of the 2016 convention in June, a group met outside a subway station in northeastern Seoul dressed for hiking and armed with binoculars, guidebooks, and modest expectations.
"Summer is actually the slowest time for birds here," says Julie West, the fellowship's president and a past governor of District 6630 (Ohio). "I don't know how much we'll see today." By early June, most of the species that migrate along the East Asian-Australasian Flyway, which extends from Australia and New Zealand up to the Arctic Circle, have already headed north from their rest stops on the Korean peninsula.
"That's how it goes sometimes," West says. "But it's always worth looking; you never know what you're going to find."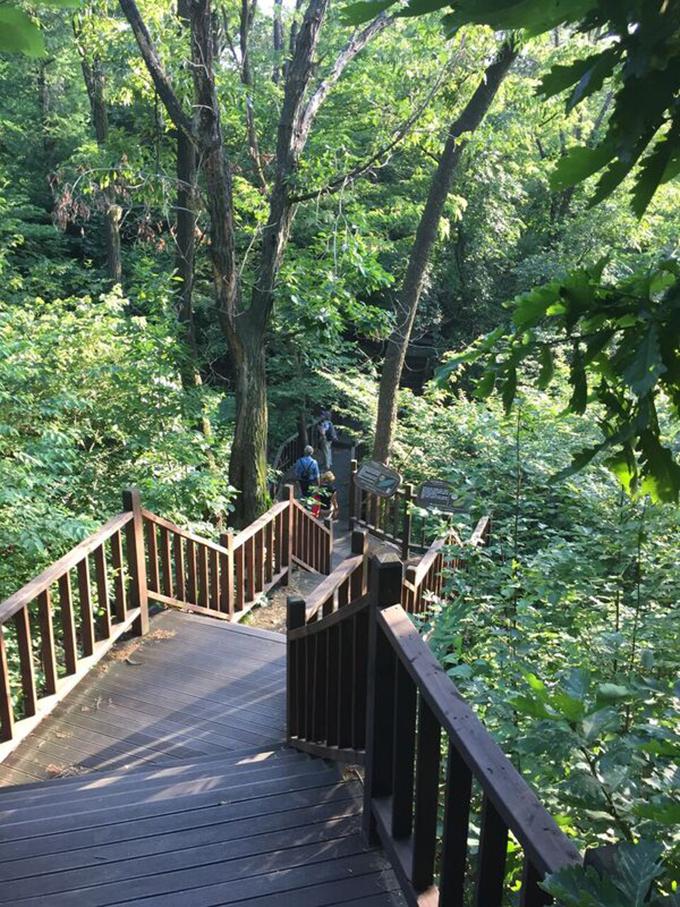 The group winds through narrow city streets that eventually become wooden stairways leading up into the hills of Baebongsan Neighborhood Park, adjacent to the University of Seoul. The hum of traffic and shouts of street vendors fade as they ascend.
Conversation stops when one of the birders glimpses something promising: a flash of color or a movement from one branch to another. Everyone cranes their necks and peers through their binoculars. Guide Robert Newlin – an American writer, photographer, and lifelong bird-watcher who spent a decade in Korea as a professor of English literature at Seoul's Hankuk University of Foreign Studies – identifies the call of a brown-eared bulbul, more common in Japan than Korea.
"This is a great way to slow down a little bit and enjoy nature," says Lynda Farkas, a member of the Rotary Club of Akron, Ohio. She calls herself a casual bird-watcher, in it mostly for the fellowship and fresh air. Farkas and West, whose clubs are in the same district, have known each other for a decade.
"We've done bird walks together back in Ohio, through Cuyahoga Valley National Park, and gone out hiking in the early spring to see what wildlife was out and about," Farkas says. She describes the purple martins that populate backyards in her neighborhood and how volunteers help track their nests and movements.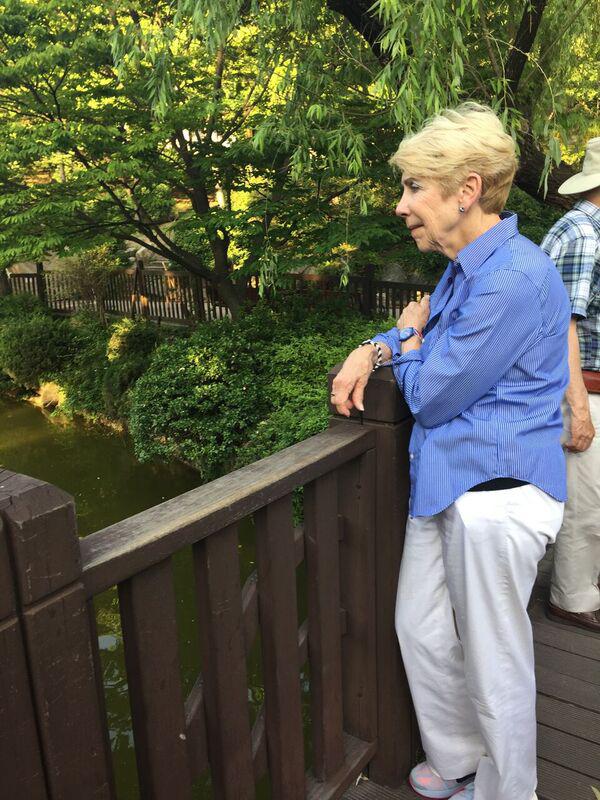 Rotary has been a part of Farkas' life for 25 years, since her husband, Dick, was invited to join the Rotary Club of Cheyenne, Wyo., where he was stationed with the U.S. Air Force. Later, in Ohio, he was nominated to be 2016-17 governor of District 6630, but in July 2015, he died unexpectedly at age 71.
That's when Lynda joined his club. She wanted to bring one of his last big ideas to life: a dinner and concert in honor of The Rotary Foundation's centennial in Arch Klumph's hometown of Cleveland. "I needed to keep that alive," she says.
West's own partner of 33 years, Gary Neuman, died in October 2015. "That's when we decided to come to Korea to do this together," Farkas says. "You can bird-watch alone, but sometimes it's more exciting to have someone to ooh and ahh to and compare notes with."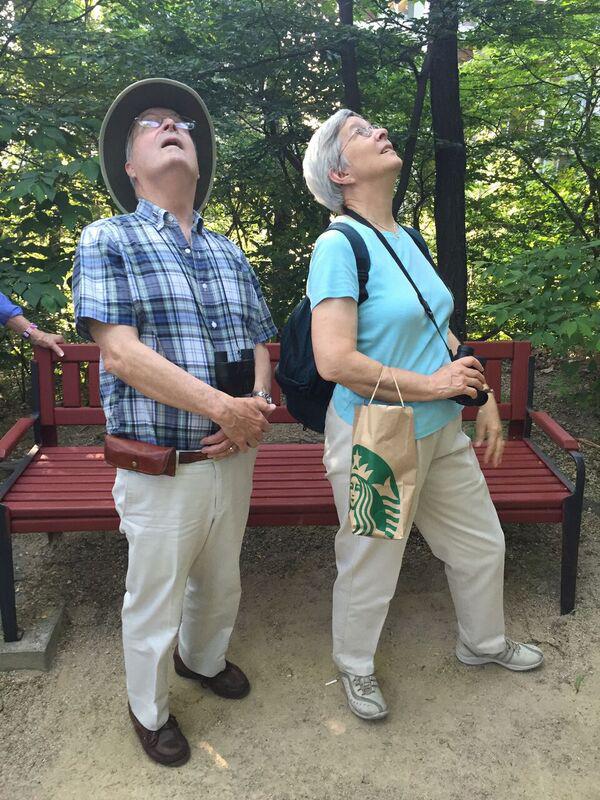 Keeping Judy Ginn company on the walk is her husband, Rand, a member of the Rotary Club of Mercer Island, Wash. Of the pair, Judy, a member of the Rotary Club of Seattle-International District, is the birder – although she describes herself as "strictly amateur," someone who mostly keeps an eye on her backyard and logs the dates of sightings.
"I'm in awe of people who can hear a bird sound and say, 'Oh, that's a such-and-such,'" Ginn says. "Birding is a process of lifelong learning."
Newlin, the author of a book called Korea through Her Birds: Windows into a World, tells the group about the migratory feat of great knots and bar-tailed godwits, shorebirds that fly nonstop from Australia to Korea in the spring, arriving lean and exhausted on the peninsula's western coast. There are only a few suitable locations on the Yellow Sea where the birds can rest and refuel before setting out on the second leg of their journey: another nonstop flight to their breeding grounds in Alaska. But in Korea, the tidal flats they depend upon are under threat from development.
As the group assembles for a photo before parting ways, West presents Newlin with a donation for Birds Korea, a local conservation organization that funds research to protect local species and habitats.
"When we talk about wildlife preservation, what we're really talking about is habitat preservation," says Newlin, whose academic focus is the relationship between humans and nature in medieval literature. "You destroy the habitat that supports the bird, you're actually destroying the habitat that supports humans. Some people think we can get along without the natural environment, but it connects us all."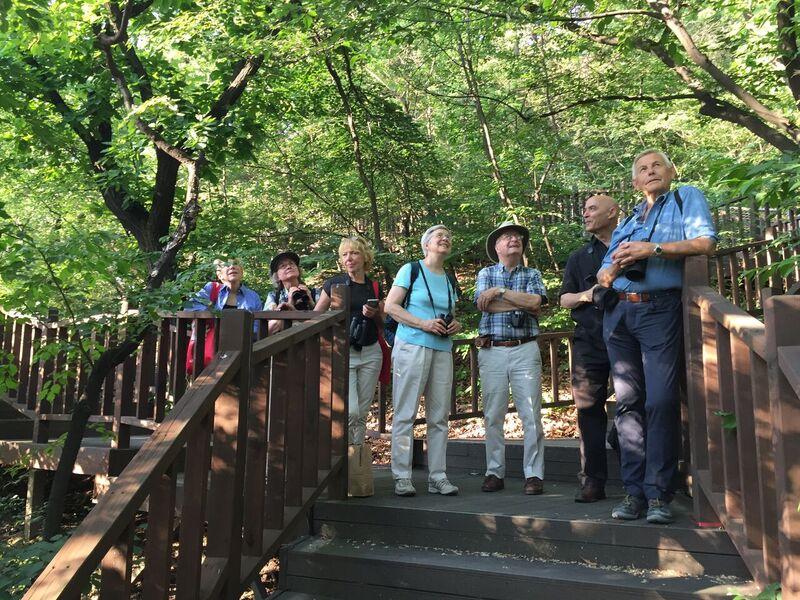 • Chicago artist Tony Fitzpatrick shares how he fell in love with birds
• Read more stories from The Rotarian
Rotary Fellowships unite members who share a passion
International Fellowship of Birdwatching Rotarians