For love of alma mater
When Rotary Scholar Chen Lin learned Kobe University in Japan was facing a COVID-19 related mask shortage, he united other alumni to help.
All around the world 5-11 October, Rotarians and alumni will share their experiences, network with each other, and exchange ideas for staying involved in Rotary. Find out how to Celebrate Reconnect Week.
In 2003, Dr. Chen Lin received a scholarship from Rotary Yoneyama Memorial Foundation.
A project of Rotary districts in Japan, the foundation provides privately sponsored scholarships to foreign students pursuing academic studies and/or research in Japan. Lin earned a PhD in structure science from Kobe University, and says his time as a Rotary Scholar made him realize that "helping others can bring me a lot of happiness and make me grow and progress."
That's a sentiment that stayed with him when his job brought him from China back to Japan in 2014. He volunteers to help Kobe University students navigate their career paths, taking part in symposiums with international students to share his own experiences.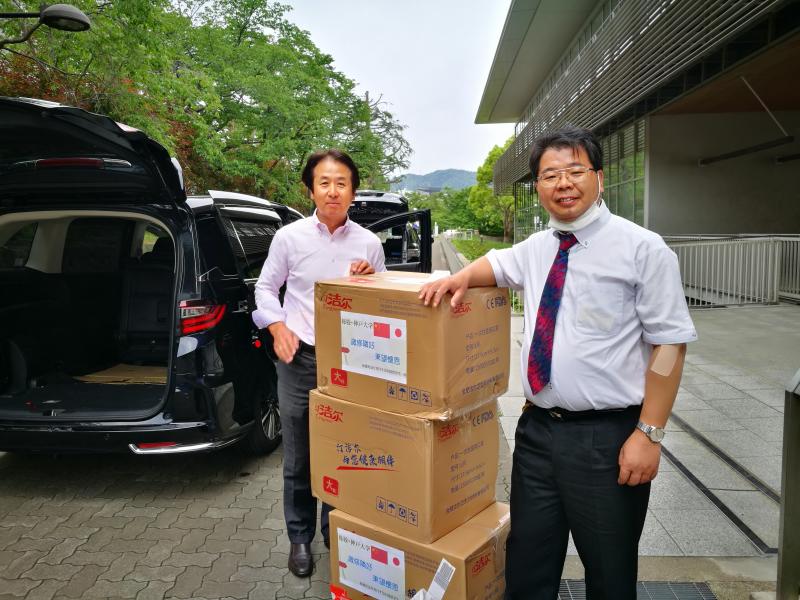 "Even if I can only help a little bit, it makes me happy," he says.
Coordinating donations
So when Lin learned in March that Kobe University Hospital was unable to meet the surging demand for personal protective equipment caused by the COVID-19 pandemic, he turned to his WeChat group of Chinese Kobe University alumni to help.
"We formed a six-person group in charge of mainly donation affairs," he says. "We sent donation messages to the alumni who could be contacted, and the alumni who got those messages then contacted the people they could reach."
That effort uncovered people who were willing to help, but the team had another challenge: How could they turn donations that were gathered in China into personal protective equipment in Kobe, Japan?
Solving that problem involved several steps: collecting donations, choosing the right personal protective equipment, purchasing the equipment, getting it to Shanghai Pudong International Airport, flying the equipment to Osaka, transporting it to Kobe, and coordinating with Kobe University Hospital.
"Even if I can only help a little bit, it makes me happy''
With the donations they received, the team was able to purchase 65,000 masks for the hospital. Juneyao Air agreed to fly them, free of charge, to Kansai International Airport, just across Osaka Bay from Kobe.
The masks enabled Kobe University Hospital to continue to provide safe and effective care to its patients and also protect its workers.
Symbol of love
Lin said he and his WeChat group were motivated by a sense of solidarity with their alma mater and the health workers at its hospital, and a desire to support their work against the coronavirus.
"The mask donation is a symbol of love," Lin said. "Love for our alma mater, love for the medical staff, and love for people who are suffering from the pandemic."
"It is also a symbol that we are supporting you, we are fighting with you," he added.