Leveraging expertise: Peace Corps
The collaborations between Rotary members and Peace Corps Volunteers that occur around the world make the partnership between the organizations vibrant and dynamic.
The Peace Corps, an independent U.S. government agency, sends Americans to work with communities abroad while promoting international understanding through volunteer service and cultural exchange. Rotary clubs in many nations have Peace Corps Volunteers speak at their events.
"Some of the most successful Peace Corps projects have been initiated by people who were Rotary members at home," says Ted Adams, Program Specialist in the Peace Corps Office of Strategic Partnerships and Intergovernmental Affairs. And it's not unusual for a Peace Corps Volunteer to join Rotary after their service.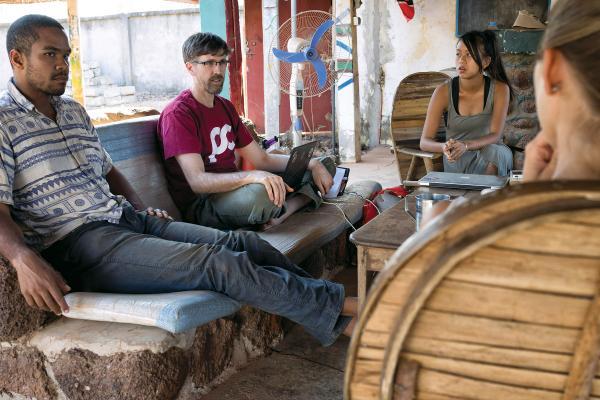 "Rotary is often where a former Peace Corps Volunteer will go to continue their civic engagement and networking," Adams says, calling it "the next stage in the lifecycle of a Volunteer."
One effective collaboration evolved from a U.S. Rotary club that wanted to distribute Spanish-language books in the Dominican Republic. Through the Rotary-Peace Corps partnership, several schools in the Dominican Republic gained literary resources. One school got a new library, developed through a small Peace Corps Partnership Program (PCPP) grant that provided funding.
"It was a triangle of partnership: the U.S. Rotary club that supplied resources, a Rotary club in the Dominican Republic that received the shipment of books, and the Peace Corps Volunteer in the country who connected Rotarians to the local community that needed books to supplement literacy programs," Adams says.
The Peace Corps also recommends that new Volunteers connect with Rotary clubs in the country where they're serving. "Rotary members are successful community and business leaders, and their connections can help identify a needed project and get it organized and functioning," Adams says.
Peace Corps Volunteers can maintain a capacity-building role while Rotarians and Rotaractors elevate the project through their local knowledge, which includes the language, customs, networks, community assets and gaps, implementation logistics, and access to resources. When the Peace Corps Volunteer returns home, the club can ensure that a project continues.
Although connections between individual Rotary clubs and Peace Corps Volunteers have been the foundation of the partnership, the organizations are now also working to engage broader communities such as Peace Corps in-country offices, Rotary Peace Fellows, and Rotaract members.
To connect your club with the Peace Corps or invite a current or returned volunteer to a meeting, contact rotary.service@rotary.org.