Leveraging expertise with Ashoka
Rotary's partnership with Ashoka brings together the vision of Ashoka's social entrepreneurs with the local expertise of Rotary members to inspire innovation that can solve problems, create leaders, and change societies.
That kind of partnership couldn't be more necessary at this critical point in history, says Tim Scheu, director of global partnership management for Ashoka. People are trying to define the long-term effect of the COVID-19 pandemic, he says, even as the pace of global change is massively accelerating.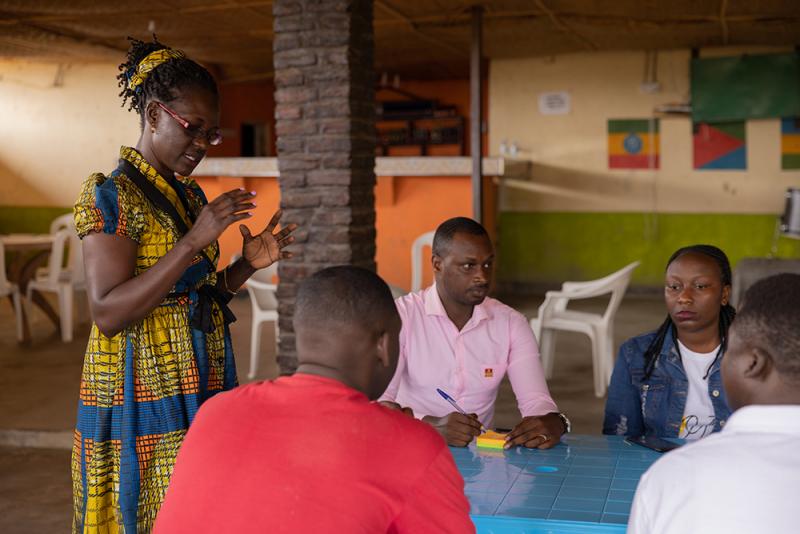 "The big question is: How do we help people become those who enact change rather than be subject to it?" he says. "Both Rotary and Ashoka offer role models, expertise, and networks that accelerate the power of good ideas and more responsive policies."
Ashoka supports more than 4,000 social entrepreneurs who are developing solutions to challenges around the world. It wants everyone to be empowered to make change in their communities — whether that's in their neighborhood, their workplace, or their family. Rotary and Ashoka's partnership promotes opportunities for collaboration among Rotary members, Ashoka's staff, and the social entrepreneurs.
Scheu sees great potential in pairing the energy and inspiration of the Ashoka Fellows with Rotary members who are enmeshed in their communities and located around the world.
"Rotary is about being people of action. Ashoka envisions a world where everyone is a change-maker," he says. "That's incredible synergy — imagine what we can accomplish as we bring the Ashoka and Rotary networks together."
A Rotary club could contact Ashoka to identify and engage an Ashoka Fellow to speak at a meeting about how members can make a greater social impact. Members might get advice from Ashoka Fellows that helps them bring more focus and value to a service project. And the Ashoka Fellows might also be helpful as members implement global or district grant projects around the world.
"Ashoka Fellows' interests run the gamut," Scheu says. "We have people working on a campaign to end land mines, children's rights, reforestation. If a club gravitates towards a particular theme, there's likely an opportunity to develop innovative solutions to some of a community's most pressing needs in partnership with an Ashoka Fellow working in the club's home country."
Rotary members contemplating the environmental or social impact of their businesses or their workplace decisions, for example, could work with Ashoka Fellows to create new business models that find "the intersections between business strategy and social impact," Scheu says.
In addition to being partners with Rotary, Ashoka has worked with leading institutions around the world on vital contemporary issues: helping children learn empathy, teaching young people to become change-makers, and ensuring that communities can access healthcare. Other Ashoka projects have focused on the relationship between people and technology, such as how global demographic shifts will affect aging.
This kind of change-making deepens people's sense of purpose, gives them more meaningful projects, and increases the positive impact institutions can have — a critical factor in retention for a company or for an organization like Rotary.
"We know that a key element of Rotary's Action Plan is increasing the ability to adapt at every level," Scheu says. "Our fellows ... can see change on the far horizon. By working together, we can amplify the work of Ashoka Fellows and leverage the power of Rotary know-how and volunteerism. That's how you create a change-making culture, and transformation that really lasts."
To connect with an Ashoka Fellow or learn more about Rotary's partnership with Ashoka, contact rotary.service@rotary.org.