Leading with heart: Vietnam gets a new Rotaract club
By Etelka Lehoczky
There's a lot of female energy in the Rotaract Club of One Million Lives Saigon: The charter president, president, and vice president are all women. Is that by accident or design? Perhaps a little bit of both.
"It may be a coincidence," says Trang Phan Doan Huynh, a student at the Ho Chi Minh City (Saigon) campus of the Royal Melbourne Institute of Technology. "But – and this might sound a little biased – in my school, the girls are interested in extracurricular activities a bit more than the boys."
What isn't a coincidence is how the young women were drawn to do good works. They credit their parents and other role models in their lives with showing them the way. For Ha Vo Nguyet Le, the main organizer of the club, inspiration came from a primary school teacher in the highland province of Dak Lak. Many students there belong to the Ede ethnic minority, and many are in need.
"I met the teacher through my mother, who also enjoys social work," Le says. Le and several friends decided to help the teacher purchase bikes for students who would otherwise have to walk six or seven miles to get to school.
"I visited her once in 2020 to learn more about her work in the remote areas of Dak Lak," Le says. "I was touched by her enthusiasm and her devotion to people who were strangers to her. She always gives out books and clothes for her students, and even gives free tutoring sessions in her house. Even though she's not the most wealthy person in the village – she's in the lower-income section of society – she's still able to do those kinds of things."
Le created a fund to provide school supplies and food for outstanding students in the region who need assistance. She's also part of a Vietnamese nonprofit for young people that raises money for various causes. When Le met Jason Lim, past governor of District 3350, he urged her to start a Rotaract club.
"Ha Le has the potential to become a strong leader," Lim says. "In doing community service, the important thing isn't how rich you are, it's your heart. She has the heart and the patience to lead her fellow members."
Le was just as impressed with Rotary. "We've gotten a lot of help from our club advisers," who are members of the sponsoring Rotary clubs of Bangkok Cyber and Saigon, she says. The club, chartered in February, is the only Rotaract club in Vietnam and part of a small but growing Rotary presence in the country. Five Rotary clubs have been chartered there in recent years, beginning with the Saigon and Saigon International clubs in June 2021. The women leading the new Rotaract club are masters at both social media and word-of-mouth organizing. They arranged a concert to raise funds, then persuaded many of the students who'd worked on the concert to join their group. Within a few months after they chartered the Rotaract club, it had more than 40 members.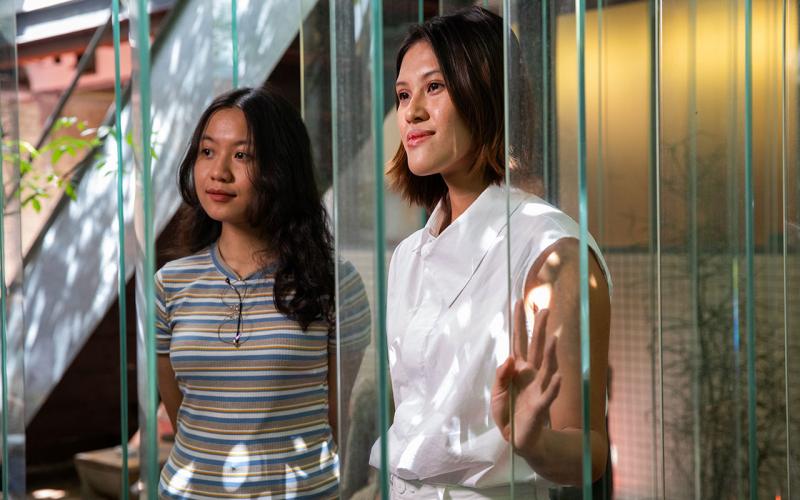 The club's causes include clean water, sex education, and food for mothers and children. Le is particularly excited about a project to provide 1,000 portions of milk each month to students in a nearby primary school.
"We're all about providing students with enough food security so that they can stay in school," she says.
My Trang Quynh Nguyen, the vice president, is dedicated to eliminating sexual harassment and encouraging sex education – both controversial topics in Vietnam.
"Normally in Asia, parents prevent any conversations about sex. This means children and teenagers have to explore everything in this area by themselves," she says. "It's crucial to normalize sex education and give our children the right direction."
Nguyen, Le, and Huynh have all been involved in fundraising and organizing work since high school.
"I used to participate in many extracurricular clubs, but I've never been in any organizations that have such a clear mission as this one," Nguyen says. Huynh learned about the club through friends, but her interest in helping others started at home.
"I've always been interested in social work since I was little, because my parents did it," she says. "But I wanted to be more proactive and not just follow my parents around. I started by raising funds in my student council to help students with intellectual disabilities in my school."
Huynh founded a school club to help these students, and that club later expanded its efforts to help students with disabilities all over Ho Chi Minh City. After this success, Huynh decided to begin working with the Rotaract club on a broader range of causes.
"What I really love about the club is that we raise funds on our own," she says. "The youth do it themselves."
Learn more about Rotaract clubs around the world.
- 21 September 2023