Children with disabilities learn artisan craft at Italian balsamic vinegar center rescued by Rotary
By Nikki Kallio Photos by Mattia Balsamini
Modena, Italy, is known for fine things. The region is home to manufacturers of Ferrari, Maserati, and Lamborghini automobiles. It's where the artisan cheese Parmigiano-Reggiano is made, as well as Lambrusco wine. And it's the only place in the world that produces traditional balsamic vinegar.
The vinegar is a delicacy – sweeter and thicker than the kind usually found on restaurant tables, refined and aged in casks up to 25 years. The process has been handed down from generation to generation; the casks are often bequeathed to children or used to celebrate milestones such as weddings and births.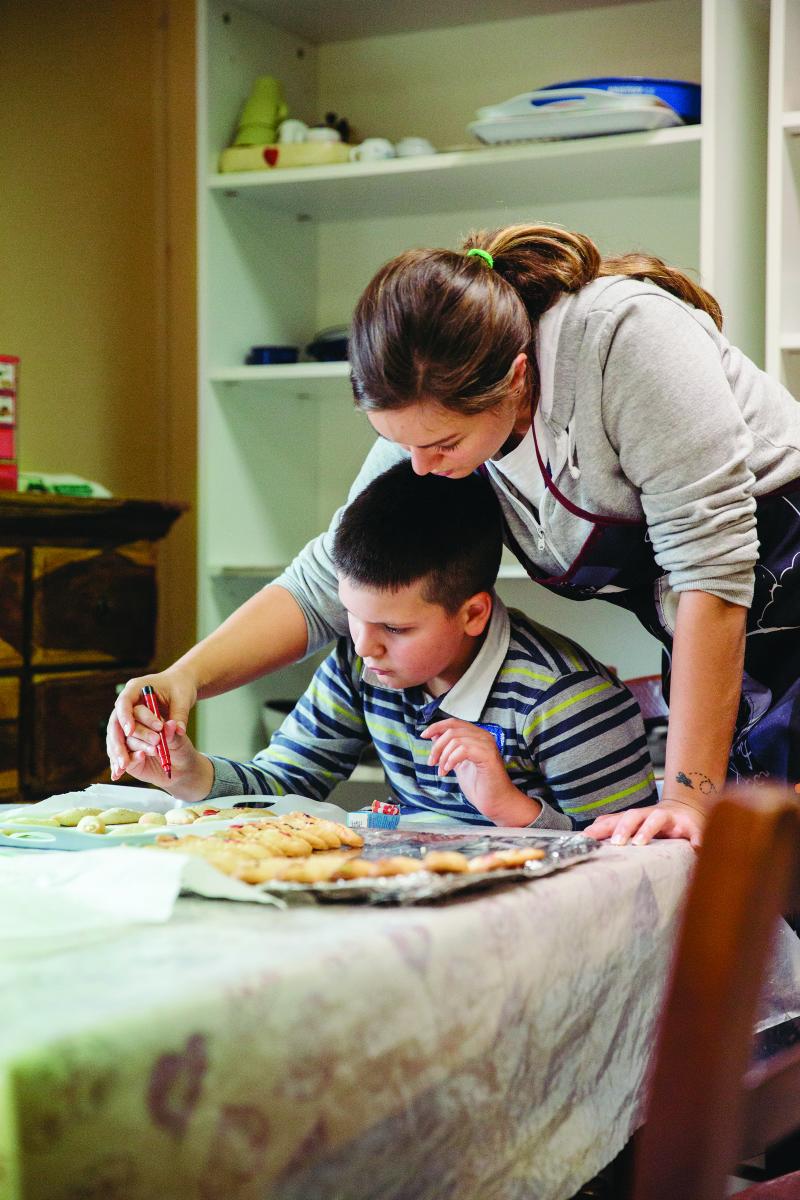 Each year about 30 students ages three to 18 benefit from La Lucciola, where they learn skills such as growing food for themselves and for the center's restaurant and, of course, producing the balsamic vinegar.
When students turn 18, they have the option to gain experience working at the restaurant, called La Lanterna di Diogene, which is open to the public.
Many students have mental or physical disabilities including cerebral palsy, Down syndrome, Angelman syndrome, autism, psychological disorders, and learning and behavioral problems. La Lucciola stands out among other programs for people with disabilities because it both combines traditional therapy with real-life activities and trains students in a group setting without segregating by disability.
La Lucciola ("The Firefly"), a nonprofit day center founded in 1987, is teaching this centuries-old process to students with disabilities. It's a way both for young students to practice everyday activities and for older students to develop artisan skills they can use to secure employment. But this training would have ground to a stop after a 2012 earthquake if not for the support of Rotarians.
"This project is important because it allows children to have more enjoyment in life," said Rotary Club of Carpi President Mario Santangelo, as translated by club member Gianpiero Lugli. "It also is important because their families can go to work without having to look after the children during the day."
By enabling the students to work closely with others while supervised by staff trained to deal with psychiatric issues, families also can rely less on medication for their children, Santangelo says.
Students at the center often experience a boost in confidence that leads to more engagement at home, Lugli says.
For example, he recalls a student who, after washing dishes every day at La Lucciola, went home and said, "I'm able to do the dishes. Let me do the dishes."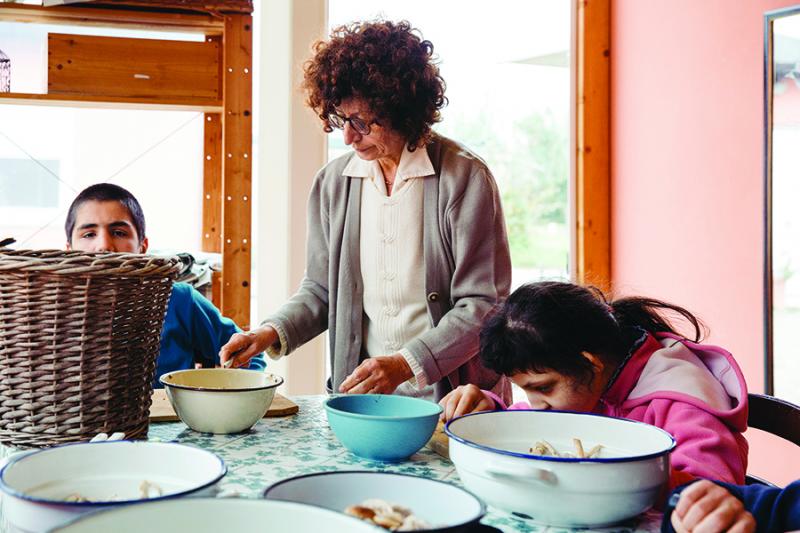 Medical director Emma Lamacchia developed the program after she and other therapists spent a month in a home with a group of disabled students in 1986, says Paolo Vaccari, president of La Lucciola.
"They started to understand that the more traditional rehab was very far from real life," Vaccari says. "And very far from the possibility of autonomy."
Integrating the production of balsamic vinegar into the program is a natural fit because the painstaking process is a long-standing tradition in the region.
It involves precise cooking of trebbiano grapes for at least 12 hours and fermenting them in the right environmental conditions. The vinegar is aged in a series of wooden casks, gradually becoming more concentrated as it is moved into progressively smaller barrels.
At La Lucciola, the grapes are still prepared and crushed the old way – by foot.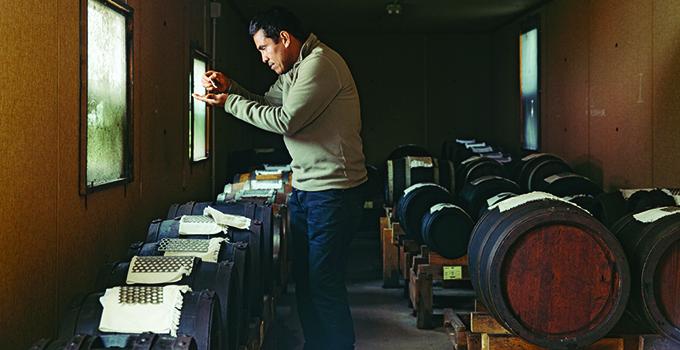 "The balsamic vinegar you find in restaurants is not the same as what's being produced by La Lucciola – and by myself as well," says Lugli, who makes his own balsamic vinegar in his attic, the small casks stowed in a corner by a window. "You've got many families who also produce. There's a difference – it's traditional. That means to have a good balsamic vinegar you have to have a minimum of 12 years of maturing. And the best stuff is 25 years."
This long aging process and the storage in traditional wooden casks are key factors in producing vinegar of this quality, he says. Casks may be made of cherry, oak, chestnut, juniper, or other hardwoods. Because of this delicate process, a small bottle (about 10 centiliters, or less than 4 ounces) might cost 50 euros, Lugli says.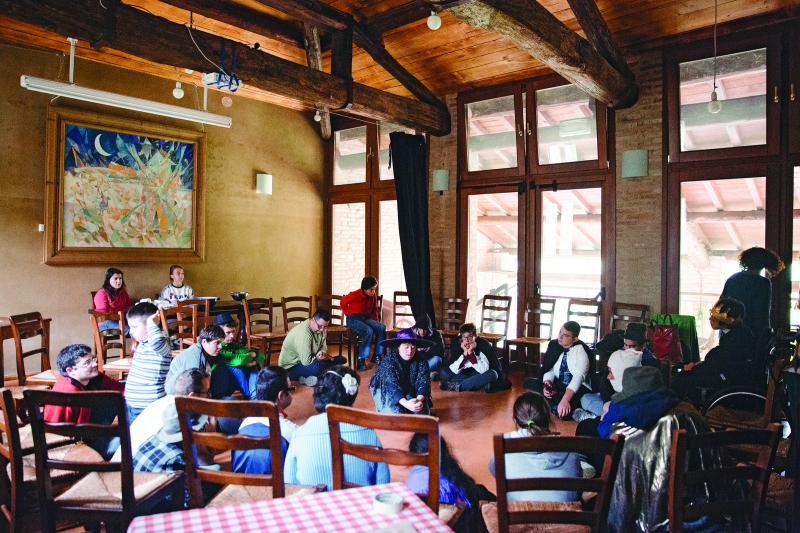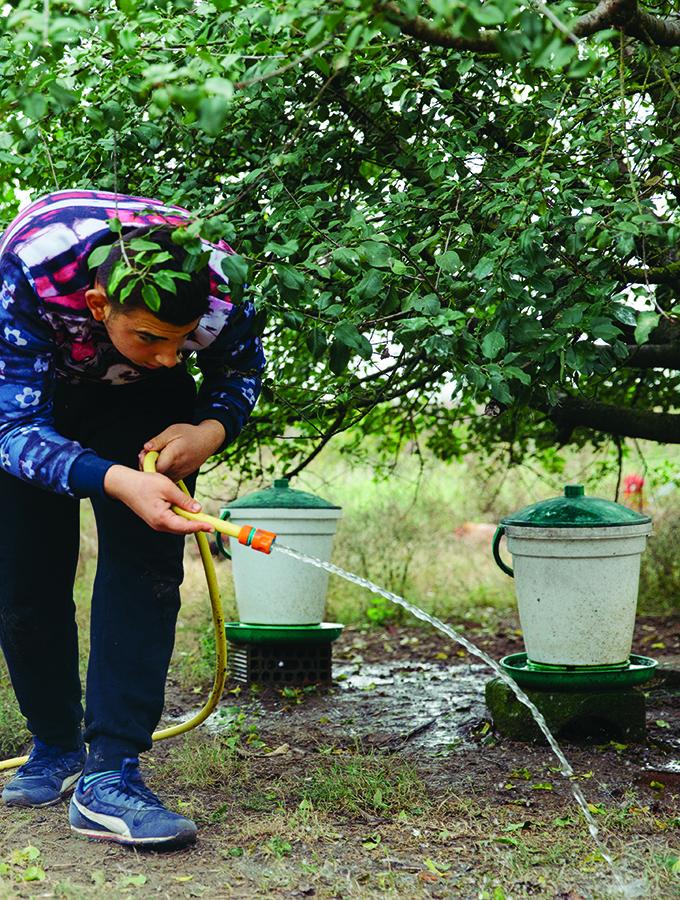 The 2 hectares of land where La Lucciola is based includes gardens where children learn to grow food, a garden designed purely for enjoyment, and a brook and a pond.
The property also has some farm animals, including chickens, sheep, pigs, and a friendly donkey that brays for attention from visitors. Before a 5.8 magnitude earthquake damaged the facility in 2012, students had learned and worked in a restored 15-room villa that was once a family's vacation home. The river that runs in front of the house once served as the main "road" to access the villa by boat, Lugli says. A berm now hides the river and protects the house from fluctuations in water level. (The former owners left the property to the local church, which arranged for La Lucciola to use the spacious and idyllic site.)
Immediately after the earthquake, students were forced into cramped temporary structures, hindering the organization's ability to deliver the program as designed – with an emphasis on a carefully contrived environment. "Spaces are a very important element from an aesthetical point of view," Vaccari says. "Rehabilitation, for many children, means helping them create fulfilled lives. So it's important that the spaces, the places, and activities inside the places have the ability to attract their interest."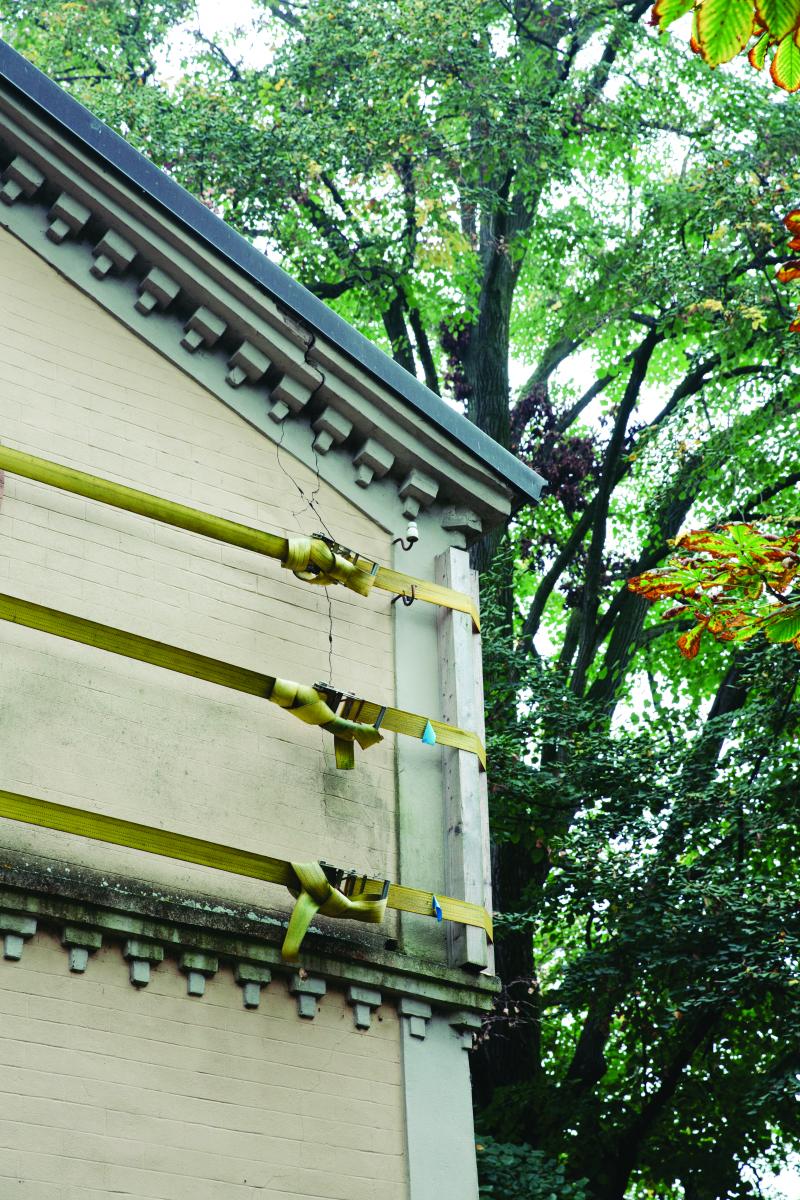 Four years later, the villa is still stabilized with boards and straps, rendered unsafe by structural damage, and will remain so until funding and government approval allow for repairs. Taking students out of that space and into smaller, less appealing quarters caused disruption that went beyond inconvenience. One student had a violent outburst and broke Lamacchia's arm. Vaccari attributes the incident to the stress of the move and says such episodes are rare.
While the program continued without missing a day, La Lucciola had to stop production of its vinegar, the sales of which annually bring in 50,000 euros to help fund the program. Seeing the emergency need, Rotarian Lugli suggested a global grant project.
The Carpi club, with the Rotary Club of Paddington in London, led this effort with 14 other clubs and two districts. The $132,700 grant reconstructed the second floor of La Lanterna, allowing for a new vinegar production and training area. The large, open room has a high ceiling with exposed beams and chairs lining the perimeter for students to watch demonstrations.
The new program room helped the center restart its innovative approach to merging medical treatment with engagement in real-life activity. It increases opportunities for vocational training and is helping La Lucciola replace the income it lost when the earthquake halted vinegar production.
"The building is used for producing traditional balsamic vinegar as well as for teaching young people how to produce the vinegar," says Lugli, whose 14th-century home also was damaged in the quake. "Afterward, the revenue from the vinegar is used to finance the program. It's sustainable. They have contributions from public institutions as well, but they contribute themselves too."
At La Lanterna, a multicourse gourmet meal is set out on an elegant round table for guests to sample dishes, many made with the special vinegar, which is also sold there. In the summer, the restaurant seats up to 80 guests. Carpi Rotarians sometimes meet there.
Italian law requires businesses to hire a small percentage of people with disabilities, so the skilled training offered by the program creates opportunities for the graduates of La Lucciola, Lugli says. Six to eight young adults benefit from the La Lanterna program annually. In October, the Carpi Rotary Club presented the restaurant with a prize for social entrepreneurship called Capitani dell'Anno during a conference at the University of Parma.
• Read more articles from The Rotarian