Italy's disappearing villages
Earthquakes and emigration are draining the life out of rural communities. Rotarians are giving young people a reason to come back.
By Diana Schoberg Photos by Gianluca Cecere
Arquata del Tronto was never an easy place to live. Picturesque, yes: The snowcapped peak of Monte Vettore forms the backdrop to this collection of medieval villages sandwiched between two national parks in central Italy's Appenine Mountains. Tiny chapels line the local trails, and one village is known as the land of the fairies, a mythological place where shepherds were lured in by beautiful fairies with goat feet. But the municipality, which includes 15 villages, had a population of 1,200, and the nearest city is 15 miles away along the narrow, winding mountain roads. For a young person, for a young family, there was not much reason to stay. And that was before the earthquakes hit.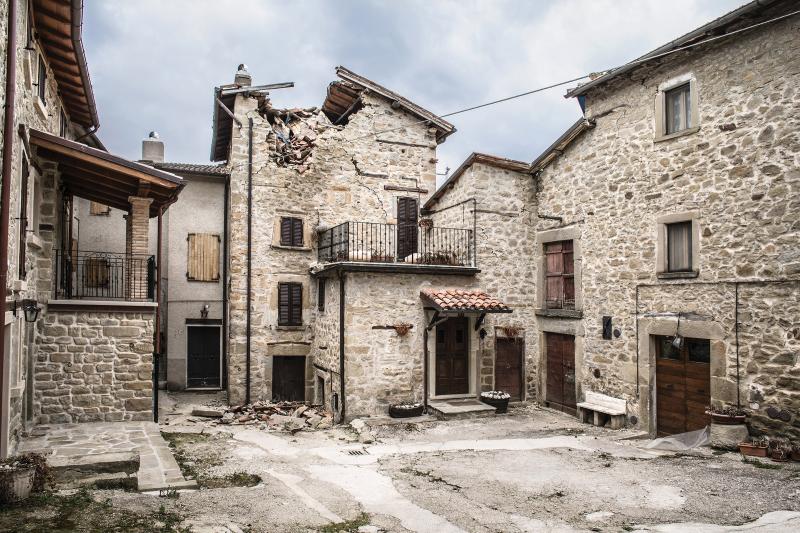 Maurizio Paci explains all of this after he escorts us through an army checkpoint to view this community where he and his family have lived for generations, which was reduced to rubble after three major earthquakes hit central Italy in 2016. He experienced the tragedy up close: Here in Arquata, he has been on the municipal council for 11 years, while in nearby Amatrice, which was also pummeled during the disasters, he is a police officer. "I was hit on all sides," he says.
It's a cool day in March, and the wind blows a shutter open and shut, revealing the plush headboard of a bed inside one of the still-standing buildings. We see a purple ironing board peeking out of an upended roof, a squashed red car, mattresses, bed frames, and bales of hay strewn about.
But we also see signs of hope. With the help of Rotarians, some people see a future for these abandoned towns.
It was 3:30 a.m. on 24 August when the first earthquake struck. Paci awoke to the sound of a large mirror crashing to the floor, his parents yelling. He ran outside and saw his neighbors pouring out onto the street. He went to help in Pescara del Tronto, an area village that was so devastated that the mayor told the Italian newspaper il Giornale that it looked like Aleppo, Syria.
"I saw people dead on the street who had escaped from their homes but were hit by debris. I pulled somebody alive from the rubble," Paci says as we stand outside the ruins. "It was really dark. Everybody was yelling. You didn't know where to go or who to help first."
Nearly 300 people died in the 6.2 magnitude quake, including 50 in this area. Two more earthquakes hit the region in late October. The three in rapid succession left thousands homeless.
Earthquakes are not unfamiliar to Italians. Two plates of the earth's crust, the African and Eurasian plates, are slowly colliding in northeastern Italy, a geologic shift that created the Alps. Meanwhile, the entire area where that collision is happening is drifting southeast. The result is that the ground underneath the Tyrrhenian Basin – the portion of the Mediterranean Sea surrounded by mainland Italy and Sicily, Sardinia, and Corsica – is being stretched apart. It's that stretching that is causing the tectonic activity in the Apennines.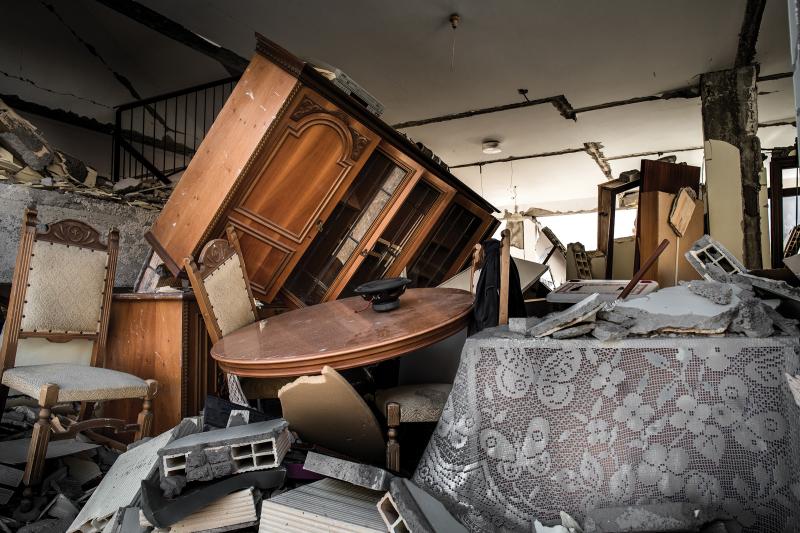 The last of the three earthquakes had a 6.6 magnitude, the strongest to hit Italy in 36 years. It created a huge crack in Monte Vettore and caused the land in a nearby village to drop 2 feet. Homes that had survived the initial earthquake were damaged. Arquata's villages were declared uninhabitable because of the continuing aftershocks (including one early in the morning of our visit), and its residents, including Paci, now live in hotels or with family somewhere safer. A tunnel that had connected Arquata to other towns collapsed, and what had been a 15-minute trip became two hours. "The biggest problem is that people have left," he says. "People are afraid to come back."
In the weeks after the first earthquake, Rotarians began meeting with members of the affected communities to find out what they needed most. "The days following the earthquake were full of phone calls from everyone who wanted to go help, who wanted to collect materials and so on," recalls Paolo Raschiatore, 2016-17 governor of Rotary District 2090, home to about 90 percent of the communities damaged by the earthquakes. But too many well-intended helpers jammed the mountain roads, making the work for emergency crews harder, he explains. "It's not only not necessary; it's a problem. I asked them to stay home."
Less than two months before the first temblor, Italian Rotarians had already embarked on a landmark earthquake initiative that was years in the making. The 2014-15 district governor-nominees had decided to focus on earthquake safety as a group, prescient given what was to come. They signed a memorandum of understanding with the national Department of Civil Protection in July 2016 in which Rotarians agreed to create a task force for disaster aid in each district. The groups would organize activities to use Rotarians' professional skills – technical, legal, medical, and industrial – to support civil protection activities in both ordinary and emergency situations. The project had to be put on hold as the government responded to the recent disasters.
After an earthquake in L'Aquila in 2009, Rotarians had stepped in and raised €2 million to rebuild a wing of the school of engineering at the University of L'Aquila. But following the 2016 earthquakes, the Italian government promised to reconstruct the buildings. So, instead of a construction project, members of District 2090 decided to draw on their expertise as businesspeople to help the communities rebound economically and give young people a reason to return.
The district already had an active mentoring framework called the Virgilio Association, named for Virgil, the guide in Dante's Divine Comedy. Rotarians had founded the organization several years prior to foster new economic activity in the district. They decided to use the Virgilio Association to develop programs for young entrepreneurs, including business mentoring, marketing, and facilitating access to bank credit.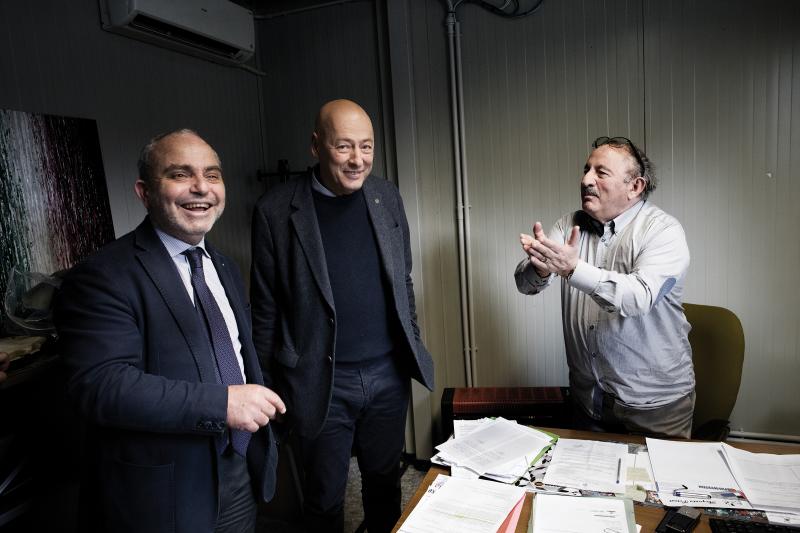 In June, the district signed agreements to build two business incubators, one in Arquata and one in Camerino, a city about 50 miles away with a university that will manage the programs to ensure sustainability. Rotarian professionals will handle the design and contracting for the construction of the facilities, which will cost an estimated €300,000 to €400,000 each. "If we want to maintain these places, it's important to build new occupations for people, especially for young people," Raschiatore says. They call the initiative Progetto Fenice – the Phoenix Project.
As of the end of June, the district had raised €600,000 from Rotary members, clubs, and districts in Italy and abroad for the initiative, as well as a substantial portion from non-Rotarian donors. They launched about 20 mentoring relationships, with another 20 in the works. Rotarians are also working to create an e-commerce website to help businesspeople sell their products. "The youth are waiting on us. We absolutely can't fail," says Vincent Mazzone, president of the Rotary Club of Ascoli Piceno, the nearest club to Arquata.
At the trailer serving as Arquata's town hall, Paci introduces me to Aleandro Petrucci, the mayor of the munici-pality. Boxes are stacked along the floor in the office, and a space heater helps warm the cool mountain air. Petrucci says he has three main goals: jobs, housing – "and churches, of course," he says with a laugh – and bringing back youth, something he's glad to have Rotary's help with. Just a few days earlier, Rotarians met to talk about the project. "Rotary will bring structure that would not be there without it," he says. "That will bring jobs and young people."
Giovanni Palaferri is precisely the kind of enterprising young person the Rotarians are trying to keep in the area. Palaferri's home was built with anti-seismic measures, so it is still standing. But since the area is deemed uninhabitable, he makes a 40-mile daily round trip to care for the animals on his farm in Spelonga. A calf born the previous night mews as we talk, the larger cows crunching on hay in a temporary barn.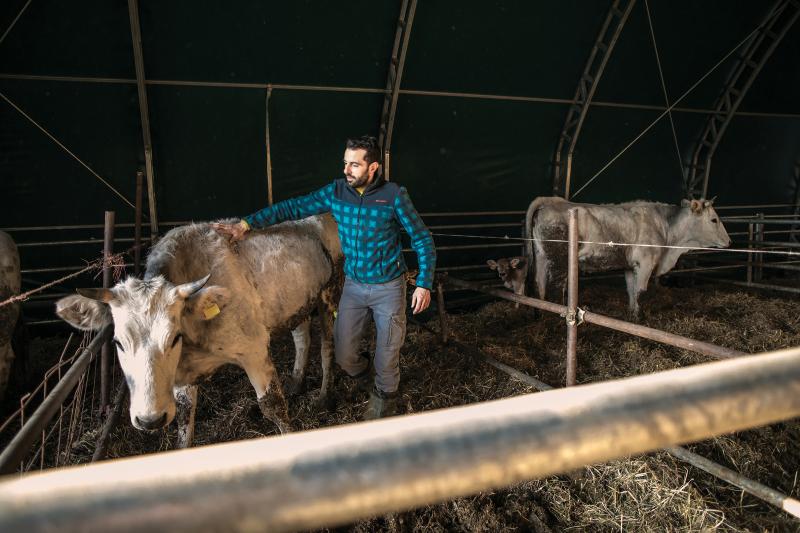 After spending time in his early 20s traveling Europe as a tour bus driver, Palaferri returned to the area and started raising cows a year ago on property his grandfather had farmed. He wants to expand his effort to making specialty cheeses and products with the chestnuts he harvests from his and his neighbors' properties. With other young people in the area, he founded a business association to help increase production and sales, which is receiving assistance from the Rotarians' project. "Rotary will let this business go further," he says. "I could go national."
And that, he hopes, will make Arquata a destination. "The ultimate goal would be that Arquata and all of the small villages in the area will compete with the famous centers around here," he says. "If we can put Arquata on the map, it will attract more young people to come here."
But life is so tough here, why would anyone want to come back?
Palaferri left this rural area to seek a better life elsewhere, but what he discovered is that this is his home. "I love it, and for me it's the best place in the world. It's almost like paradise when this is what you see," he says, gesturing to the mountain view outside the barn door.
For Paci, whose girlfriend hopes to launch a beekeeping business to sell honey and related products through the Rotary project, it's even simpler. This is where his family has always lived. "I have the option to leave; I have a job in Amatrice. I could forget about it here. But I'm tied here because of my ancestry.
"Before the earthquake you had to have resolve to live here," he says. "Now my resolve is even stronger. I feel motivated not just about building a home, but building a community."
And that's something Rotarians know how to do.
-- Translations by Francesco Bruno, RI communications specialist/Europe-Africa
• Read more stories from The Rotarian