By Arnold R. Grahl Photography by Monika Lozinska
After discovering new perspectives and being inspired by new ideas at the 2022 Rotary International Convention, attendees and virtual participants are looking ahead to next year's gathering in Melbourne, the sparkling second city of Australia.
This vibrant hub of art, sports, and cuisine will host the 2023 convention, set for 27-31 May. Rotary members, participants, and supporters are invited to Imagine What's Next and explore the possibilities for Rotary's future.
Our commitment to diversity, equity, and inclusion will also be an important focus during the event, which will be packed with thought-provoking speakers and practical breakout sessions. Rotary members in the Host Organization Committee are planning activities to show visitors why their city is known for world-class sports, cultural diversity, exceptional dining, and inventive street art.
Anyone who registers by 15 December will pay a reduced price.
The 2022 convention in Houston, Texas, USA, offered plenty of inspiring moments as Rotary's global network gathered in person for the first time since 2019, following two conventions that were held virtually because of COVID-19. The convention offered participants new horizons to discover through in-person events and a robust schedule of virtual offerings (with recordings available through 31 August).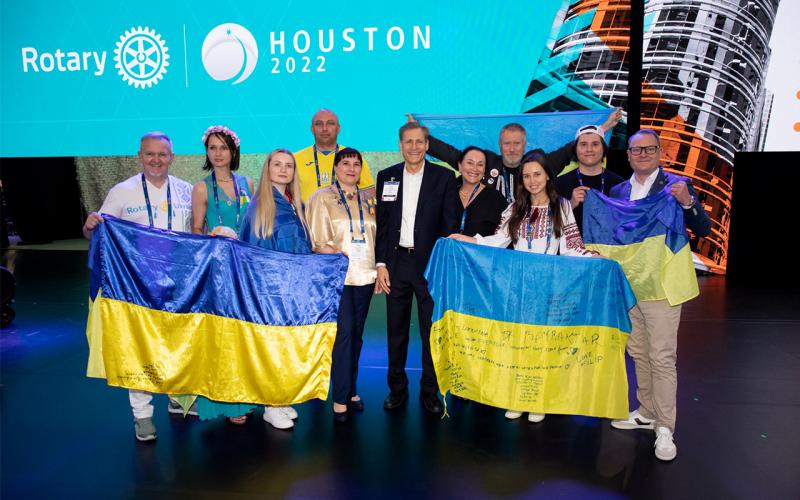 A Rotary first
During the closing session , Rotary International President-elect Jennifer Jones gave members a preview of what she'll be focusing on.
"For the past two years, the most common question I have received is, 'How does it feel to be our first woman president?'" Jones said. "I will confess, I feel a sense of excitement brewing because I believe this opens opportunities for lifting and celebrating each of our diverse perspectives."
"We've all taken a different path to get here," she continued. "Some because your father was a Rotarian, some because an employer tapped you on the shoulder, others because a Supreme Court ruling permitted women to join ... and yet each of us entered through one mechanism — an invitation.
"That is why I am determined to harness diversity, equity, and inclusion to advance this invitation across the Rotary world."
Jones also called on leaders throughout Rotary to be trailblazers, and pledged to continue President Shekhar Mehta's Empowering Girls initiative, which she said "has resonated powerfully around the world."
Other highlights from Houston:
The Rotary Presidential Conference Houston: Serve to Bring Peace brought together peacebuilders from around the world to reflect on Rotary's response to conflict this year and reinforce our commitment to creating more peaceful and resilient societies.
Rotary's response to the war in Ukraine was acknowledged several times during the convention. Rotary International President Shekhar Mehta praised members for donating millions of dollars to help displaced Ukrainians. "They opened their hearts and homes...I saw from close quarters how Rotarians were caring for them. Seeing was believing," he said.
Dr. Olha Paliychuk, a member of the Rotary Club of Cherkasy, Ukraine, thanked Rotary on behalf of the more than 1,000 members in Ukraine. "You have not only donated and shipped medical supplies and other daily essentials to those of us inside Ukraine, but also provided shelter to those who have fled," she said. "Your help has saves lived, giving us hope and inspiring Ukrainians like me to stand up, to help our people, and protect our homeland."
Nobel Peace Laureate Kailash Satyarthi spoke about the work of the Kailash Satyarthi Children's Foundation to end the exploitation of children in India and around the world by addressing the inequality, injustice, and discrimination that lie at the core of child labor. Following his remarks, Mehta presented Satyarthi with the Rotary Award of Honor for his advocacy of children's rights globally.
Dr. Hamid Jafari, director of polio eradication for the World Health Organization's Eastern Mediterranean Region, shared an update on Rotary's progress in ridding the world of polio. "Through your entrepreneurial spirit, you have energized and inspired other partners to never give up. You are the glue that holds us all together, motivated and accountable," he said. "You have led us from the start of global efforts to eradicate polio, and we will be together at the end of polio."
Antoni Slodkowski, a 2003-04 Rotary Youth Exchange student from Poland to Japan, is the 2021-22 recipient of the Rotary Alumni Global Service Award. Slodkowski, Tokyo correspondent for the Financial Times, previously served as a bureau chief for Reuters in Myanmar, where he led coverage of the election of Aung San Suu Kyi and of the military crackdown on Rohingya Muslims, receiving the 2019 Pulitzer Prize for International Reporting.
Gen. Charles Duke (USAF Ret.) NASA astronaut, Lunar Module Pilot and 10th man to walk on the moon during the Apollo 16 mission, spoke of exploring new horizons.
Relive the excitement of the 2022 convention:
Speeches