Home from war, a hard-won struggle to find peace
An Iraq veteran works through his trauma — and adopts a mission to help others
By Kate Silver
Zach Skiles thought he was fine.
He completed his time in the Marines at 22 in 2004 after serving in the U.S.-led invasion of Iraq. His unit was shelled so many times he'd lost count. He was mourning friends lost in combat. But he was home, ready for what was next. "I was just happy to be alive," he says.
Still, the tendrils of war followed him. Skiles, soft-spoken with kind green eyes, found himself waking up to his own screams at night. He had spells where he'd wind up in a public place, like a Walmart, with no idea how he got there. "I didn't realize that I was in a bit of shock," he says. "And I continued to just disassociate every day."
For those first few years, he bounced between San Francisco and Los Angeles, worked different jobs, and took college classes. He even acted in local theater, channeling his anger into rage-filled characters. But when that anger and frustration started to consume him, he numbed himself with booze and weed. He fell hard for conspiracy theories about the 9/11 terrorist attacks and found himself using phrases like "New World Order" and "the Illuminati." He got fired in 2008 when his employer learned he'd been organizing conspiracy-oriented demonstrations in the community. "Then I slowly spiraled and ended up homeless," he says. "My family didn't really know what to do." After crashing on a friend's couch, he started sleeping on park benches in the Bay Area.
People closest to him told him he needed help. But to Skiles, they were the ones in the wrong. He'd kept in touch with fellow Marines and said everyone else in his unit was going through similar things. They were all dealing with their troubles in their own way. He would too.
In December 2009, Skiles went to a Veterans Affairs facility in Palo Alto for health services. Now that he was homeless, it was clear he wasn't doing fine. A social worker told him the Pathway Home could offer him support and a bed immediately.
A private facility founded in 2007, the Pathway Home leased space on the Veterans Home of California-Yountville campus, a sprawling, serene spread of Mission-style buildings, dotted with redwoods. The Veterans Home is the largest in the country, and more than 600 veterans live in the community. In contrast, the Pathway Home worked with about 40 residents at a time, providing individual and group counseling, educational classes, help accessing VA benefits, job referrals, and more. Most residents would stay four to six months, but some remained as long as a year.
Pathway Home's overarching goal was to help veterans reintegrate into civilian life. The vets tried to learn to move beyond or manage the demons of war. Brown University's Costs of War Project estimated in 2021 that more than 30,000 people who served in the military after the 2001 terrorist attacks have died by suicide. That's more than four times the number who died in military operations over that same period.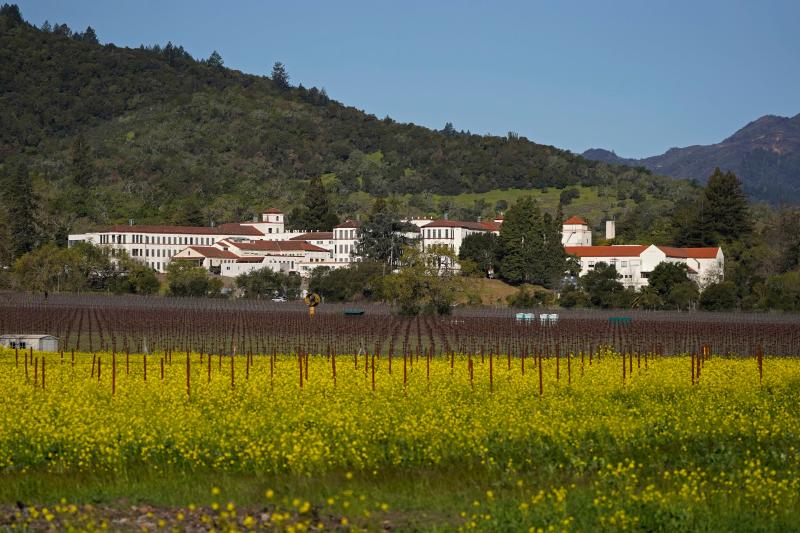 In the early days of the Pathway Home, its founder and executive director, Fred Gusman, a social worker and mental health specialist who worked with traumatized veterans for more than two decades, spoke to the Rotary Club of Napa, California. He told members about the startling suicide statistics and described how some veterans in crisis wait months before finding a bed in a treatment facility. The speech shook Napa Rotarian Gary Rose. A problem-solver by nature, he began thinking about ways to help and remembered a defunct charity bike ride called Cycle for Sight, which once benefited a camp for blind and partially sighted people. What if Rotary were to help bring back the event to also benefit veterans?
With the help of other area nonprofits and Rotary clubs, including Pacifica, San Rafael, and Brentwood, Cycle for Sight/Rotary Ride for Veterans was launched in 2008. It drew cyclists from across the Bay Area for picturesque 15-, 25-, and 50-mile rides, ending with food, music, and wine. The event raised more than $2 million by 2019 for the Pathway Home, drawing more than 2,000 riders a year before COVID-19 forced it to go virtual. "The love the veterans got from the community was crazy," says Rose.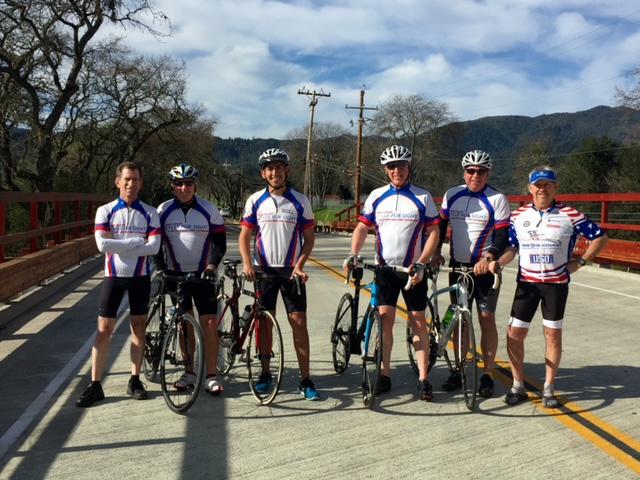 After learning about the Pathway Home through the VA, Skiles agreed to check in, but not until after the year-end holidays. By choice, he spent Christmas alone, sleeping outside on a bench.
He arrived at the home in January 2010, still in full denial. Looking around the treatment facility, he quickly decided that all the veterans there were crazy, except for him. "I don't deserve to be here," he told himself.
But slowly, over those first few weeks, he noticed how much he had in common with the others. Many of them, too, experienced bouts of rage, confusion, and terror. He attended classes and therapy sessions, participated in yoga and meditation groups. He started building trust and friendships, reflecting on his life and the steps that got him to that point.
When Skiles joined the military in 2000, at 18, he was a smart and sensitive kid with an easy smile and a quick laugh. But he was lost. He'd dropped out of high school and was living in a friend's attic while working at a video rental store. He knew he needed to get it together, but he wasn't sure how. That's when a tall man in a sharp, blue Marine uniform walked into the store. "He was such a good-looking dude," recalls Skiles of the recruiter. "I was like, 'Oh, man. Yeah. Tell me what you got.'"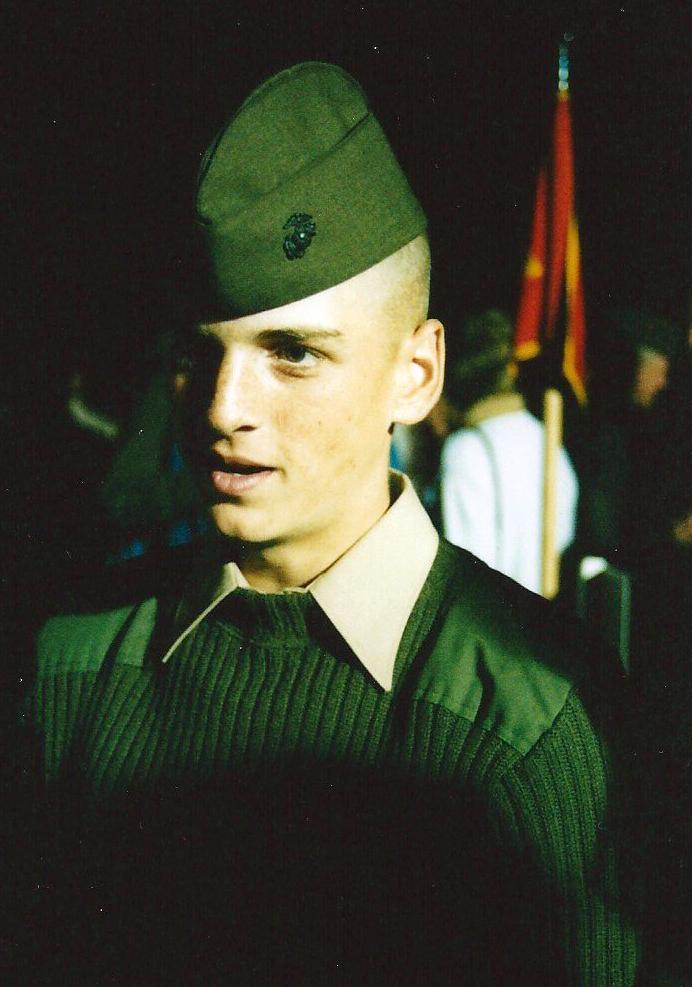 Skiles took away from their conversation concepts like outdoors, discipline, respect, education, direction, positive male role models. Skiles was 5-foot-7 and 110 pounds. He'd never held a gun. He enlisted in the Marines.
He never found the job easy. Initially, he was sent to a unit in Okinawa, Japan, that was being investigated because so many of its service members had died by suicide, he recalls. The environment felt toxic from the get-go. "The philosophy was that hate and discontent needed to bleed through the ranks to breed efficiency, and people would stay tough," he says.
But Skiles, an optimist through and through, told himself he would be OK. When his unit deployed to Camp Commando, Kuwait, in January 2003, his understanding was that the situation was just a "show of force." But on 19 March, the war began and the first Iraqi missile to hit the gate of Skiles' camp blew him off his feet. From then on, seemingly every half hour for weeks, his unit came under attack.
As a driver, he delivered fuel to camps, provided convoys security, and helped build infrastructure in Iraq. Along the way, he'd hear Scud missiles approach. "Six to 12 would fire off at once," he says. "They'll eventually end up either on top of you or in front of you or behind you."
Late at night, as he tried to sleep, the barracks filled with traumatized screams.
How your Rotary club can support veterans
After working with veterans for more than 10 years, the Rotary Club of Napa created a downloadable guidebook called Serving Those Who Have Served: Helping Rotarians Better Serve Veterans.
"The goal of this guidebook is to provide a road map for any Rotarian who has thought, 'I'd like to help veterans, but I don't know how,'" says Dorothy Salmon, a club member and past club president, who spearheaded the guide and produced it with the help of author Suzanne Gordon. "It's intended as a gift from one Rotary club in Napa to thousands of Rotary clubs across the country."
The Rotarians' involvement with the Pathway Home went beyond their fundraising ride. Napa club members took the veterans hiking, fishing, and bowling. They helped them write résumés, and introduced them to prospective employers.
When the Pathway Home needed supplies such as blankets, the Rotarians helped out. Napa Rotarian Kent Gardella contacted quilt business, and it made personalized quilts for each veteran, paid for with money raised by Rotary members. One Mother's Day, Gardella, who owns a jewelry store, invited Pathway Home residents to choose an item from his store to give their mom or wife as a gift.
Gardella, a Vietnam veteran, tears up when he reflects on all the times he spent with the veterans. "We didn't baby them," he says. "They're really amazing young people, and that we get to spend time with them, that's a privilege."
Things were starting to come together for Skiles. After a few months at the Pathway Home, he felt a sense of acceptance. "At your lowest, having people who still want to genuinely connect is really special," he says.
In his free time, Skiles devoured books suggested by one of his therapists on the psychological toll of combat. During group sessions, some clinic leaders recognized he had a gift for therapy. His Rotary friends agreed. "We convinced him, 'Hey, you're really a smart kid,'" Dorothy Salmon of the Napa club recalls. "You need to go back to school."
And that's what he did. The boy who had once dropped out of high school got his bachelor's in psychology, and his doctorate in clinical psychology at the Wright Institute in Berkeley, California. Along the way, he worked in positions that validated that he was doing the right thing, for him and for others, serving as a peer counselor and developing programs to help other veterans. He continued meditating and practiced mindfulness to calm his anxiety.
He wasn't perfect, but he was better and, he thought, probably as good as he was going to get.
On 9 March 2018, tragedy struck again — this time at the Pathway Home.
Afghanistan War veteran Albert Wong rented a car and drove to the facility, where he'd lived until a couple of weeks earlier when he was discharged for not complying with regulations. That day, he interrupted a going-away party for two staff members. He was carrying a 12-gauge shotgun and a .308-caliber semi-automatic rifle.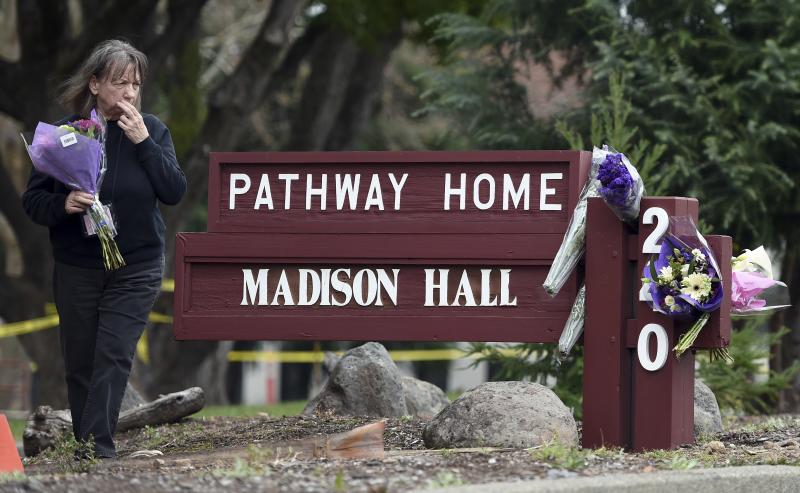 After ordering the veteran residents out, he held three staff members hostage: Executive Director Christine Loeber and psychologists Jennifer Gray Golick and Jennifer Gonzales Shushereba, who was pregnant. When a Napa County sheriff's deputy arrived, shots were exchanged. Wong killed the three women, then killed himself.
After the shooting, the Pathway Home, which had treated nearly 460 veterans since its founding, shut down. But Salmon, who served as the home's president from 2013 to 2018, was determined not to let the shooting be the end of the story. "I said to the Rotary club and to the Pathway Home board, are we going to let this be our legacy, after years of incredible success?" says Salmon. "This cannot be the story." To this day, the Rotary Club of Napa raises money for a program that works with veterans at the Martinez VA Medical Center's outpatient clinic.
The Pathway Home tragedy jolted Skiles. But it didn't shake him from his path.
While in doctoral-level clinical training in 2018, he received an invitation to travel to Mexico to serve as a clinician for an organization called the Mission Within, which provides therapy using psychedelics to veterans with PTSD, traumatic brain injuries, anxiety, and other conditions. Psychedelics, used medicinally since ancient times, are experiencing something of a renaissance. They have been decriminalized in some states and towns in recent years, and the VA is investigating psychedelic treatments.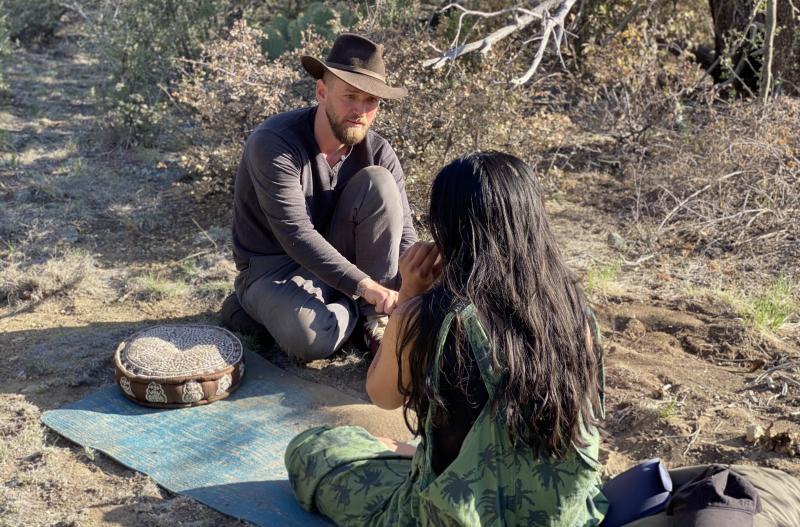 With his science-minded curiosity piqued, Skiles traveled to Ensenada and agreed to participate in the therapy himself, for a deeper understanding. Under watchful observation, he took 5-MeO-DMT, a psychedelic found in plants and secreted by the glands of the Sonoran desert toad. On the top of a mountain, looking over a beach, surrounded by wild horses, he felt his stress and worries lifting. Some mental scars of Iraq dissipated. "The only way I've been able to describe it is that I'm not carrying things that I thought I would carry for the rest of my life," says Skiles. "I think it's comparable to 10 years of meditation in a matter of minutes."
Across the globe, universities and hospitals — including Johns Hopkins, Massachusetts General Hospital, and the Imperial College London — have launched programs dedicated to studying the field of psychedelic treatments. Skiles earned a certificate in psychedelic-assisted therapies and research from the California Institute of Integral Studies, and from late 2021 until mid-2022, he held a research position at a lab at the University of California San Francisco that studies psychedelics.
Andrew Penn, a psychiatric nurse practitioner and an associate clinical professor at UC San Francisco 's School of Nursing, studies psilocybin-assisted therapy in areas such as treating depression. The lab is testing the hypothesis of whether psilocybin — the hallucinogenic compound from so-called magic mushrooms — causes brain structure changes, allowing people to be more flexible in their thinking and to navigate their thoughts, emotions, and behaviors differently, when coupled with intensive psychotherapy.
"The brain creates these sort of grooves, if you will, of thought and emotion," Penn says. "It's like if you're skiing at the end of the day, you have to ski in other people's tracks because you're forced into these slots. But if it snows overnight, that same hill is like fresh powder; you can go anywhere you want. Psilocybin is like the fresh powder."
Skiles now works as a therapist at the Portland VA Medical Center for veterans seeking therapy with psilocybin and MDMA (better known as ecstasy) through the Veterans Health Administration in Oregon, the first state to legalize psilocybin. The Food and Drug Administration designated MDMA as a breakthrough therapy for PTSD, which is meant to speed up the approval process, and final-stage safety testing is underway.
As a Marine, Skiles learned to operate as a part of a unit. Now, nearly two decades after his service, he refuses to leave his brothers behind.
He has a theory that he's been put into places and situations that are about to take a turn for the worse. It happened when he became a warrior. And it led him to his path as a healer. "My duty," Skiles says, "is to make things better."
This story originally appeared in the November 2022 issue of Rotary magazine.
The Rotary Action Group on Mental Health Initiatives promotes mental health and wellness.