Rotary History
Chesley R. Perry: Rotary's first general secretary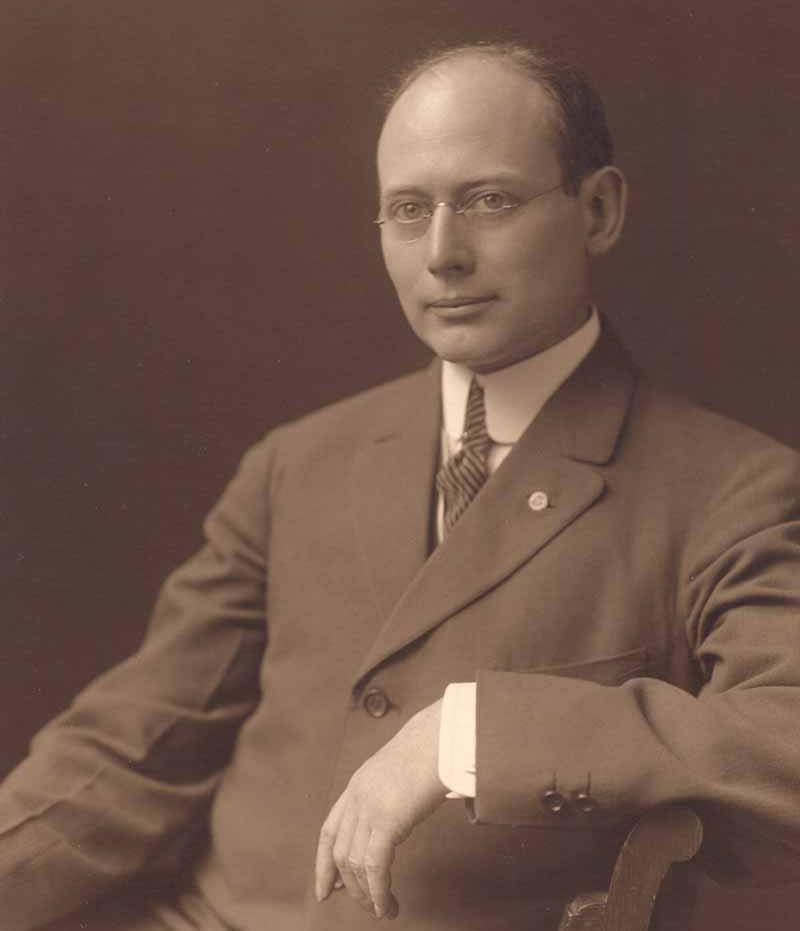 Chesley Reynolds Perry, a Spanish-American War veteran and former Chicago Public Library employee, served as Rotary's first secretary and is known as "the builder of Rotary International."
While Rotary's president changes every year, only 12 people have served as general secretary, a role that's equivalent to a chief executive — and at 32 years, Perry served the longest.
In August 1910, the newly formed National Association of Rotary Clubs (now Rotary International) unanimously selected Perry for the role then known as secretary. He accepted the part-time position at $100 per month, with an agreement that the amount of time he'd devote would remain unspecified. By 1912, the job had evolved into a full-time executive role, and Perry's pay was increased.
Perry's own office on LaSalle Street in Chicago, Illinois, USA, served as the first headquarters of the association. By 1911, Rotary had established an office in the First National Bank Building at the intersection of Dearborn and Monroe in Chicago.
Perry concurrently served as editor and business manager of The Rotarian from 1911 to 1928, and he opened Rotary's first international office, in Zurich, Switzerland, in February 1925. He oversaw the expansion of Rotary as it grew during his tenure from 16 clubs in the United States to more than 5,000 worldwide. His title was officially changed to general secretary in 1941-42, his final year in office.
If I can in truth be called the architect, Ches can with equal truth be called the builder of Rotary International.

— Rotary founder Paul P. Harris, "My Road to Rotary" (1948)

Perry had announced his plans to retire in 1940, but agreed to remain in his post while the organization trained his successor, Philip C. Lovejoy. A number of clubs sought to nominate Perry for RI president in 1942-43, but he declined, saying, "I am gratefully conscious of the high compliment thereby being paid to me."
After retiring, Perry remained a member of the Rotary Club of Chicago, which he'd joined in 1908. But he wasn't done being a leader, and served as club president in 1944-45. In 1954, Rotary offered him the title "secretary emeritus" to honor his years of service, but he again declined, preferring the role of ordinary Rotarian.
Perry died on 21 February 1960 at the age of 87.
---
General secretaries of RI
Chesley R. Perry, 1910-42
Philip C. Lovejoy, 1942-52
George R. Means, 1953-72
Harry A. Stewart, 1972-78
Herbert A. Pigman, 1979-86; 1993-95
Philip H. Lindsey, 1986-89
Hugh M. Archer, 1989-90
Spencer Robinson Jr., 1990-93
Geoffrey S. Large, 1995-97
S. Aaron Hyatt, 1997-2000
Edwin H. Futa, 2000-11
John P. Hewko, 2011-present
Learn about Rotary's leaders.