Milk powder for orphaned elephants
While visiting the Sepilok Orangutan Rehabilitation Centre on the island of Borneo in Malaysia three years ago, New Zealand Rotarian Debbie Mair fell in love with a couple of fuzzy orphaned pygmy elephants, the smallest subspecies of elephant.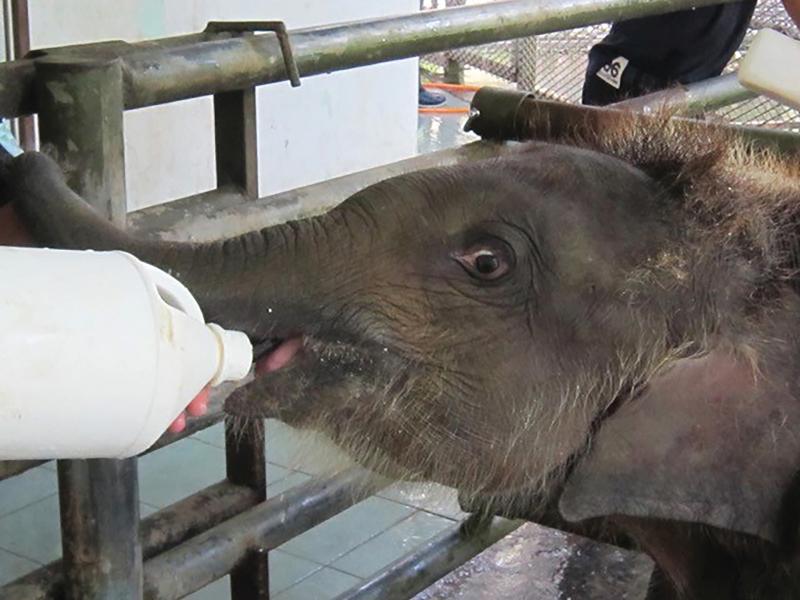 Mair says the orphans' parents had wandered onto palm plantations in search of food and were killed. Indonesia and Malaysia are the world's largest producers of palm oil, a common ingredient in food and household items. Deforestation to make room for plantations has greatly reduced food sources for pygmy elephants, along with rhinos, sun bears, orangutans, and tigers. Poachers also target the animals.
"I felt we had to do something," says Mair, a member of the Rotary Club of Hutt City. She bought as much milk powder locally as she could to feed the elephants, which need up to 50 gallons of milk daily to survive. Since then several more orphaned elephants have arrived, all hand-fed by staff who add vitamins, coconut oil, and minerals to the powder.
Mair, an executive officer of the Rotarian Action Group for Endangered Species, has built partnerships with the Sabah Wildlife Department; the Rotary Club of Kota Kinabalu, Malaysia; and Fonterra New Zealand, one of the world's largest exporters of dairy products, which supplies the milk powder for the elephants at a discount. The rescue center also receives funding from Rotary clubs where Mair and other action group members give talks.
Last year Mair attended a conference that brought together plantation owners, scientists, and wildlife advocates, and sat down with owners to hear their concerns and work toward solutions. As a Rotarian, she says, she was viewed as an impartial observer. Today, she says, the palm plantation managers are increasingly calling wildlife rescue units when elephants are discovered on their land or when they find injured animals.
"I don't want future generations to only see these wild animals on video," says Mair.
– Anne Stein
• Read more stories from The Rotarian