A non-Rotarian walks the (long) walk
For more than two decades, Judy Colaneri has guided hikers along ancient pilgrimage routes that crisscross the European countryside. During those journeys, the American-born Colaneri, who splits her time between Spain and the United States, has heard hundreds of stories from those who've walked the trails beside her.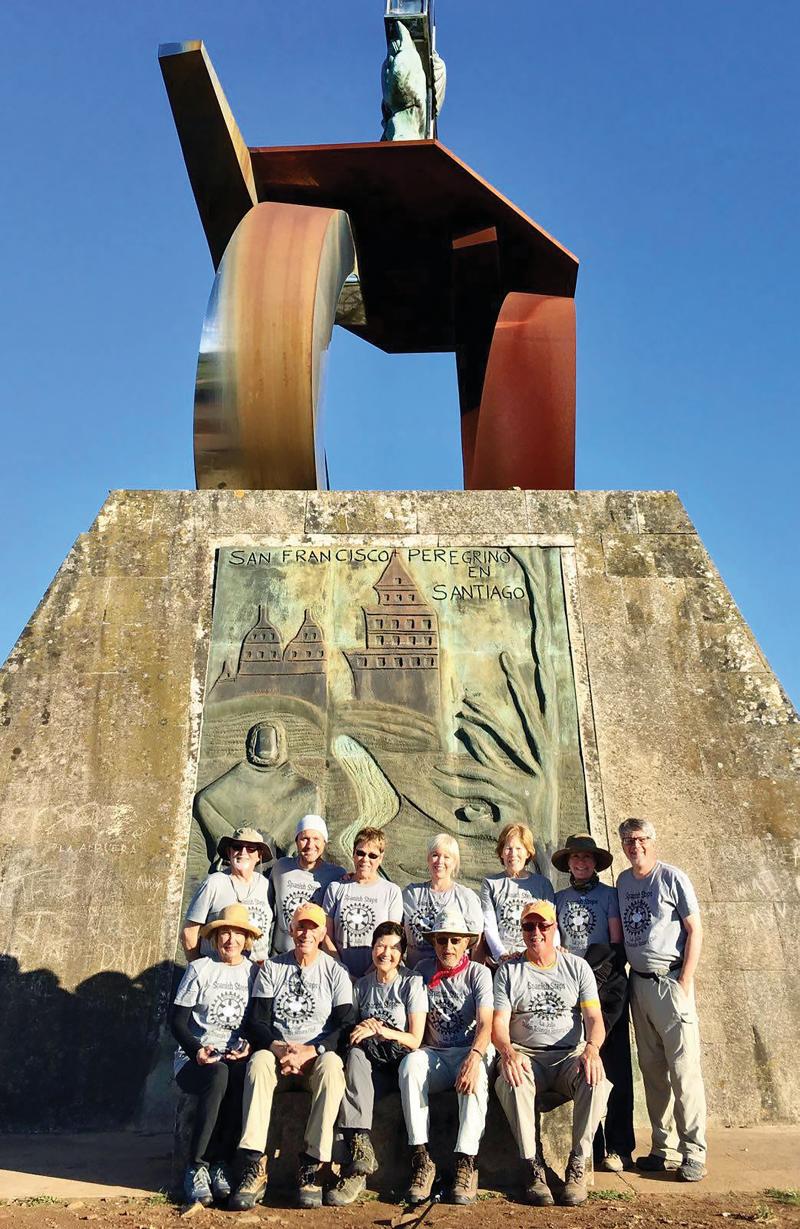 Krishna and Bonnie Arora, members of the Rotary Club of La Jolla Golden Triangle, California, US, have trekked with Colaneri almost a dozen times, and what they told her about Rotary on those journeys made a big impression.
"They're always talking about their club's work in Peru or India or Pakistan or Mexico, and I thought, 'They are such good people,'" says Colaneri, who runs a tour company called Spanish Steps. "I'm at a point in my life where I'm still working so much and don't have time to do what they do as Rotarians, so I called Krishna and Bonnie one day and asked how I could participate. I wanted to do something to help them."
Colaneri came up with the idea of leading a trip of Rotarians and donating all profits, and the services of two of her guides and herself, to the Rotary Club of La Jolla Golden Triangle. Club members embraced the opportunity. "We put an item about the trip in the district newsletter, and other Rotarians signed up. We decided we'd pick some projects and ask for donations," says La Jolla Golden Triangle member Linda Stouffer-Wallis.
On 31 March 2017, 12 California Rotarians from five clubs set off on an eight-day hiking trip, following the last 100 kilometers of the Camino de Santiago pilgrimage trail leading to the Spanish holy city of Santiago de Compostela. The fundraiser brought in more than $23,000 from Colaneri's company and nearly $5,500 in donations collected by the Rotary hikers.
"For Judy to give all of her profits from the trip to us, as well as volunteering herself and two guides, was extraordinary," says Stouffer-Wallis, who walked with husband Steve Wallis. A few years earlier she had hiked a portion of the trail through France.
"The beauty of this trail seeps into your soul," says Stouffer-Wallis, a banker, who coordinated the fundraising and distribution to club projects. "It's a deep experience. If you're open and ready for it, the walk does some transformative healing." (A number of books and movies have documented the power of the trail, including The Way, a 2010 film starring Martin Sheen and Emilio Estevez.)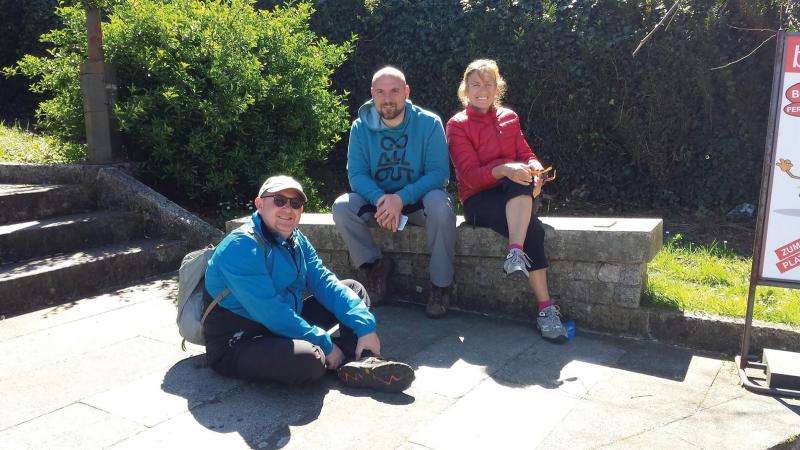 La Jolla Golden Triangle Rotarian Wayne Davis and his son Steve, a member of the Rotary Club of Escondido After Five, also went on the journey. "I'd heard about the walk for a long time and signed up mainly because of a book I'd read about it, To the Field of the Stars," says the elder Davis, a San Diego architect.
"I love historical elements of geography, and I was taking in everything around me, from the weather to the old path, the historical buildings and stone farmhouses, the people – it was all very inspiring to me in terms of history and knowing it was a path that had been walked on for hundreds of years."
It was also a great shared experience for father and son. "We talked about things we wouldn't normally talk about because we got to spend a week together, day and night. It was a real bonding experience for us," Wayne says.
The club originally picked six projects to support with the funds raised from the trip, but ended up adding four more. "The projects had to be something where they touched a lot of lives and were advocated by Rotarians somewhere in the world to make sure it would be done right," explains Stouffer-Wallis.
Among the projects, the club donated $3,000 for 75 biosand filters to provide clean drinking water in the Kilimanjaro region of northern Tanzania, where many families, especially in Maasai com-munities, get their water from unsafe streams and ponds. It's a project sponsored by the Rotary clubs of Chico, California, and Moshi, Tanzania. Another $3,000 went to renovate and repair the Kusumpur Pahari Education Center in New Delhi, which was established in the 1990s by the Rotary Club of Delhi South Metropolitan. And in Jalalabad, Afghanistan, $3,000 was spent to install solar panels to provide electricity and water at a school.
Closer to home in San Diego, the club used $1,200 to furnish apartments serving formerly homeless veterans and $3,200 to help set up and equip classrooms at Oasis Lifelong Learning Center. In Ensenada, Mexico, $3,000 went toward repairs to an orphanage, a project coordinated with the Rotary Club of Ensenada Todos Santos. And Rotarians and Rotaractors from La Jolla Golden Triangle spent a day in January building a home for a poor family in Tijuana, Mexico, a project supported with $6,000 from the walking trip funds.
"The number of lives we touched locally and internationally makes you feel good," Stouffer-Wallis says. And Colaneri's generosity left a lasting impression on club members.
"For somebody who has only heard about Rotary to be inspired to give what anyone would say is a significant dollar amount, that really makes her a Rotarian at heart," Stouffer-Wallis says.
— Anne Stein
• Read more stories from The Rotarian