Global Partnership for Education Teams Up with Rotary to Advocate for Education
Rotary's relationship with the Global Partnership for Education is already having an impact, as incoming district governors learned at the International Assembly in January. "Together we are changing the lives of girls and other vulnerable children in the poorest corners of the world," said Alice P. Albright, the organization's chief executive officer, in her remarks about the relationship, formed in April 2020. "Rotary has a unique voice and standing on the global stage and in virtually every country. You can use that voice to advocate for more resources and then work with government leaders to ensure that they are distributed equitably."
GPE is a multi-stakeholder partnership and global fund that facilitates improved outcomes and gender equity in education and supports large-scale changes to education systems around the world. In Rwanda, for example, GPE helped increase access to early childhood education by funding training for more than 5,500 teachers, developing teaching kits and play-based instructional materials, and building 400 schools. In Kenya, the organization helped implement a plan that included making primary education free, which increased enrollment from 72 percent in 2003 to 88 percent in 2012 and closed the gender gap, achieving nearly equal numbers of boys and girls in school. And in Pakistan, GPE provided funding for a distance-learning program that uses social media platforms, as well as radio, TV, and mobile phones, to keep students learning during the COVID-19 pandemic. The program may even help reach the 19 million children who were not attending school before the pandemic.
Rather than implementing projects itself in a given country, GPE brings together stakeholders from the public and private sectors around a national education plan; it also channels funding from private donors and governments to help finance those plans. Each country's plan is tailored to its specific needs and aligned with the local education plan supported by the government. In turn, partner countries are encouraged to allocate 20 percent of their domestic budget to education. Ultimately, GPE's goal is for local governments to take responsibility for fully funding a plan that delivers 12 years of schooling, plus a year of preschool, to every girl and boy.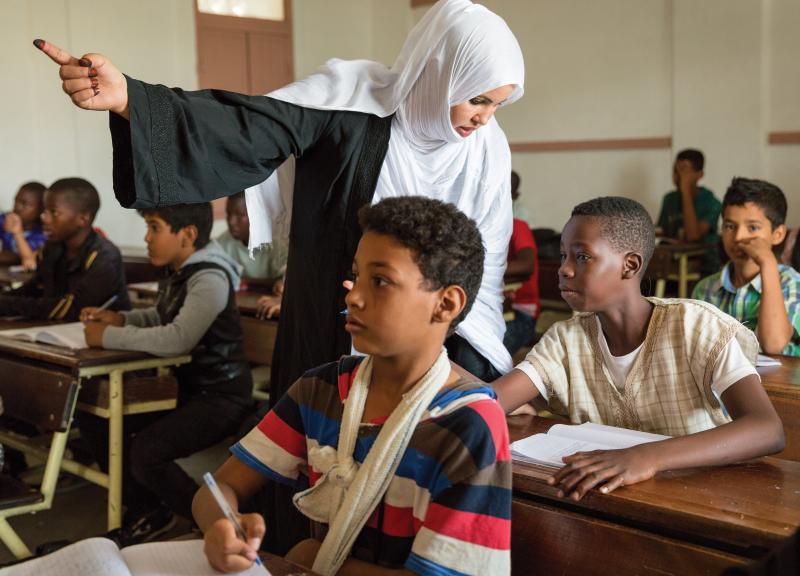 By the numbers
53

Percentage of 10-year-olds in low- and middle-income countries who are unable to read and understand a short age-appropriate text

100 million+

Number of additional children who will fall below the minimum proficiency level in reading as a result of the pandemic

At least 6%

Reduction in girls' likelihood of marrying before age 18 for each additional year of secondary education

$10 trillion

Estimated loss in earnings that this generation of students may face because of the pandemic
GPE works with organizations and governments in 76 countries, many of them in sub-Saharan Africa. Funding is issued to governments through grant agents, which range from UN agencies, to NGOs, to global and regional development banks. The European Union, the United States, and other countries contribute funds to GPE. Since its founding in 2002, the organization has raised nearly $11 billion to improve educational outcomes around the world.
Rotary's partnership with GPE will help Rotarians join the conversation at national levels, where GPE has contacts, and integrate their projects into a country's broader educational efforts. In turn, Rotary members can mobilize their extensive networks in areas that can be difficult for other organizations to reach. "Rotary will be a key partner, given its strong role in the local community and experience in community outreach," says Aparna Krishnamurthy, private sector and foundations specialist for GPE.
In the early stages of the partnership, Rotary hopes to engage members in three to five countries that are already part of the GPE network. Activities will differ depending on the specific needs within each country. Mary Jo Jean-Francois, Rotary International's area of focus manager for basic education and literacy, says Rotarians could play a key role, for instance, in helping families understand what educational resources from GPE are available to their communities, and in conveying to governments what kind of educational assistance those communities need most. "This partnership gives Rotarians a seat at the table to not only voice concerns about what might be happening within education," Jean-Francois says, "but also to understand the policies around education and bring those back to the community."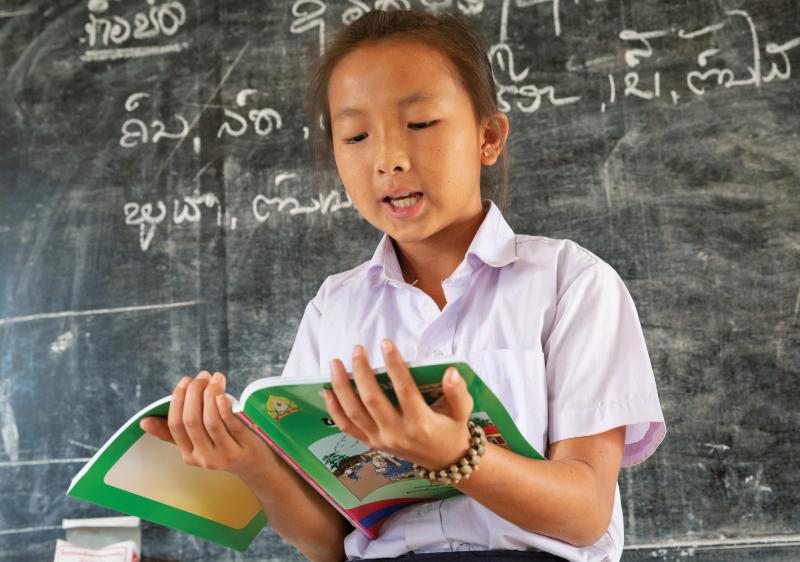 Rotary members have already participated in meetings with officials from the ministries of education and other private-sector partners in Ghana, Kenya, and Zimbabwe. In those countries, Rotarians will take part in the Girls' Education Awareness Program, a GPE initiative that will use messaging campaigns to help break down social barriers to educating girls, such as early marriage and favoritism within families for boys over girls when it comes to education (girls are 1.5 times more likely than boys to be excluded from primary school). The program will be guided by each country's ministry of education and will complement existing strategies. "Rotarians at the consultations noted the importance of a strong community-based approach," Krishnamurthy says, "and shared examples of various partnerships they have forged with local community leaders in areas that are hardest to reach."
GPE held a global education summit 28-29 July as part of its effort to raise $5 billion to support children in up to 90 countries and territories over the next five years. The organization plans to use this funding to ensure that 175 million boys and girls can learn, to enroll 88 million more children in school, and to train 2.2 million teachers. The summit included both virtual and in-person events in the United Kingdom and was co-hosted by British Prime Minister Boris Johnson and Kenyan President Uhuru Kenyatta. The funding campaign, called Raise Your Hand, garnered support from world leaders and celebrities, including former U.S. first lady Michelle Obama, international soccer star Didier Drogba, and supermodel Naomi Campbell.
Real results
Every year, GPE releases a report highlighting its achievements; learn more at globalpartnership.org.
GPE supported the education of nearly 25 million children between 2015 and 2019.
More than 48 million textbooks were distributed and 4,115 classrooms were built or rehabilitated with GPE funding in fiscal year 2019.
GPE grants funded the training of nearly 1.6 million teachers between 2016 and 2020.
Primary enrollment for girls increased by 65 percent in GPE partner countries between 2002 and 2018.
On 1 April 2020, three weeks after COVID-19 was declared a pandemic, GPE launched a response fund that unlocked more than $500 million to help 66 lower-income countries mitigate the effects on education.
Rotary members from GPE partner countries who would like to learn how to participate in the partnership can email aof@rotary.org.