The 21st-century doctor
Rotary global grant scholar connecting medicine with technology
By Jacob Meschke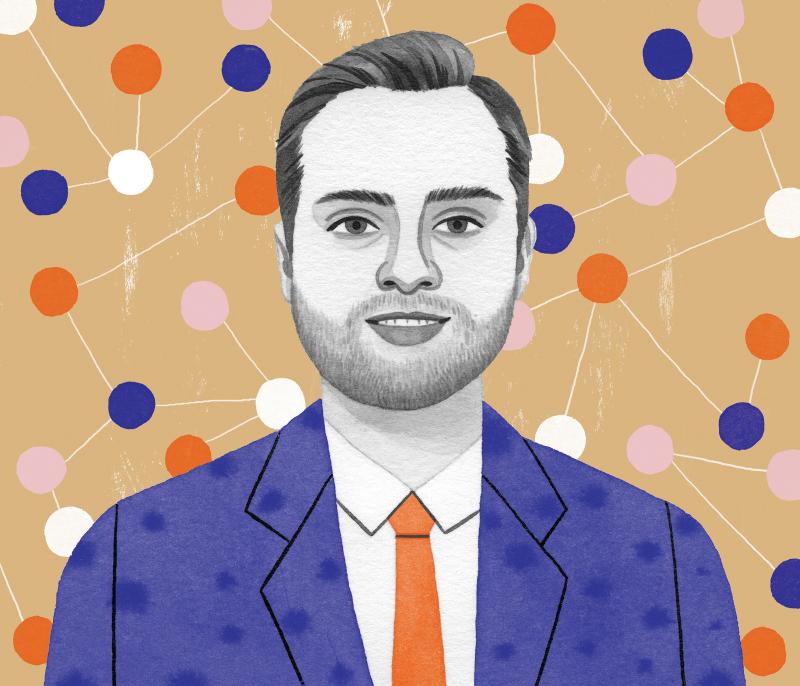 After working at a hospital in South Africa during medical school, German-born Sven Jungmann realized he wanted to make an impact on a larger scale, specifically through connecting medicine and technology. Rotary has helped him on his way, first through eight weeks working with a Rotary-sponsored nongovernmental organization in Kenya, then with a Rotary global grant scholarship to pursue a master's degree in public policy at the University of Oxford. Jungmann now works full time as a doctor in Berlin and is part of several projects dealing with the intersection of medicine and computer innovation. He was recently named one of Germany's 100 smartest innovators of 2017 by Handelsblatt, a leading German business publication, for his work in health care digitization.
Q: What made you interested in the intersection of health care and digital innovation?
A: I went to South Africa [to get clinical experience], and I really liked it, because it was people who had been shot at, stabbed, burned or something, but if you did your job well, a lot of people could actually walk out again within a few days. The impact was so palpable. But then after a while it just felt like fighting the Hydra. I didn't want to just be a doctor who takes care of problems that should never be there in the first place.
Q: What did you do at Oxford?
A: I was in Oxford for 10 or 11 months, and then I had to do a two-month policy project, which meant finding a place to apply all I'd learned and have some coaching. I joined the European Commission, and I met the head of the e-health unit. I told him, 'Digitization in health care in Europe is not working, because the people who come up with these ideas don't engage with the people who are supposed to use them like the doctors, nurses, and patients.' He thought I'd be an ideal candidate to work on ways to improve that front-end user engagement, because I was a doctor and I knew something about public policy.
Q: What projects are you involved in right now?
A: My job is mostly working clinically as a medical doctor, but on the side I've been doing a lot of things that have to do with digital innovation in health care. Last year I worked on a larger publication on the chances and risks of mobile health applications. I co-authored a chapter on the political aspects of that. Currently my hospital is part of an effort to digitize the entire hospital chain, which is not easy in Germany, because of very strict legal barriers.
Q: How does your worldview align with Rotary's ideas?
A: Just looking at the six areas of focus, I thought, 'That's a match.' Some of the projects I've worked on have really been a part of promoting peace and multicultural understanding. But I think what I really learned about Rotary's goals, which just transpires through everything they do, is that they show people they believe in them. The Rotary scholarship carries a strong weight. It's kind of an endorsement by an organization that's really oriented toward doing good for society. People started to listen differently. I had some controversial ideas that doctors should also engage more in societal issues. Some doctors don't want that because it's uncomfortable, but if you have Rotary behind you, then they listen differently.
• Read more stories from The Rotarian