Girls Empowered
by Evelyn Lirri Photography by Andrew Esiebo
Hamida Natabi was 13 when she got her first period — at school. When she bled through her uniform, boys laughed at her. "I was scared and didn't know what to do," she says. "So my friend advised me to use a handkerchief."
A shy, slim, soft-spoken teenager, Natabi lives with her grandmother and eight other family members in a modest, half-plastered house in the village of Malere, about 50 miles west of Uganda's capital, Kampala. She recalls that she was afraid to tell her family about her period, and that she had no access to sanitary pads. Because of the shame the boys had made her feel, she skipped school for the next three days.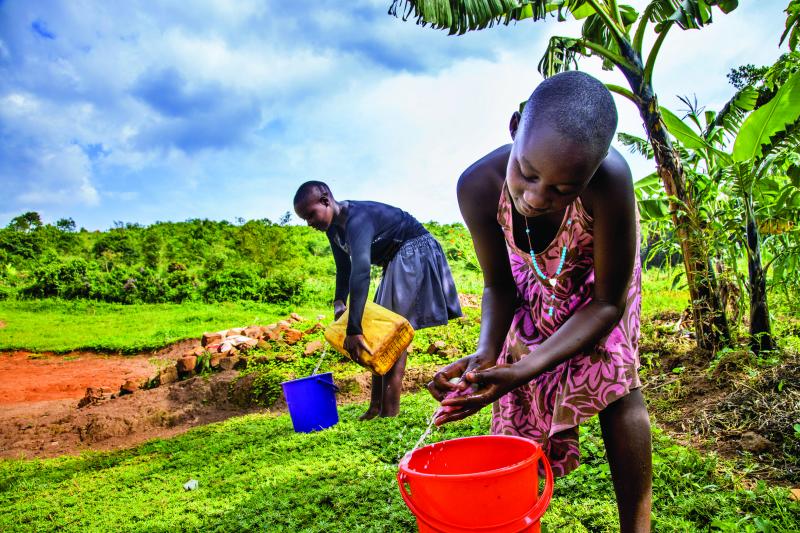 When she did tell her mother that she had begun to menstruate, "she said she had no money to buy pads, and advised me to stay home until I finished my period," Natabi says.
Natabi's grandmother Sarah Nnabagereka, 50, sits outside their house wearing a long dress made of African kitenge fabric with a blue, black, maroon, and light yellow print. The home is surrounded by lush expanses of green coffee and banana fields where most people here earn their income. Nnabagereka is a farmer. Their home is a 20-minute walk from Natabi's school.
A packet of factory-made sanitary pads in Uganda costs between 3,000 and 5,000 Ugandan shillings (85 cents to $1.40), beyond what many families earn in a day. The high cost of menstrual hygiene products often leads girls to exchange sex for money to buy them, exposing the girls to risks such as early unwanted pregnancies and sexually transmitted diseases.
Nnabagereka explains that she cannot afford to buy sanitary pads for her granddaughter every month. On a good day, she earns between 5,000 and 10,000 shillings ($1.40 to $2.80) selling produce harvested from the farm. On some days, she doesn't earn anything at all.
So in the first four months after Natabi began menstruating, she missed school at least three days each month. "I feared being laughed at again, and I had no access to proper pads," she says.
Her experience is typical for girls and women in many rural communities across Africa, who experience difficulties in managing their periods at home, at school, or at work. In addition to lacking hygienic menstrual products, they often don't have access to clean water and sanitation and, perhaps most critically, information about menstruation.
Before her first period arrived, Natabi says she'd never had a conversation about menstruation with her mother or grandmother. Menstruation remains a taboo subject in Uganda — and many parts of the world. If it is discussed at all, many girls are taught that periods are shameful and should not be talked about openly. As a result, when these girls start to menstruate, they are forced to improvise their own products, often resorting to unsanitary old rags and pieces of cloth.
This silence has also contributed to the growing educational problem of absenteeism caused by periods. A recent study of adolescent girls in Uganda showed that about three-quarters of them miss at least one to three days of school per month, as many as 24 school days per year, because of menstruation. This increases the likelihood that girls will drop out — all because of menstrual stigma and shame, as well as the lack of access to sanitary products.
Natabi attends Ndoddo Primary School, which sits on a small hill. Two buildings, made of bare brick walls with rusty roofs, serve as the school's classrooms and administration offices. The cement floors are cracked. There are no windows, and some rooms have no doors.
For many years, the school did not have sufficient bathroom facilities to address the needs of its pupils. There was no running water and no changing room or separate latrine compartments for girls in the upper primary grades. It was not uncommon for girls to return home during their periods because they did not have facilities at school to clean or properly dispose of their sanitary towels, or to wash themselves.
Anne Nkutu was well aware of this problem. As a social scientist, women's empowerment specialist, and managing director of a consulting group in Kampala, Nkutu focuses on reducing gender gaps. Creating an environment where menstruation is seen as healthy and normal and where girls and women have easy access to products as well as the infrastructure to manage their periods "will increase girls' ability to realize their full potential and take us a few strides closer to gender equality," Nkutu says.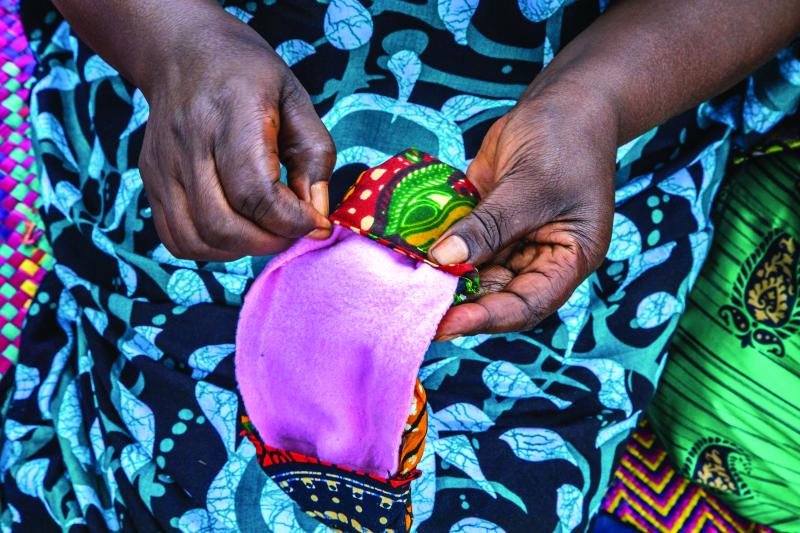 A member of the Rotary Club of Kampala Nalya, Nkutu started paying greater attention to menstrual health issues when free sanitary pads for school-age girls became an electoral campaign issue in 2015. "The argument put forward is that provision of free sanitary pads will reduce the high school dropout rates among adolescent girls," she says. "However, menstrual health management has many tenets, and sanitary pads are only a small part."
Nkutu has long believed that solutions must be systemic, so she joined others in Uganda, many of them Rotarians, in advocating for public policies related to menstrual health management. This first required breaking down the silence and taboos around menstruation, so that members of Parliament could talk about it. "Menstrual hygiene was one of those things that until recently was not really spoken about," she says. It was seen as a women's issue, and "men don't feel like they should be involved. Then when girls went to school, well, the schools are run by men who don't even think about [menstrual hygiene]. So girls would rather stay home than possibly be the joke of the school."
Nkutu and many others cheered in 2018 when the Ugandan government developed national guidelines, which still need to be formally approved, to promote and require menstrual health management standards. According to Uganda's Ministry of Education and Sports (MoES), these guidelines establish minimum menstrual health management standards, guiding principles, and illustrative strategies for the country's schools and institutions.
Nkutu and other Rotary members in Uganda are now focusing on the enactment of those guidelines. "We have been working to ensure we integrate menstrual health management in schools and also get parents and communities involved," she says. "We hope that this endeavor will raise awareness so that parents begin to understand what girls go through and what kind of support and information they require."
Adequate menstrual health management includes ensuring that girls have access to clean, blood-absorbing products that can be changed in private as often as necessary; soap and water to wash themselves as required; convenient facilities to dispose of used menstrual products; and sufficient information about menstruation, including how to manage pain.
Rosette Nanyanzi, technical adviser for gender at MoES, says that one key challenge to enacting the new guidelines has been obtaining funding. "We have already come up with a national strategic plan that brings together many stakeholders because we realize we cannot do it alone," she says. "That is why we are happy to work with partners like Rotary."
Since 2019, Ugandan Rotary clubs and USAID's Uganda Sanitation for Health Activity (USHA) have had a formal collaboration on projects related to water, sanitation, and hygiene, with menstrual health management a key component. The Rotary-USAID strategic alliance, Rotary's largest partnership effort outside of polio, pairs USAID's technical expertise with the grassroots energy of activists like Nkutu, who work with the communities to ensure that standards are met.
To date, 29 Rotary clubs in Uganda have participated in the partnership. USAID is working to improve sanitation and hygiene in schools by providing infrastructure — including female-friendly toilets and incinerators — as well as any associated training. Meanwhile, Rotary is taking the lead on advocacy, working with district water and sanitation coordination committees and school management committees to support the implementation of the national guidelines. Rotary also manages the construction of water supply systems such as wells and rainwater-harvest tanks.
"The Rotary-USAID Partnership complements the strengths and amplifies the impact of both organizations — completing the WASH equation," says Jonathan Annis, chief of party at USHA.
At Natabi's school, for instance, the partnership has contributed to the construction of a borehole and latrine block for girls, including a changing room, and an incinerator to help in the disposal of sanitary waste. Says the school's head teacher, Ronald Katambala, "Now we have access to a changing room, running water, and soap. Girls will no longer miss classes."
But a girl's plight doesn't change until attitudes do, so MoES has developed a training manual to help teachers and other stakeholders promote menstrual health management within the school setting and in their communities; Rotarians and their partners are helping disseminate the information. "We realized that communities did not have information, and parents are also not comfortable discussing issues of menstruation with the girls," Nanyanzi says. "We need to provide them with that empowerment."
With manufactured and store-bought menstrual products still financially inaccessible for most Ugandans, Rotary-supported initiatives are teaching students how to make their own sanitary pads from cheaper, locally sourced materials. Inside one of the classrooms at Ndoddo Primary School, a group of pupils listens attentively as the instructor, Resty Nakatudde, demonstrates how to make reusable pads.
A typical session begins with the teacher giving a talk on sexual reproductive health and menstrual hygiene in general. She talks to the boys as well, to ensure they also understand. "Now we are going to make pads," she says as she demonstrates. "We shall have a cotton cloth, polythene paper, a liner, a needle, threads, and a button. The cotton cloth is going to be on the top so that when we menstruate, the blood is absorbed and it does not leak."
After going through each step in the pad-making process, students come forward one by one to demonstrate what they have learned. They also receive printed instructions for making the pads. After the training, girls are encouraged to make pads for their own use. The boys donate theirs to their sisters or other girls in the community.
Says Nakatudde, "Our focus is to present menstruation as a natural step in a girl's growth and not something to be ashamed of." Involving boys helps to destigmatize the topic and limit any teasing. "From the feedback we have been getting, boys no longer shame girls when they stain their uniforms. They are offering all the support that they can give."
To achieve maximum benefit, the training has also been extended to parents, which Nakatudde says is critical in passing on basic knowledge and information about menstrual hygiene management, including how parents can help support their daughters in managing menstrual symptoms such as pain. Most have been supportive; at some schools, parents are contributing money for materials to make pads that can be distributed to girls when they need them.
Nakatudde says there is still a need for increased sensitization and advocacy to break long-held menstrual taboos. "Perceptions about menstruation, especially in communities where we have been doing work, are changing. But we still haven't reached as many people as we have wanted to."
For Natabi, the effort has changed her life forever. With the skills she learned, she now can effectively manage her period. "Since I started making my own pads," she says, "I can engage in activities like cooking and fetching water without worrying. And I never have to skip school."
Break the silence
During the COVID-19 pandemic, Sharmila Nagarajan and a few women she knew through Rotary started a group on WhatsApp — a group that soon grew to more than 200 people looking for a common project. "We had to do something substantial now that we had this women power," says Nagarajan, president of the Rotary Club of Tower Hamlets in London.
With the encouragement of Rotary senior leaders, including 2020-21 RI President Holger Knaack, they formed the Rotary Action Group for Menstrual Health and Hygiene. Since its charter in March 2021, the group has drawn female and male members from 20 countries on five continents.
The action group is launching its efforts with an advocacy campaign, partnering with doctors and social workers to present educational workshops about the issues women face from menarche to menopause. "Menstruation is a taboo topic," says Vice Chair Vidhya Srinivasan of the Rotary Club of Madras Temple City, India. "We are evangelists. We want to break the silence and create the platform for people to speak, providing a safe environment to discuss the topic openly."