Local communities, global impact
Through collaborative efforts with people and organizations that share our vision and values, we are creating memorable club membership experiences, strengthening Rotary's public image and recognition in communities worldwide, and expanding our capacity to do good— all while supporting the four priorities of our Action Plan.
— John Hewko, Rotary International General Secretary and CEO
Engaging and growing our membership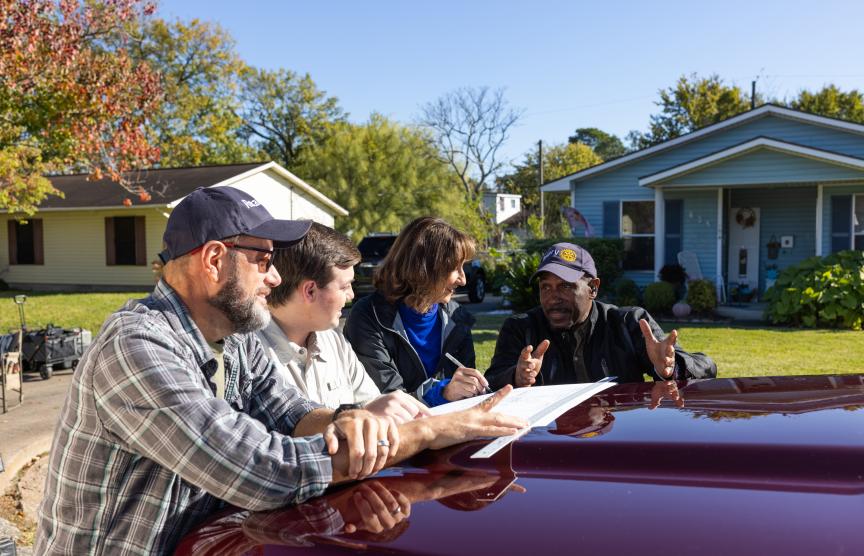 Growing Rotary and enhancing the membership experience continues to be our primary goal, with a focus on creating a welcoming, positive club environment to facilitate inclusivity, collaboration, and personal and professional development.
The club experience
In 2022, RI President Jennifer Jones invited members to ensure a welcoming club environment as part of her Comfort and Care presidential initiative. According to Rotary's research, a positive club experience is the single greatest factor in satisfaction. Ensuring that people feel welcome and included is crucial for engaging current and future members.
As part of Rotary's efforts to create a welcoming club experience, we continue to strengthen our commitment to diversity, equity, and inclusion (DEI). There are now more than 250 DEI committee chairs who are finding opportunities for their clubs to be more diverse, equitable, and inclusive. A DEI Task Force is also advising the RI Board of Directors and Trustees of The Rotary Foundation on the implementation of a DEI framework.
Rotary offers resources to help clubs facilitate an inclusive environment and create an engaging club experience. Learn more.
Growing interest in Rotary
Increasing membership and participation continues to be our key priority. As of 1 March, we've approved charter applications for 401 new Rotary clubs and 420 new Rotaract clubs. This includes the first Rotaract club in Vietnam — the Rotaract Club of One Million Lives Saigon.
The number of people expressing interest in Rotary continues to grow. To support this increased interest, we've expanded the membership leads online tool to allow returning, relocating, and potential members to inquire about joining Rotaract clubs in addition to Rotary clubs. We've also given members the ability to refer people to their own clubs and introduced a better mobile experience overall. 
Rotaract in action
Supporting Rotaract membership interest is just one way that we continue to integrate Rotaract into Rotary's organizational framework. Rotaract clubs can now apply for global grants, and Rotaractors can serve on Rotary committees and be nominated for Rotary International and Rotary Foundation service awards. Members can also search My Rotary to find Rotaractors, Rotaract clubs and meeting details, and Rotaract club officers.
During World Rotaract Week (13-19 March), we celebrated Rotaract on My Rotary, social media, and the Rotary Voices blog, highlighting Rotaract stories and achievements.
For the first time, elements of the Rotaract Preconvention were integrated into the Rotary International Convention rather than being a separate event. This allowed for a more inclusive event that enhanced the convention experience for all our members. Rotaract also had a dedicated space in the House of Friendship and a meeting especially for Rotaract multidistrict information organization chairs.
Reaching beyond the club
Action becomes impact
Rotary Action Groups provide opportunities for members and friends of Rotary to use their expertise in a particular area of specialization and help clubs make a greater impact. This year, 27 Rotary Action Groups brought together more than 36,000 people from 150 countries, using their knowledge, passion, and global expertise to help clubs and districts plan and implement more than 650 meaningful service projects.
Engaging in community
Rotary Fellowships build global communities of Rotary members and friends who have shared hobbies, professions, or identities. In 2022-23, over 100 Rotary Fellowships brought together more than 50,000 people across more than 150 countries.
We also welcomed eight new Fellowships this year:
Rotary Fellowship of Astrology
International Fellowship of Composting
International Rotary Fellowship of Coffee Lovers
Rotary Fellowship of Fine Arts
Rotary Fellowship of International Voices and Performing Arts
Rotary Fellowship for Kannada Literature
Rotary Fellowship of Public Speakers
Rotary Fellowship of Rugby Fans
The Learning Center
Rotary's Learning Center had over 20,000 new participants this year. With more than 100 courses and learning plans in over 20 languages available, we offer abundant opportunities to develop and grow through Rotary.
Our newest learning plan, Leadership Fundamentals, has been a great success, with more than 2,000 members using it to strengthen their leadership skills.
Elevating our global profile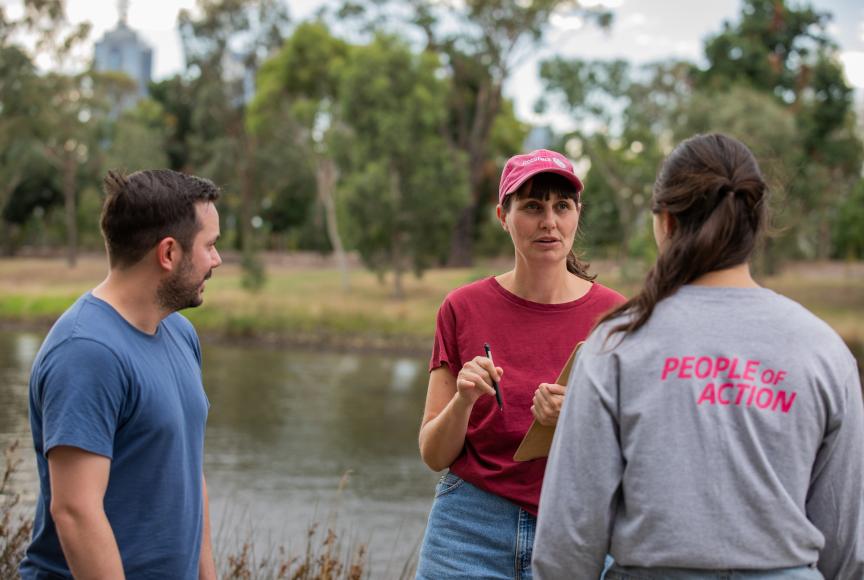 Using our brand message consistently and applying our visual identity correctly are critical to improving people's awareness and understanding of Rotary. We can only expand our reach and increase our impact when prospective participants, members, and the public recognize the value we bring to communities worldwide. Because of this, we continue to encourage all Rotary, Rotaract, and Interact clubs to update their club logos to align with Rotary's visual branding guidelines.
We've been conducting research on the public perception of Rotary and what aspects of our organization are of greatest interest to global audiences. The information we're gathering identifies key targets for participation and membership and will help inform our future communication and engagement strategies.
The new Brand Center
We introduced an updated Brand Center, where members can easily find tools to help them promote their clubs, projects, and Rotary using consistent and unified materials. The Brand Center is now faster and easier to navigate, and it can be accessed without a My Rotary account. There are videos, four times more photos than before, and easier-to-use templates for creating club materials.
Since the upgrade, the Brand Center has had a 30% increase in visitors. Based on member feedback, we're continuously improving the templates and the user interface and creating additional items for people to use.
Making lasting change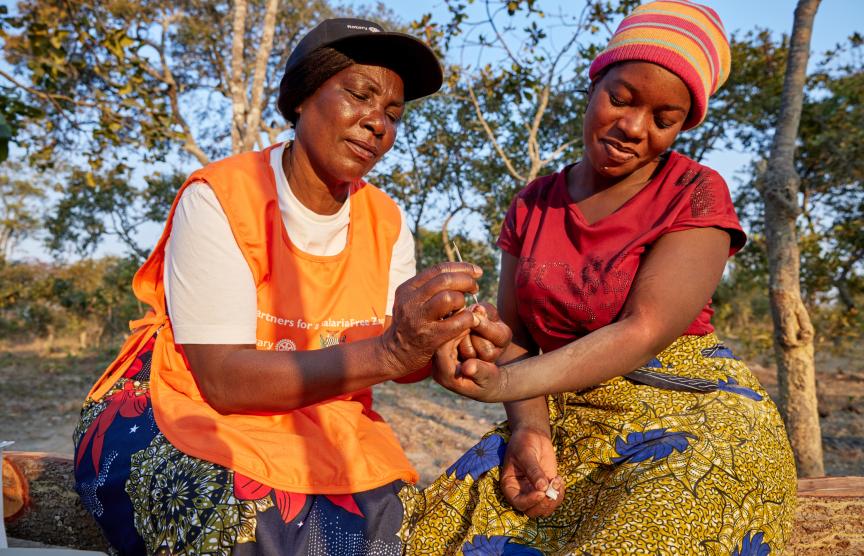 When we work together, our collective reach and impact is far greater than anything we could achieve alone.
Programs of Scale
Rotary's Programs of Scale supports promising, Rotary member-led, evidence-based programs that have demonstrated their success in creating sustainable change. We're already experiencing the positive effects of this approach and investment in the communities we collaborate with and in Rotary itself.
The 2021-22 award recipient, Together for Healthy Families in Nigeria, is working to reduce maternal and neonatal mortality rates by educating community members, training health care workers, and improving quality care for pregnant women, mothers, and newborns in Nigeria. The program is led by the Rotary Action Group for Reproductive, Maternal, and Child Health, in close partnership with the Nigerian Ministry of Health and local professional medical associations. We plan to apply what we learn to Rotary's future endeavors to support maternal and child health.
Partners for a Malaria-Free Zambia, the first recipient of the Programs of Scale award, has trained, equipped, and supported 2,500 new community health workers. This has resulted in faster identification of cases of malaria, diarrhea, and pneumonia, enabling community members to either be treated at home or referred to a nearby health facility. Rotary members' advocacy with the Zambian government for continued supplies and treatment has been instrumental to ensuring sustained success. The positive outcomes of this program are attracting interest from other organizations working to eradicate malaria globally.
Rotary Peace Centers
This year has brought an exciting new development for Rotary's peacebuilding efforts: The Rotary Foundation Trustees approved Bahçeşehir University in Istanbul, Turkey, as the host partner for the next Rotary Peace Center. The new center will offer a one-year professional development certificate in peace and development studies for fellows who focus on peacebuilding efforts within the Middle East and North Africa.
Recruitment for the first fellows will begin in 2024, with the program starting in early 2025.
Global partnerships
We continue to build upon and expand our reach with partnerships around the globe. Our strategic partners include the Institute for Economics and Peace, with whom we're working to expand the Rotary peacebuilder network. We're collaborating with the Global Partnership for Education to promote girls' access to school and learning. And we're continuing our association with USAID to increase sustainable water and sanitation services and promote hygiene. All of these partnerships yield positive results with our members.
We also have continued to promote to our clubs and districts the resources, networks, and opportunities available through Rotary's service partnerships, including with Ashoka, Habitat for Humanity International, Mediators Beyond Borders International, and the Peace Corps. And Rotary's project partner, ShelterBox, regularly collaborates with our members to respond to disasters quickly with temporary shelter and other essential aid.
Rotary also has received partnership funding from:
USAID and the Congressional Office for International Leadership to build trans-Atlantic relationships between the United States and several Eurasian countries
USAID to respond to COVID-19 in Italy
The Eleanor Crook Foundation to improve nutrition in Ethiopia with Power of Nutrition
Polio
We extended our fundraising partnership with the Bill & Melinda Gates Foundation toward ending polio and committed to raising US$50 million per year over the next three years, with each Rotary dollar matched by two additional dollars from the Gates Foundation. Global support for polio eradication reached new heights at the World Health Summit in October, when Rotary, international partners, and donors pledged a combined US$2.6 billion towards polio eradication.
On World Polio Day (24 October), Rotary clubs in 118 countries hosted an event in their community and members donated US$750,000 to PolioPlus. Members also helped raise awareness about polio eradication on social media, with our content on Facebook, Instagram, and Twitter reaching more than 31 million people.
During World Immunization Week, 24-30 April, we used our global platforms to highlight the importance of vaccines. Vaccinations have made it possible for polio cases to decline by 99.9% worldwide and to save an estimated 20 million children from becoming paralyzed by polio.
Rotary continues to leverage our strengths and elevate our fundraising and advocacy efforts as one of the core partners in the Global Polio Eradication Initiative. To find out more, visit endpolio.org.
Increasing our capacity to do good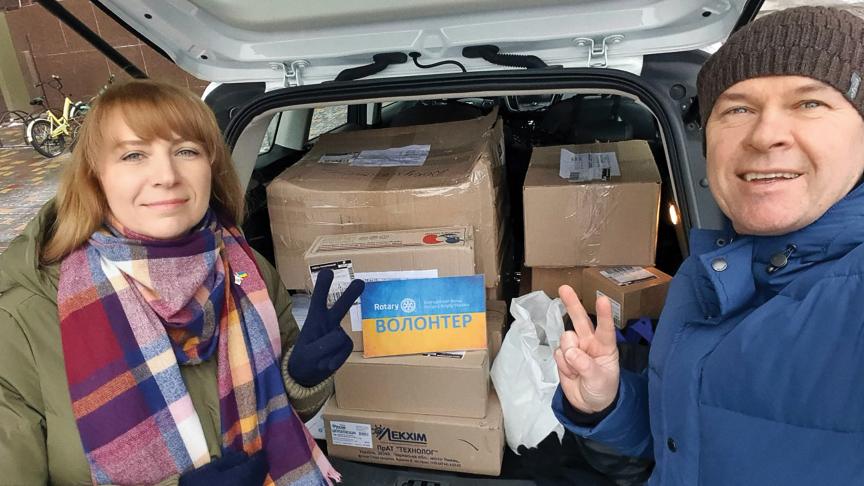 The Rotary Foundation continually demonstrates our members' commitment to making a difference in local and global communities. We've raised US$262.2 million as of 1 February and are well on our way to meeting this year's goal of US$430 million.
Among our successes in fundraising: Donors gave more than US$1.1 million to The Rotary Foundation on Giving Tuesday (29 November). Some of our most engaged clubs were from the Bahamas, Taiwan, and the United States.
Since Raise for Rotary was introduced in 2020, members have used our peer-to-peer platform to create more than 1,900 fundraising pages and raise US$1.4 million.
Gifts to Rotary's Endowment continue to ensure that future members will have the resources they need to design and implement sustainable projects year after year. The fund has currently raised US$1.544 billion, and we're on target to reach our goal of raising US$2.025 billion by 2025.
Disaster Response Fund
Due to the unprecedented flooding in Pakistan and the ongoing war in Ukraine, we established the Pakistan Flood Response Fund and the Ukraine Response Fund. Donors can give directly to relief efforts led by Rotary members through 31 December.
When Turkey and Syria were struck by devastating earthquakes earlier this year, all donations to the Disaster Response Fund between 6 February and 31 March were used to aid earthquake relief projects.
As of 1 March, US$2.4 million had been donated this year to The Rotary Foundation's Disaster Response Fund. The fund has distributed more than US$11.4 million in 2023, supporting over 230 disaster response grants that provided humanitarian aid and helped communities around the world.
When we work together, our ability to make long-lasting, positive change has no limits. As we approach a new Rotary year, we look forward to continuing to increase our impact, enhance the participant experience, increase our ability to adapt, and expand our reach.