Rotary members fly around the world to raise funds for polio eradication
By Geoffrey Johnson
John Ockenfels and Peter Teahen's Flight to End Polio took three months to circumnavigate the globe. Getting their single engine Cessna 210 off the ground took three years.
The seeds for that altruistic airborne excursion were planted in 2018 when Teahen, a pilot since 1972, began to wonder if he could fly his plane around the world. He broached the topic with his wife, Janet. She encouraged her husband, a member of the Rotary Club of Cedar Rapids West, Iowa, USA, to look into the possibility, fully expecting (or so Teahen suspects) that he would likely soon lose interest.
To Janet's surprise, her husband pursued the idea and, after several months of careful study, concluded that the flight was feasible. Janet tried a different approach: "You can't go," she insisted, "unless you find somebody as crazy as you to go along with you."
Which, again to her surprise, Teahen did. Janet had a cousin, John Ockenfels, about whom Teahen basically knew only two things: A member of the Rotary Club of Iowa City A.M., Iowa, USA, Ockenfels was a former district governor — and he owned three planes, which, in Teahen's estimation, already qualified Ockenfels as crazy.
The two men met and talked at length about Teahen's plan to fly around the world. At the end of their conversation, Teahen (as Ockenfels tells the story) "looks over and says, 'You know, you could join me if you wanted to.'"
"The little kid inside of me was jumping up and down and doing the Snoopy dance, going, 'Oh, this would be cool,'" recalls Ockenfels. "But this older guy on the outside that's seen a few things in life and knew what something like this entails said, 'I'll get back to you.'" Besides, before he committed to making the flight, Ockenfels wanted to talk with his wife, Deb.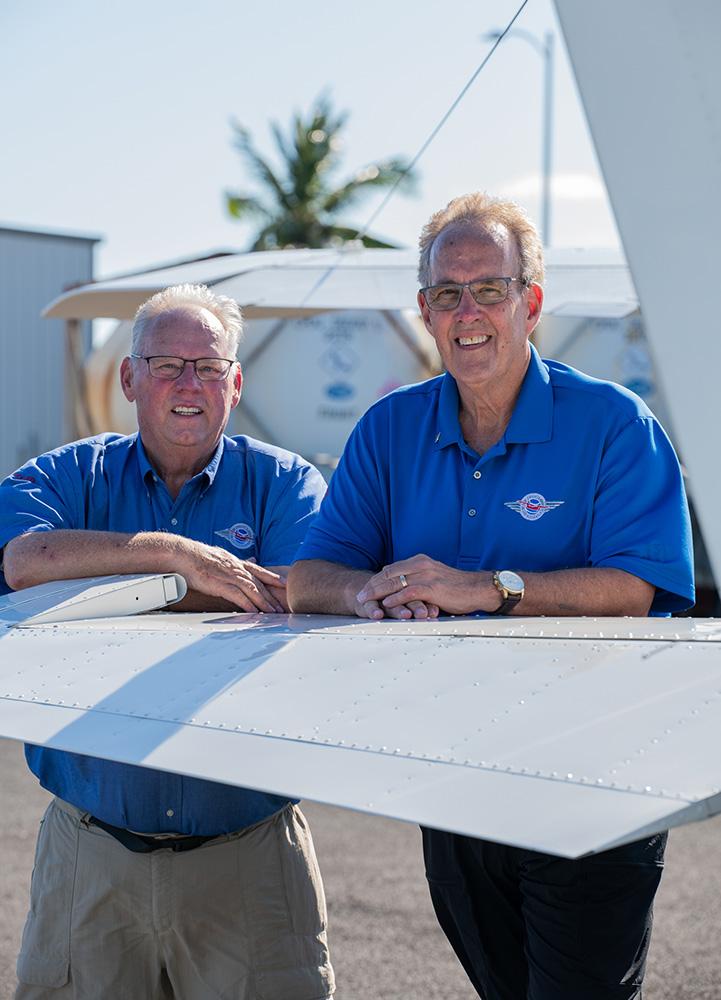 A few weeks passed. By then, Ockenfels had decided to make the flight, yet he'd never told Deb anything. That is, until one morning when Janet Teahen arrived unexpectedly at the restaurant where Ockenfels and his wife were about to have breakfast. "In the next 10 minutes, my wife learned everything about the trip," Ockenfels explains. "She was very supportive right from the start. As a matter of fact, both our spouses have been very supportive once we got going on it."
As the two men made their plans, they added a fundraising component to the trip. "Humanitarian and charitable works are a big part of our lives," says Teahen. "So we decided to make the flight to eradicate polio." To encourage donations, the men made it clear from the start that they would pay for the trip (which ultimately cost about $100,000). All money raised to end polio would go directly to The Rotary Foundation, where every dollar donated would be matched by a two-dollar contribution from the Bill & Melinda Gates Foundation.
Plans in place, Teahen and Ockenfels scheduled their departure for March 2020. "We were 10 days from taking off," says Teahen, "when COVID shut down the world." Assuming, like so many others, that everything would soon return to normal, they rescheduled their departure for the fall — and then for 2021.
When it looked like they would finally launch in 2022, Russia invaded Ukraine. The men had planned to follow the commonly traveled northern route around the world, which would have taken them over Russia. Now, unable to fly over Russian airspace, they decided to attempt the more difficult southern route they had initially rejected. "It was too dangerous, it was too long, it was impossible to get fuel, it couldn't be done," says Ockenfels. And now he and Teahen made plans to do it.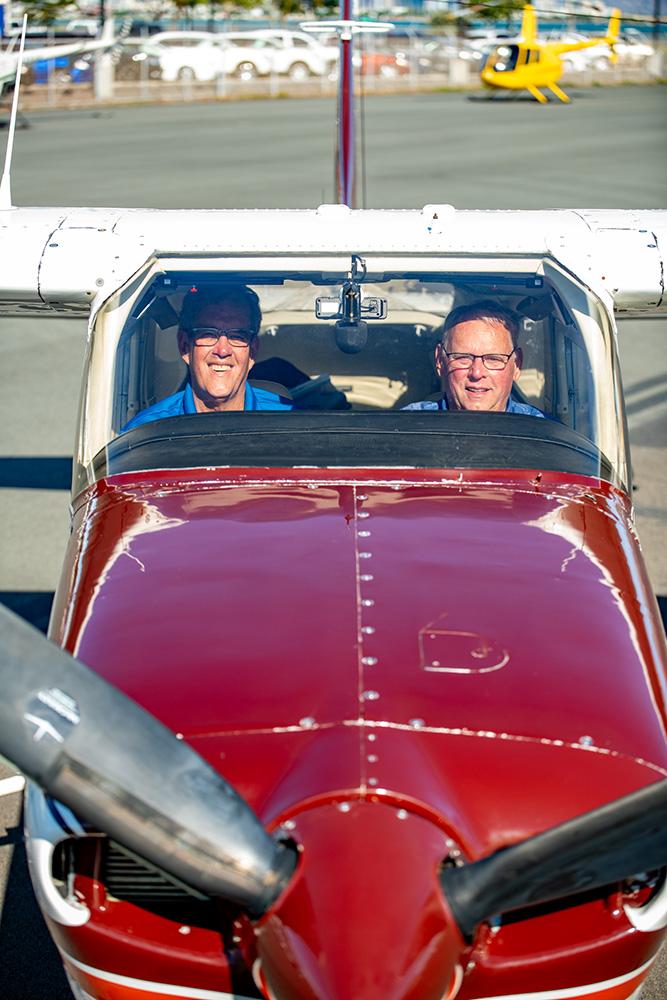 They had originally intended to fly Teahen's Piper Lance airplane. "We had a discussion," says Ockenfels, "and we agreed that we needed a bigger, better airplane," the Cessna 210. To afford the new plane, Teahen sold his Piper and Ockenfels sold one of his planes. They spent the next few months modifying the Cessna so it would be better equipped to make the flight. Among other logistical details, they made arrangements to ensure that fuel would be ready for them where it was needed.
On 5 May in Cedar Rapids, Teahen and Ockenfels announced that, with matching funds from the Gates Foundation, they had already raised US$1 million to help eradicate polio. And then the two men climbed into the Cessna — designated N732WP — lifted into the air, and headed east on their crazy, improbable journey. "John turned 71 on this trip, and I turned 70," says Teahen. "We're old, but we're still wild."
Over the next 12 weeks, N732WP would make 37 stops in 19 countries. There would be tough times — Ockenfels spent several days flying solo while Teahen recovered in hospital from a nasty intestinal ailment — and tense moments: an electrical failure over the Pacific (which was repaired after a 90-minute return flight to Brisbane, Australia) and an encounter with a squadron of armed soldiers when the plane arrived in Karachi, Pakistan. "I looked at Peter and wondered, Do we put our hands up or wave hello?" remembers Ockenfels, "Turns out, they were just as curious to see the airplane as everybody else."
Later in Karachi, the two men attended a press conference. "One of the reporters threw a softball question to Peter," recalls Ockenfels. "'Do you still have hopes that we'll soon have an end to polio in this area?'"
Teahen paused and then replied: "No, I don't have hope that we're going to end polio. I don't hope — I believe we're going to end polio. And that's what we need to start talking about." On 30 July, after traveling about 26,000 miles, Teahen and Ockenfels landed safely at the Eastern Iowa Airport in Cedar Rapids. Along the course of their flight, they had participated in another 24 fundraisers (the money raised there has yet to be tallied). Now, back in Iowa, they were welcomed with a jubilant pancake breakfast — though Teahen had already reunited with his wife several days earlier when N732WP arrived in California.
"I got out of the airplane, and the Rotary guys were keeping me distracted," recalls Teahen. "I turned around and there's Janet. We sat there and she just sobbed and sobbed. And I did too because we missed each other so much. Our number one goal was to come home alive to our families. And that's what we did."
Learn more about the fight to eradicate polio and donate to the cause.
- October 2023