Cyclists crisscross India to support polio eradication
Two young athletes from Bangalore, India, are cycling 20,000 kilometers (12,430 miles) across India to raise awareness for polio eradication and draw attention to the work Rotary is doing in communities around the world.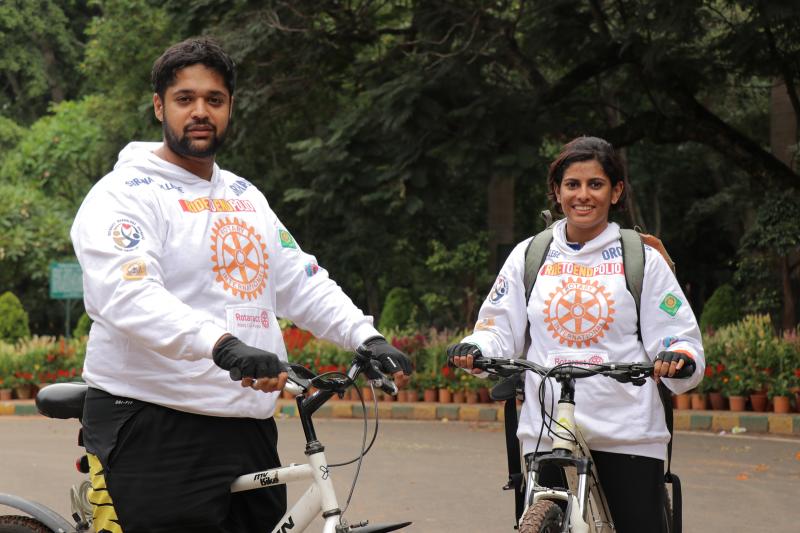 MJ Pavan and Bhagyashree Sawant, both members of the Rotaract Club of Bangalore Orchards, plan to begin their six-month journey in early October in the Himalayan city of Leh, and cruise to a triumphant finish in their hometown of Bangalore in March. Along the way, they plan to visit 400 rural and government schools, talking to students about the importance of getting immunized against polio and other diseases and promoting healthy hygiene habits.
With help from Rotary clubs throughout their district, they are promoting the ride as an attempt to set a record for the longest distance traveled by bicycle in a single country, a move designed to attract even greater media exposure in the days leading up to World Polio Day, 24 October, and beyond.
Jeep India, a subsidiary of Fiat Chrysler Automobiles, is sponsoring their record attempt by sending a Jeep Compass to follow the cyclists and post frequent social media updates.
"We definitely want to build up Rotary's public image," says Sawant. "Only a little over a third of India's population is aware of Rotary."
Pavan says knowing that India is polio-free, but that the disease could come back at any time, is what motivates him.
20000.00

km

400.00

schools

200.00

days
"Today, I am standing on my own two legs without disease because of the effort Rotary members have put into eradicating polio," he says. "We have to contribute something back. I was very excited when India was declared polio-free, but I will be even more excited when the disease is eradicated from the world."
Both are no strangers to adventure. Sawant, who holds a master's of psychology from Surana College, is a mountaineer, national cyclist, national rugby player, and international karate fighter. She has twice climbed to 8,000 meters (26,250 feet) on 8,848-meter Mount Everest, and led an expedition of 16 climbers from five countries to Everest base camp in 2010.
Pavan, a mechanical engineer, is a national badminton player and regularly cycles 60 kilometers (37 miles) a day. He has cycled from Delhi to Leh, a distance of 1,400 kilometers (870 miles), in 14 days to reach the highest vehicular road in the country.
During their six-month journey, they will average about 110 kilometers (68 miles) a day through all kinds of terrain, making three stops a day at schools, Rotary clubs, and Rotaract clubs. Their schedule will require a few daily rides of up to 270 kilometers (168 miles).
In addition to polio eradication, the cyclists will also promote literacy. They plan to conduct an assessment of each school they visit, analyzing the status of sanitation, hygiene, infrastructure, and education quality.
"Next to polio eradication, literacy is very important in my country," Sawant says.
Members of Rotaract clubs along the way will be invited to join the cyclists for five-kilometer stretches of the ride, to help celebrate the 50th anniversary of Rotaract this Rotary year.
"We are asking them to join us in the convoy, so they can be a part of our journey," says Sawant. "We don't want to keep this expedition to ourselves."