The culinary paradise of Singapore
Eating is the 'national pastime' in the host country of the 2024 Rotary Convention
By Wen Huang Photography by Juliana Tan
It's half past 5 on a dark Saturday morning in July, and I've just landed at Changi Airport in Singapore. The long flight from New York City has left me a little wobbly, so the sight of a tall young man holding a tablet computer with my name emblazoned across its screen is more than comforting.
His name is Goh, and he's been dispatched by my hotel to collect me from the arrivals gate. I tumble into his car and pose a simple question: "What counts as an authentic Singaporean experience?"
The deadline for the early registration discount for the 2024 Rotary International Convention in Singapore is 15 December. Don't delay!
It's a harmless bit of small talk, so I am surprised by his animated response. "Food, sir," he replies. "Eating is our national pastime. There's a funny saying that we have a population of 5.5 million, and there are 5.5 million serious foodies here."
Now Goh has my full attention. He recommends that I ease into my food journey by visiting a hawker center — an open culinary market near my hotel. "Street food is at the heart of our culture," he adds, before rattling off the names of the famous Singaporean dishes I should try. "The reason our food tastes so good is that it draws its flavors from many regions and countries in Asia."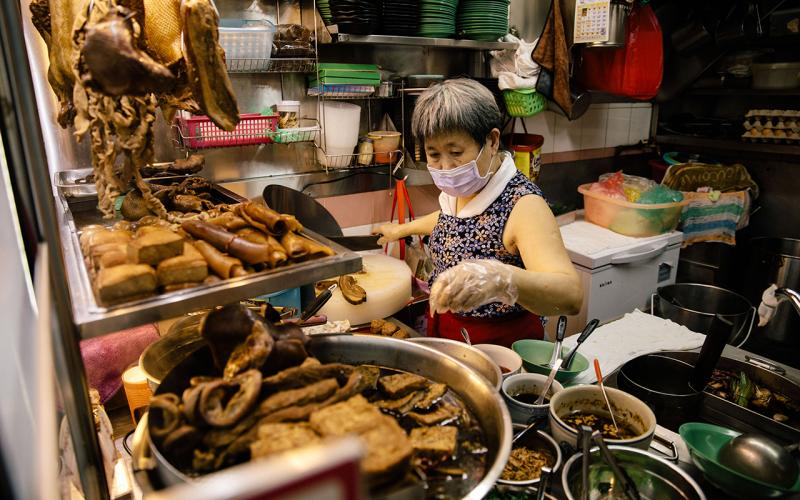 Two hours later, I'm greeted by Joanne Kam, a vice chair of the Host Organization Committee for the Rotary International Convention that kicks off in Singapore on 25 May. She immediately echoes what Goh has told me. "Singapore," she says, "is the perfect destination for Rotary food lovers."
As Kam explains, Singapore's rich culinary landscape — which ranges from street food to ethnic eateries to Michelin-starred restaurants — reflects the country's multicultural identity. It began to take shape during the 19th century when Great Britain, recognizing Singapore's strategic location at the crossroads of Asia's busy trade routes, established a trading post here. The outpost attracted traders and laborers from China, the Malay archipelago, India, and Europe. Each of these populations brought its own food traditions to the island. Over the decades, those different approaches to dining saturated the Singaporean palate, creating a new cuisine of evolving traditional dishes mixed with a fusion of cultural influences. As a result, Singapore has become a unique crossroads for our taste buds.
Kam and Megan Feng, a young official at the Singapore Tourism Board, have promised me an immersive dining experience alongside several more Rotary members, with each introducing me to one of their favorite dishes. By the time I'm done, I'll learn that the cuisine of Singapore is a harmonious collision of regional and cultural flavors — and every bite tells an enchanting story about this island nation's rich history and heritage.
I'm eager to start.
Tea party
At Yum Cha, a restaurant in the heart of Singapore's Chinatown, I'm greeted by members of the Host Organization Committee. Among them is Ghim Bok Chew, an RI director. The host for our gathering is Jack Tan, a past president of the Rotary Club of Changi and the restaurant's owner.
Before I can express my gratitude to the Rotarians for joining me, Feng whispers, "We're using your welcome lunch as a cover for a surprise birthday party for Director Chew."
"Killing two birds with one stone," I joke. "Another example of Singaporean efficiency."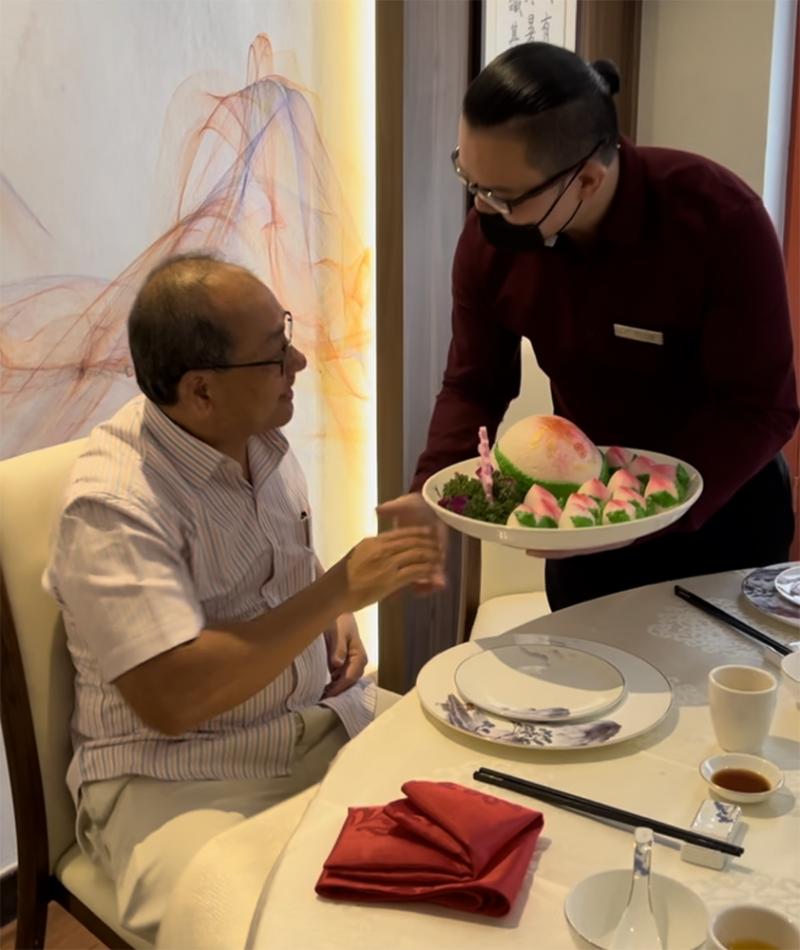 The Chinese phrase yum cha literally means "drinking tea," but in practice it involves tea paired with small plates of snacks such as dumplings, steamed buns, egg custard, and sticky rice. The food itself is known as dim sum, a tradition that originated in China's southern province of Guangdong, where tea houses offered a quick breakfast of two or three small dishes along with tea. Eventually it spread throughout the region, especially in Hong Kong.
Tan's restaurant offers classic Hong Kong-style dishes, such as savory pork and shrimp dumplings (siu mai or shumai), steamed buns filled with barbecued pork (char siu bao), and chicken feet braised in a flavorful sauce (feng zhao). Tan has expanded his menu to include many local specialties, such as salted egg prawns, but since I'm allergic to shellfish, he serves me deep-fried boneless chicken marinated in soy sauce and Chinese wine and wrapped in parchment.
An hour into this feast, a small, squat robot staggers into the room singing "Happy Birthday." Chew, the birthday boy, seems both startled and delighted by the digital serenade. As we join the chorus, a waiter walks in with a plate of longevity peach buns, or shoutao bao: fluffy steamed buns in the shape of peaches and filled with red bean or lotus seed paste or custard. Legend has it that divine peach trees bear fruit every 3,000 years, and anyone who eats a magical peach will enjoy immortality. Symbolism aside, in this very mortal moment, the only thing that matters is that the buns are delicious.
Simply divine
Lye-Wah Lee, a past president of the Rotary Club of Marina City, claims that the Hainanese chicken rice that she cooks for her Rotary friends tastes better than any restaurant version of the dish. After all, she and her husband, Edward Quek, a member of the same club, are of Chinese descent and have ancestral connections to Hainan, an island province in southern China that's home to free-range Wenchang chickens. Locals poach the chicken in salted boiling water and serve it with a ginger sauce.
Around the start of the 20th century, many farmers from Hainan, like Lee's and Quek's great-grandparents, migrated to Singapore and Malaysia. Those early immigrants brought with them this simple chicken dish and enhanced it with local ingredients. Moreover, frugal families tried to stretch the chicken by cooking the rice with the broth to extend the nutrients and flavor.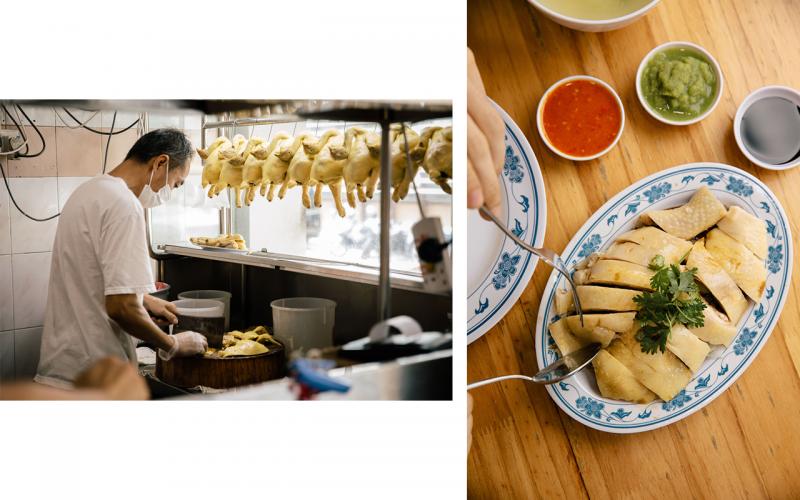 Nowadays, the meal is considered one of Singapore's national dishes, and each time I visit, I make a point of sampling it — for instance, at the Tian Tian Hainanese Chicken Rice stall in the Maxwell Food Centre or at Boon Tong Kee, which has multiple outlets throughout Singapore.
On this occasion, Joanne Kam takes me to her favorite, Chicken House, a restaurant on Upper Thomson Road. We are joined by Ghim Bok Chew, Quek, and Lee, our self-declared Hainanese chicken expert. When we arrive, rain is pouring down, yet there is a long line at the takeaway counter. Lee warns me not to be fooled by the simple appearance of the famed dish, which requires meticulous preparation. After simmering a whole chicken in a broth flavored with ginger, garlic, and scallions, chefs briefly submerge it in a bath of ice water to preserve the skin texture — and many add extra chicken fat to enrich the taste of the rice.
An American social media influencer once marveled at the simplicity of the dish, describing the delight of eating Hainanese chicken rice as a poetic experience. But after I bite into the moist and textured chicken, the best I can do is rhapsodize unlyrically: "Oh, so good!"
A feast for the eyes
The halal buffet restaurant Permata is housed inside a stately mansion with a pastel facade in the bustling neighborhood of Kampong Gelam. Next door stands the Malay Heritage Centre, which used to be the royal seat of the Malay sultan in Singapore. Rotarian Tengku Indra, who joins me at the restaurant, is a sixth-generation direct descendant of the first sultan of Singapore, and he spent his formative years at that palace.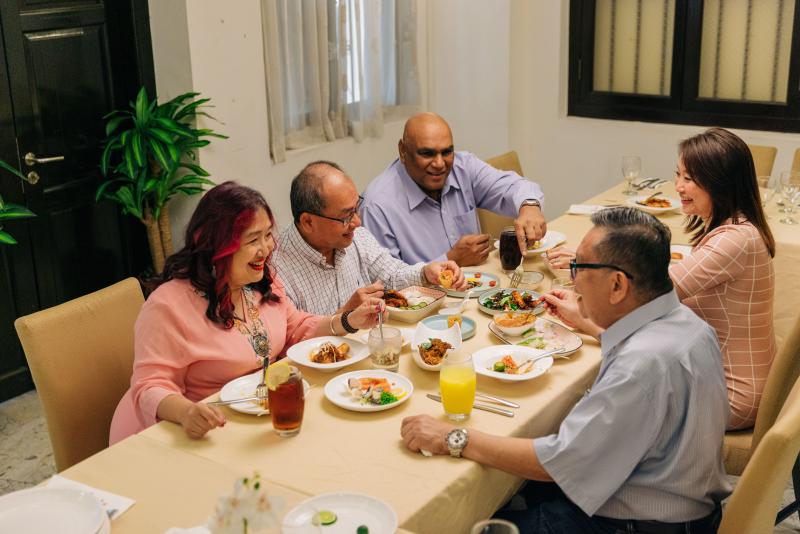 The restaurant specializes in what is known as Nusantara cuisine, which features dishes from Indonesia, Malaysia, Singapore, and other countries in the region. ("Nusantara" derives from an old Javanese word meaning "outer islands" or "archipelago.") Inside Permata's cool palatial hall, Tengku Indra introduces me to some of his favorite dishes. There's sup tulang merah, a vibrantly red bone marrow soup, and nasi lemak: coconut rice drizzled with an anchovy and hot chili sauce and topped with fried anchovies, fried peanuts, sliced cucumber, and hard-boiled egg. Rawon risotto is a thick beef stew infused with nutty buah keluak and served over creamy risotto, while kuih pie tee is a thin, crispy pastry cup filled with sautéed jicama, omelet, and fresh cucumber strips.
I roam excitedly around the food-laden marble countertops. Like a child in a treasure cave, I take in the bright colors, inhale the lush aromas of curries and other spices, and savor the roti jala, a lace crepe served with curry chicken. It's a sensory experience that's (all right, I'll say it) fit for a sultan.
Night moves
In southeast Asia, night markets are social centers: a warren of stalls, umbrellas, and awnings draped in flowers and punctuated by flaming kitchen pots and fryers. In Singapore, food-focused markets are called hawker centers because years ago, peddlers used to travel from street to street hawking the food they carried in baskets suspended from shoulder poles. One of those hawker centers, the Newton Food Centre, rose to fame after its appearance in the 2018 movie Crazy Rich Asians, and this year, four of its food stalls made it to the Michelin Guide's 2023 Bib Gourmand list for Singapore.
The colonial-style main entrance with its red gabled roof leads to an open square surrounded by food stalls. Neon signs depict a dizzying array of dishes, from satay to fried noodles. I make my way to an empty table, though its surface is littered with packets of facial tissues. "This table has already been taken," Kam says. "People place packets of tissues to reserve seats while they go to order their dishes. It's called choping," which rhymes with "hoping," as in, "We're hoping someone unfamiliar with our traditions doesn't try to sweep the tissues off our table." (Guilty as charged.)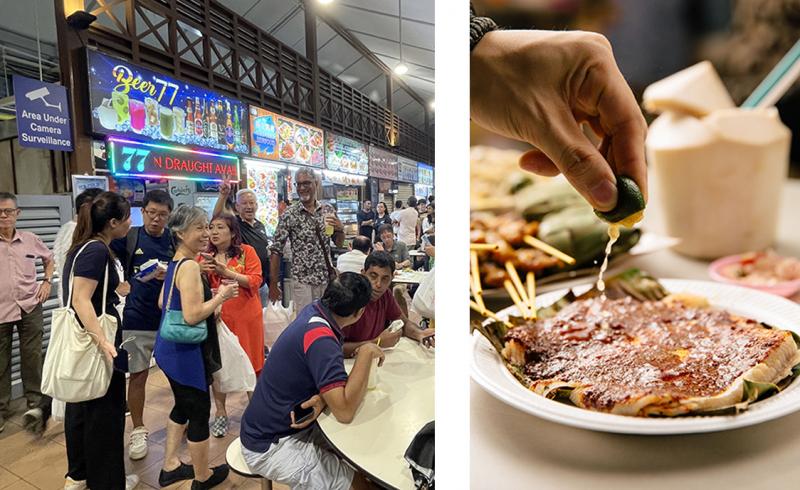 Kam says this Singlish word originates from chop, an official seal or stamp used in parts of Asia to authorize documents. She adds that the practice of choping — stamping or marking your spot — is ingrained in Singapore's hawker culture, even though many Singaporeans consider it rude.
After we chope a table in the middle of the open square, my Rotary friends disperse to different food vendors. Kwai Wah Wong, a vice chair of the Host Organization Committee, brings back a plate of chye tow kway from one of the Bib Gourmand stalls, Heng, which specializes in carrot cake — though Singapore's carrot cake, which comes in black and white varieties, is more like a radish omelet. Joehan Tohkingkeo and Clara Tan, members of the Rotary Club of Singapore East, have chosen fried Hokkien prawn noodles, while Kam likes the fried oyster omelet, served with a tangy chili sauce, from Hup Kee.
I order beef satay from another popular stand, TKR Chicken Wing & Satay. After being skewered and seasoned in a concoction of spices such as tamarind and galangal, the beef is grilled over a charcoal fire; the rich peanut and chili dipping sauce only enhances the underlying flavors.
One dish that embodies Singapore's multicultural society is a salad called rojak, from a Malay word for "mixed." Each ethnic group has its own spin on the dish. For example, the Chinese combine cucumber, lettuce, pineapple, jicama, and deep-fried bean curd with a special dressing of salty shrimp paste, ground toasted peanuts, sugar, and rice vinegar. Indians use boiled potatoes and deep-fried lentil and prawn patties and top with a spicy dip. Whatever version comes to the table, you can count on it being distinctively Singaporean.
A parting gift
The night before my departure from Singapore, I book my travel to the airport through the hotel. The next morning, when the car arrives, I open the door — and am surprised to see Goh smiling at me. "I saw your name on the assignment list," he says, "and I told my boss I would take you."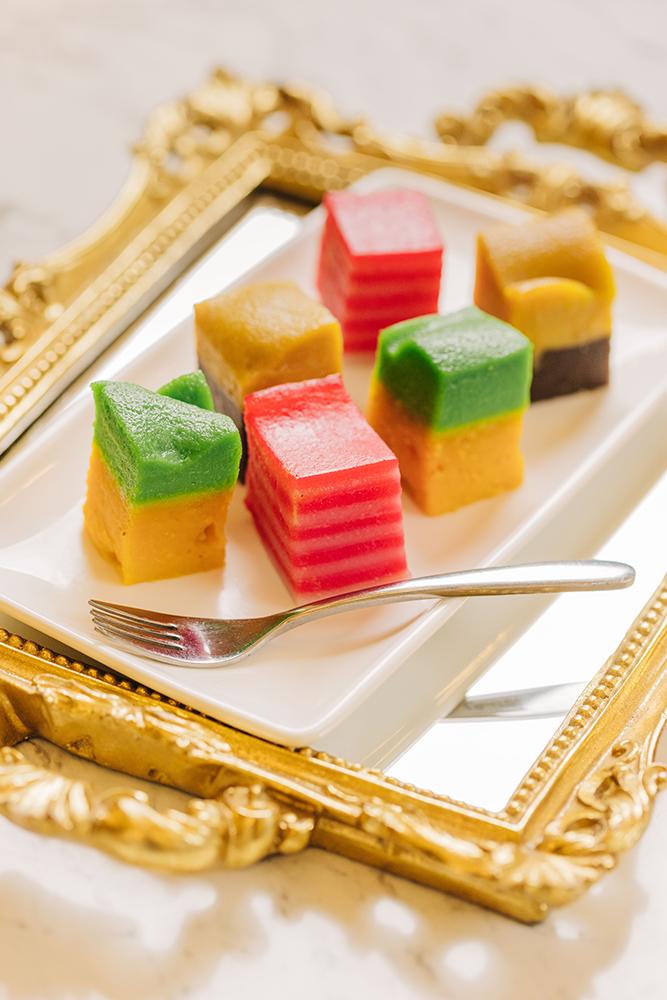 Once I'm in the car, Goh turns around and hands me a small container with six bite-size cakes in rainbow colors. I bite into the chewy, steamed green cake and am rewarded with a rich coconut flavor. "I got them for you at the market this morning," Goh says. "It's Nyonya kuih, part of the Peranakan culture."
The story goes that, centuries ago, when Chinese traders settled in the Malay peninsula and archipelago, many of them married Indigenous women. Their children were known as "peranakan," which means "local born," as I had learned only the day before when Kam took me to the Katong and Joo Chiat neighborhood, home to Singapore's rich Peranakan culture.
There couldn't have been a better symbol of the diverse, flavor-infused cuisine I enjoyed over the last few days than the rainbow-colored Nyonya kuih. "And with this dessert," Goh says, "your feast of Singaporean food is complete."
I take another bite. Heavenly.
This story originally appeared in the November 2023 issue of Rotary magazine.
---
related stories
2023 Convention ends with message of hope