Cricketers show off their abilities
By Brad Webber
Salman Mubarak of the Rotary Club of Multan Cantt, Pakistan, who has led projects to provide wheelchairs and prosthetic hands, wanted to showcase what people with disabilities can do. So he combined his passion for helping others with another love: the sport of cricket.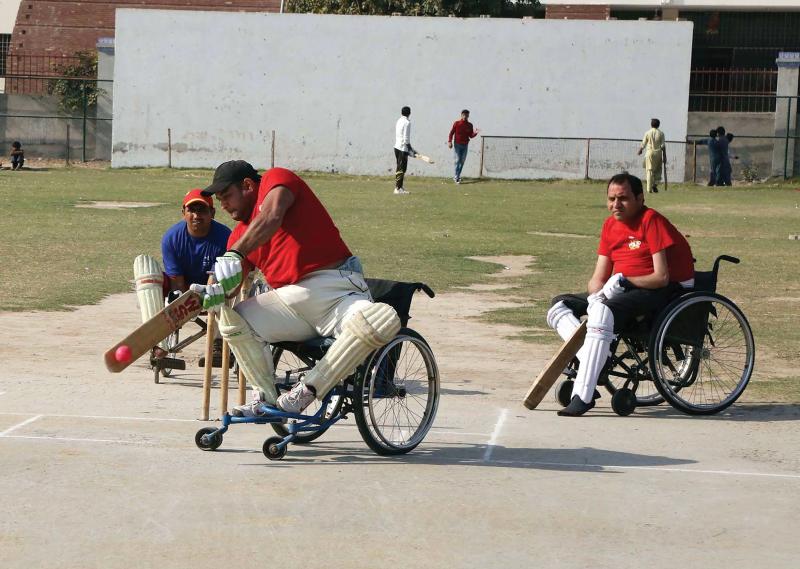 In February Mubarak recruited about 30 polio survivors for a match that kindled competitive spirits and showed that the men "are not people with disabilities but people with special abilities," he says.
One of the competitors, Asif Iqbal, contracted the poliovirus when he was nine months old. He did not receive a wheelchair until nearly 20 years later. "I was crawling to go to the school, and the pain I went through is indescribable," says Iqbal, 37.
Though the normal rigors of play were multiplied by the burden of batsmen having to power their wheelchairs across the pitch, "they were making runs and they were doing their all," Mubarak says. "It was not an artificial show. It was a real match."
"The teams fought hard to win and were delighted to have the chance to play," says observer Susanne Rea, founder of World's Greatest Meal to Help End Polio, who was a guest at the match. The presence of Rea, a polio survivor herself, "was a great source of encouragement for all of us and her life story is a big motivation for me," says competitor Arif Anwar.
Player Wasim Zafar, who has not allowed the limited mobility in his right leg and left arm to crimp his career as a physician, saw the match as "a big opportunity to further my cause of reaching the world and making the masses aware that the physical disability in one's life does [have an] impact, but the positive energy and the focus on the special abilities hidden in each one of us can make the difference."
• Read more stories from The Rotarian