Community spirit
by Brad Webber
Fearing for his safety, Than Hre, a student whose activism had attracted the attention of Myanmar's military government, fled his homeland in 2000. He made his way from Hakha, the capital of the country's mountainous Chin State, to Guam, where he would wait two years before securing permission to immigrate to the U.S. mainland. Hre eventually settled in Indiana, followed by his wife and young son. They joined thousands of other Burmese refugees, most of them Chin tribal people whose ancestors had converted to Christianity around the end of the 19th century, incurring enmity and persecution in their Buddhist-majority homeland.
In his new home, Hre relished his freedom to worship, assimilate, and prosper. He worked at a warehouse and ran a cleaning business. In 2008, he took over an Indian grocery store, stocking it with goods he knew would appeal to the Chin people living on the south side of Indianapolis — a population that has grown from a few hundred in the 1990s to more than 20,000 today. The store and Hre's adjacent Chin Brothers restaurant now serve as a community hub for refugees in and around Southport — a city situated within the boundaries of Indianapolis that is at the heart of what the residents have dubbed "Chindianapolis."
The Rotary Club of Indianapolis took notice of the refugees, and in 2016, the club's foundation made a five-year, $250,000 grant to the Chin Community of Indiana (CCI), a nonprofit that helps newcomers find jobs, language training, and access to government services. The grant, extended through 2023 with an additional $150,000, has allowed the community center, which serves as many as 40 people a day, to hire full-time staff. The Marion County Health Department agreed to fund the salary of an executive director for the center after county officials learned about the funding from the Rotary club.
The newly professionalized community center turned heads. "I thought, what kind of business is this Rotary club?" recalls Hre, who serves on the center's board. "That's a lot of money. How can they fund it? Why did they do it?" He wanted to learn more — and once he did, he decided to help create a satellite club that would bring together people from within and outside of the Chin community to forge a unique path to service.
Championed by Jeff Lake, a past president of the Indianapolis club, and Tim Lee and Charles Shumate, past governors of District 6560, the Rotary Club of Southport International was chartered as a full-fledged club in 2020. For Rotary, Shumate notes, "the idea of reaching out to other groups has fantastic potential for growth."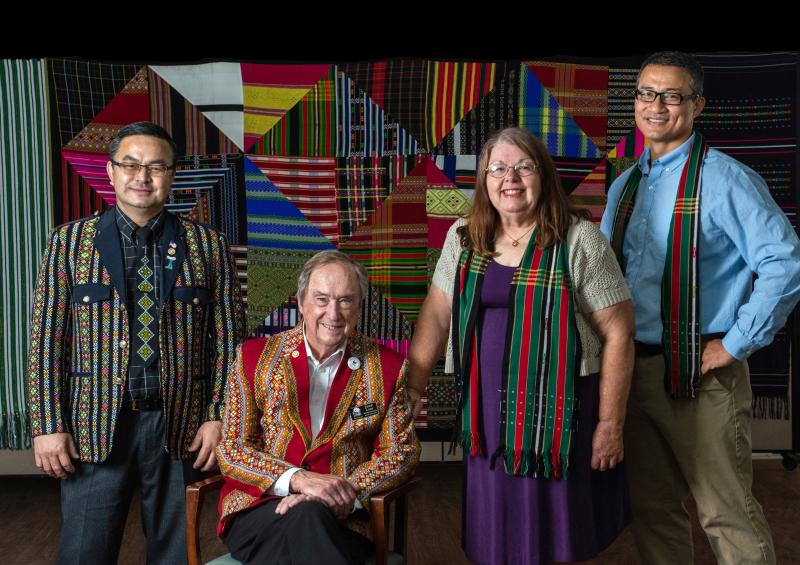 The Chin center's president, Peter Thawnghmung, is a member of the Southport International club, as is one of his brothers, John Thawnghmung. Ruth Olson, who heads an adult basic education program whose students are predominantly Chin, is also in the club. You'll often find Lake and Lee either volunteering at the CCI office or eating at Chin Brothers, which is renowned for dishes such as sabuti, a corn and meat soup. Lee, known among locals by his honorary name of Pek Thang, also raves about the goat curry.
"How cool is it?" enthuses Hre. "We plan together, we help each other. It's a better community because of Rotary."
The club was meant to be international from the start, says Olson, a first-time Rotarian and the current president, adding: "That sounded right up my alley." The Thawnghmung brothers, who came to Michigan from Myanmar as children in 1980, felt a similar tug. "I thought I could be a good bridge between communities," John says.
The club's can-do spirit was noted by Shumate when he bestowed on it one of District 6560's Club of the Year awards for 2020-21. Even though the new club had to find its footing during a global pandemic, the Rotarians got things done. They distributed tons of food to low-income households on the south side of Indianapolis, with the supplies donated from local food banks and pantries, including Indy's Community Food Co Op, as well as from the temporary Farmers to Families food box program of the U.S. Department of Agriculture.
"We plan together, we help each other. It's a better community because of Rotary."
"There are some areas in the Chin community that are in need," says Amy Lee, a club member and Tim Lee's wife. The club finds ways to deliver: In late 2020, it teamed with a local barbecue restaurant to raise $1,200 for several families who had been displaced by an apartment fire. A handful of members faithfully contribute to the club's coffers through a program at Lucas Oil Stadium that pays community groups whose members help run concession stands during concerts and professional football games.
Southport International members also raise funds by holding 50/50 raffles at club meetings, a routine source of spirited fun, as when some participants are asked to perform a quick dance before drawing a playing card from the deck. "We have great attitudes, a lot of laughter. We always have lots of fun," says Olson.
That laid-back vibe, along with the evening meeting time, is what drew Ben Johnson from his former club. "There's no self-aggrandizing," he says, "no self-importance."
As the club seeks continued participation from the Chin community, John Thawnghmung says he is seeing members' mentality shift to that of benefactors who enjoy taking part in service.
Amy Lee notes that when the club started, many Chin people wondered why they needed Rotary in their community when they already took care of their own. "Now," she says, "they are seeing the bigger picture of Rotary."
Vital statistics
Chartered: 28 September 2020, with 21 members
Current membership: 23
Step by step: The Rotary Club of Southport International began in 2019 as a satellite club of the Rotary Club of Indianapolis. Charter members included leaders from the sponsor club and from District 6560, leaders of the Chin Community of Indiana, and other internationally minded people with an interest in learning more about their neighbors.
A casual affair: The club set annual dues of $160. Its meetings, at 6 p.m. every other Tuesday, are generally held in restaurants, though attendees can choose not to order food, giving them the option of lowering their cost.
Redefining the melting pot: More than half of the club's members are from Chin State in Myanmar. Of the roughly 2 million residents of metropolitan Indianapolis, close to 145,000, or 7 percent, were born outside the United States.
This story originally appeared in the December 2021 issue of Rotary magazine.