Clubs made to order
---
Create the club you wish existed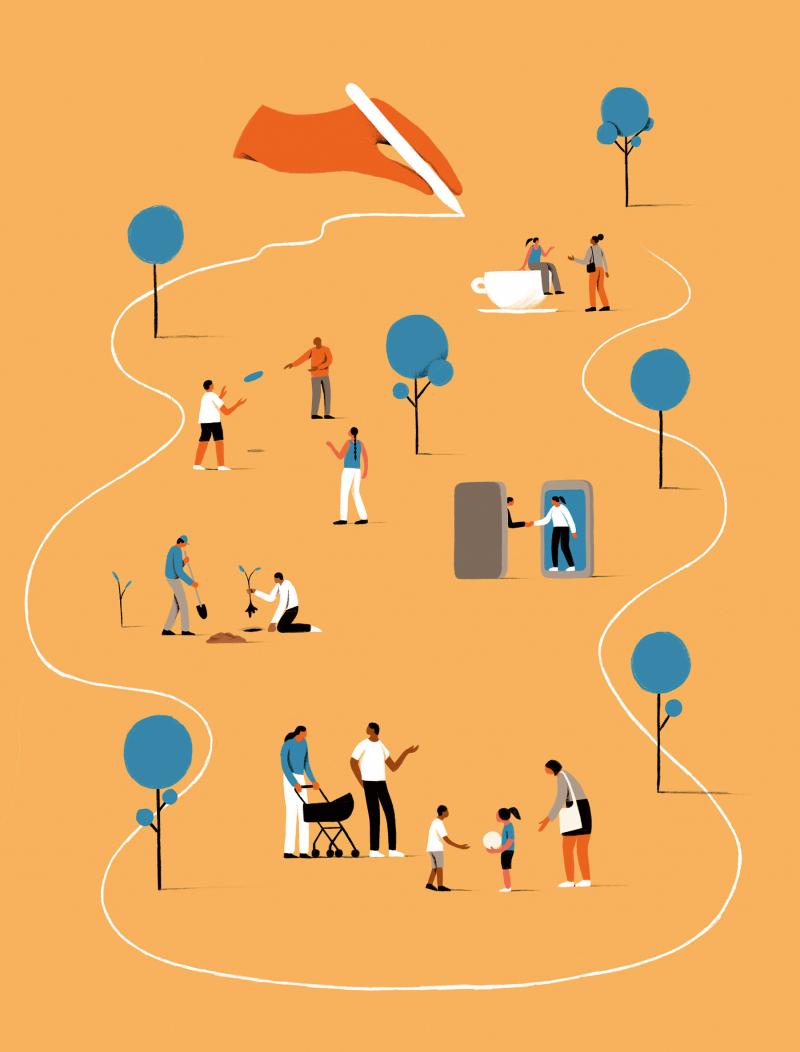 Lisa Hunter spent 12 years in Rotaract, joining several clubs as she moved around England. She also served on Rotary International's Rotaract Committee and as chair of Rotaract in Great Britain and Ireland. When she turned 30 in October 2011, she knew it was time to move on from Rotaract. "But I still wanted to be involved in the Rotary family," she says. "I'd given so much to it in the past and fundamentally believe in everything Rotary does and achieves."
The problem was that Hunter and her other friends in Rotaract couldn't find a club that fit their lifestyles. Hunter gathered the group in her home in Maidenhead, about 30 miles west of London, to compile a list of reasons that none of them, despite their enthusiasm for Rotary, had yet joined a Rotary club. It was a familiar litany: high costs, inconvenient meeting times, unreasonable demands on young professionals with new careers and families. "This clearly showed there were issues that had to be addressed," says Hunter. "So we talked about what we would want from Rotary — and the Rotary Club of Maidenhead Bridge came to be."
The eight-year-old club meets twice a month on Sundays in a local coffee shop. "This fits in with the style of our club," Hunter says. "It's relaxed and open to all, plus caffeine is needed on a Sunday morning. The meetings themselves are very informal: no toasts, no grace, not even a roll call. And you won't see any jackets and ties." Children are welcome, including Hunter's nine-year-old daughter, who has attended every club meeting and event.
"Our club is very hands-on," Hunter says. "We focus on community needs and how we can roll up our sleeves to help. We are keen to be seen doing things, showing Rotarians in action and shouting about it at the same time. This fits in with the fact that our members do not have large amounts of disposable income. It's much easier to donate our time rather than hand over cash."
"We find local leaders coming to our club and asking us to help them, which is wonderful."
The club has nearly 50 members and continues to grow. "We attract members via our website and online marketing through Facebook, Twitter, Meetup.com, and Instagram," Hunter says. "Our posts are engaging and motivating, and, most importantly, they show our club in action." Members also work to establish and maintain relationships with local leaders in government and business. "They help us to promote our events and give us access to resources. We have proved ourselves as reliable and professional event organizers, and now we find those local leaders coming to our club and asking us to help them, which is wonderful."
The club's first project, an Easter Family Fun Day in 2012, attracted 250 people and has become its signature annual event. The residents of Maidenhead appreciate that it is a free children's activity that promotes healthy lifestyles, Hunter says. "It's also a great event for the children of our members to help out at and put their ideas into play."
The club sets an annual goal of providing 1,700 hours of volunteer work — though last year, it surpassed the 2,400-hour mark. Among other things, it works with a local food bank, helping collect food donations each week. It has also boosted the profile of the food bank and other local charities through a program called (no kidding) Pimp My Community. "It's a great hands-on project that our members are passionate about," says Hunter. Members donate their time and expertise to help these organizations improve their branding, marketing, events, and websites, thereby elevating their impact.
"We've enjoyed pushing the boundaries of Rotary, changing opinions on what people think Rotary is and what a 'normal' Rotarian looks like," Hunter says. "I hope that other clubs consider sponsoring the formation of new Rotary clubs to attract younger people. And I want to see former Rotaractors take the lead to form new clubs. Be persistent and create change. Rotary really can be whatever you want it to be."
Read more stories of
clubs made to order
• Interested in starting a new club or learning more about ways to connect through Rotary? Visit rotary.org/start-club.
• Illustration by Sjoerd Van Leeuwen
• This story originally appeared in the August 2020 issue of The Rotarian magazine.