Our clubs
After hours: Rotary Club of South Metro Minneapolis Evenings
As the sun sets over the Minnesota River, it casts a nearby hotel into silhouette. Young people trickle through the hotel's front doors and gather at a long wooden table in the bar for happy hour. It's not actually happy hour, but that's what they call this casual gathering before their club meeting.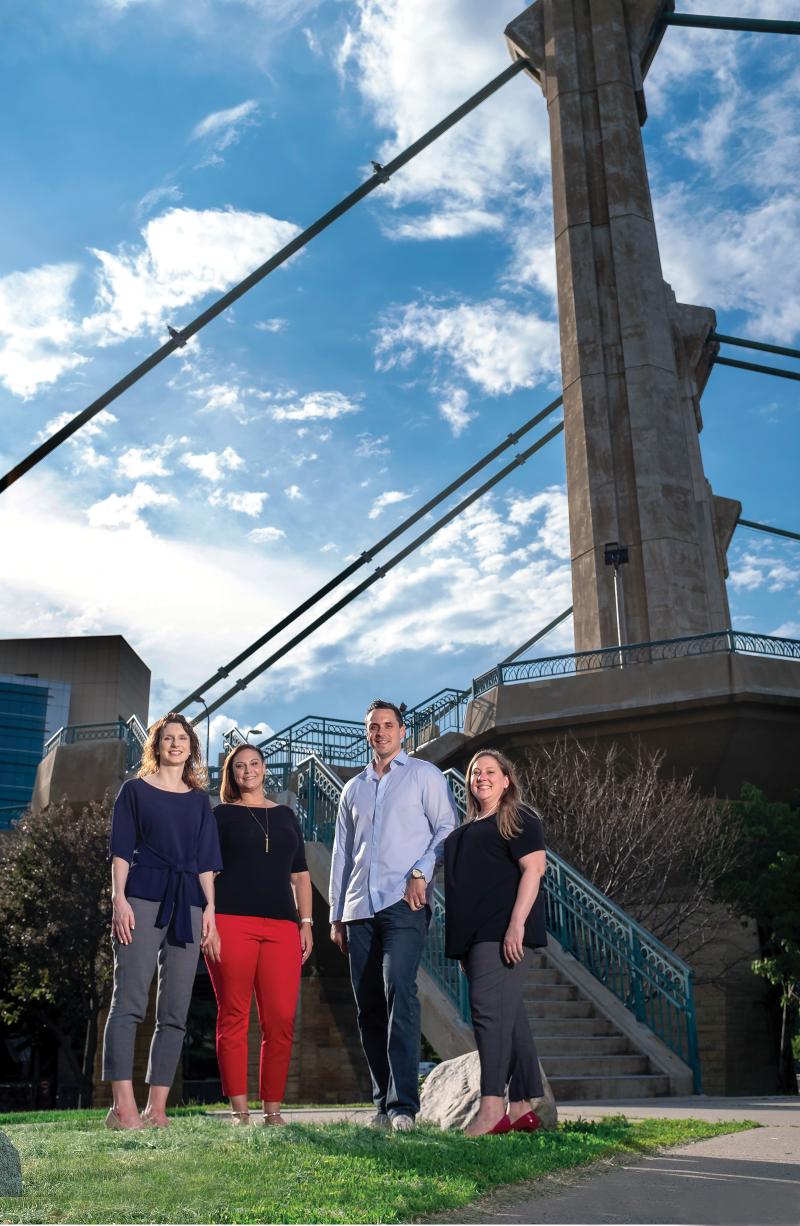 Twice a month, the Rotary Club of South Metro Minneapolis Evenings (SMME) meets here. It's a nontraditional club, but that has less to do with the members' average age – 33 – than the fact that they meet after work and tend toward activities not usually associated with Rotarians, such as rock climbing, WhirlyBall, and escape rooms. The club also organizes one or two social outings (such as rock climbing) every month, and another focused on community service. Those have included serving breakfast at the local Ronald McDonald House, planting trees, and reviewing résumés for English as a Second Language students.
SMME's mix of social and service – of doing and giving – has been key for drawing young people. Take Matt Lunde, who, at 36, is now one of the club's elder statesmen. He sits at the far end of the table and has brought a prospective member, a woman who once skied in the Junior Olympics. Lunde was one of SMME's charter members, and, like many in the group, he isn't from the Twin Cities. He came from Fargo, North Dakota.
Not long after he moved to Minnesota in 2008, Lunde learned from a fellow Fargo transplant about a new Rotary club that might interest him. "I liked the concept of it being after work," he says, "not in the middle of the day, and not every week – but still being able to have some sort of community and to give back."
When happy hour is over, the group walks down a carpeted hallway to a conference room that feels a little too cavernous, though no one seems to mind.
"Eli, you want to recap paintball?" asks Ashley Taylor, the 2017-18 president.
Eli Johnson is succinct: "We shot balls of paint at each other. It was really fun. And it only kind of hurt."
Our series
We'll be visiting clubs around the world to highlight the diversity of the Rotary experience in a monthly series. See other club profiles.
June: Landlocked Lobster
July: Down to Earth
There are two guest speakers: Karen Walkowski, a member of the Rotary Club of Lake Minnetonka-Excelsior, who talks about ending human trafficking in Minnesota, and Mark Hegstrom, of the Rotary Club of Edina/Morningside, located in a suburb of Minneapolis. Hegstrom helped get SMME started in 2009, but tonight he is here in his capacity as past governor of District 5950 to present the club with a Presidential Citation for adopting Rotary's online tools, donating $4,400 to The Rotary Foundation, and focusing on membership attraction and engagement.
Like many clubs, SMME has faced challenges in recruiting and retention. "The constant battle is that people are always moving for jobs," Lunde says. In fact, soon after the club was chartered in 2010, there was an exodus as people relocated for work.
With a concerted effort, the club doubled its membership in one year from that low point of 13 members. "We had a handful of transplants from out of state who were familiar with Rotary already," Lunde says. "I made a point to sit down with each prospective member outside of the meeting time to give them a full rundown on our club, as well as answer any questions they had about it."
Since then, membership numbers have stabilized. "We've started to settle a little more," says Past President Krysta Peterson. "We may have all moved here from somewhere else, but we're not leaving as much. We're starting to buy homes and things like that."
After Walkowski's presentation on trafficking, the young Rotarians chat before heading back out into the night. Later in the month, they'll meet on a Sunday afternoon at a food pantry where they will organize giant boxes of overstock food items from Amazon.
A few weeks later, about eight members of SMME meet at Upstairs Circus, which has been described as an "arts and crafts bar." This is the club's social event this month: a night of drinking and crafting.
On this Thursday evening, the young Rotarians sit at a long table with their projects spread out before them as they sip drinks. The chatter is easy and the mood is light. Taylor is making a serving tray while Peterson puts a necklace together. Others do string art, wrap flasks in colored leather, or try to construct wallets.
Amanda Fay works on a leather clutch purse. Fay had been a member of an after-hours club in Eau Claire, Wisconsin, and wanted to find a similar club. Asked if she would ever switch to a traditional club, she shrugs. "I don't know," she says. "Maybe. We're the first generation of the after-hours clubs. So I think it will depend on how they evolve as we get older." – Frank Bures
• Read more stories from The Rotarian