Our clubs
Getting the word out
Rotary Club of Den Haag Nieuwspoort, The Netherlands
Chartered: 2018
Original membership: 20
Membership: 27
Dateline: The Hague: Nieuwspoort (News Gate), a press center in The Hague, serves as a social hub for journalists, politicians, and lobbyists from the Netherlands and beyond. It's a place for informal meetings as well as the site of press conferences, lectures, and other events. A new Rotary club based in the press center taps into this network of connections with the intent of making news of its own.
Club innovation: The Rotary Club of Den Haag Nieuwspoort was conceived as a way to allow Rotarians from elsewhere in the Netherlands, as well as from other countries, to stay involved with Rotary during short- and long-term assignments in The Hague. The city is the seat of the Dutch parliament as well as of the United Nations International Court of Justice and International Criminal Court. But the club also bolstered Rotary's ranks by attracting newcomers, most of whom had never considered joining.
Looking for a new Rotary club after a job change took him to The Hague four years ago, Jan-Willem Wits learned that a past governor of District 1600, Wouter van Putten, had long wanted to start a club in the middle of the Netherlands' seat of international influence. Wits asked colleagues and business associates, along with some prominent movers on the local scene, whether they would like to help him start a club from scratch.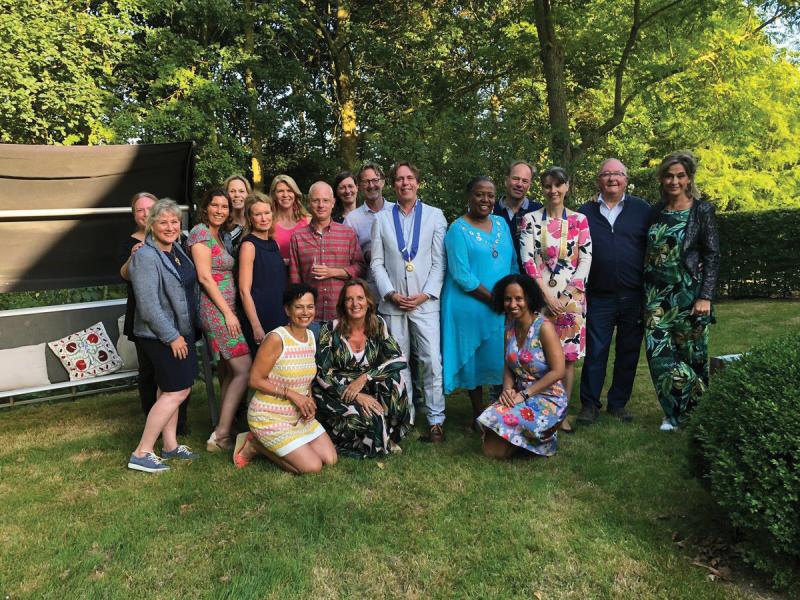 "Most of our candidates didn't have any Rotary background and were rather astonished to be asked, because they thought of Rotary as something exclusive," says Wits, who assembled the group in September 2017. "Until recently, I was the only member who was a Rotarian before," says the independent communications adviser, who was formerly a member of the Rotary Club of Utrecht Kromme Rijn. "My elevator pitch was very effective," he adds with a chuckle.
Holding its Friday lunch meetings at Nieuwspoort means the club has a deep bench of members with a communications background. "They are all really well-connected," says Wits. "And they aren't shy." Still, he says, "from the beginning we wanted to avoid becoming a 'mini-Nieuwspoort' and being seen as a lobbyist society. Therefore we looked for people in other professions, like attorneys, auditors, consultants, headhunters, and people with jobs in the cultural world."
Being on a first-name basis with members of parliament — and even the prime minister — is a big plus. "We are always one handshake away" from an influencer who can assist the nascent club, says Wits. That access helped ensure one of the club's early successes: After Hurricane Irma caused $3 billion in damage to the island nation of St. Maarten in September 2017, the club organized a debate on the role of the media in St. Maarten, followed by a Caribbean buffet and salsa dancing, which generated more than $23,000 to fund journalism education on the island.
Most of the club's members are between 40 and 50 years of age, and two-thirds are women. The club's diversity means that both the membership and speaker rolls include "the 'not-so-usual suspects' for a Rotary club, like left-wing politicians and trade union representatives," Wits says.
The club has come a long way in a short time. "It's true we started with hesitation. There are eight clubs in the area that were struggling to get new candidates. Some of the other clubs were afraid of the competition," Wits says. Those fears were allayed by the fact that few members of the Den Haag Nieuwspoort club had had Rotary experience.
"You shouldn't be afraid to start something," says Wits — and you can quote him on that.
— Brad Webber
• What is your club doing to reinvent itself? Email club.innovations@rotary.org. Read more stories from The Rotarian