Club innovation
Alumni association
Rotary Club of New Voices, District 7780
Chartered: 2019
Original membership: 22
Membership: 37
Camp fires: Every year, dozens of District 7780's Rotary Youth Leadership Awards alumni ages 17 to 27 return to Camp Hinds near Portland, Maine, to serve as staff. The Rotarians who oversee the program created a Rotary club tailored to these RYLA champions, with the operation of the four-day summer camp as a central part of its mission. Club members get invaluable experience in matters such as applying for grants.
Club innovation: The club, with a widely scattered membership, relies on digital tools to connect. There is a monthly online meeting, and members conduct frequent chats using the Google Hangouts app. The club is tailored to RYLA alumni but is open to all.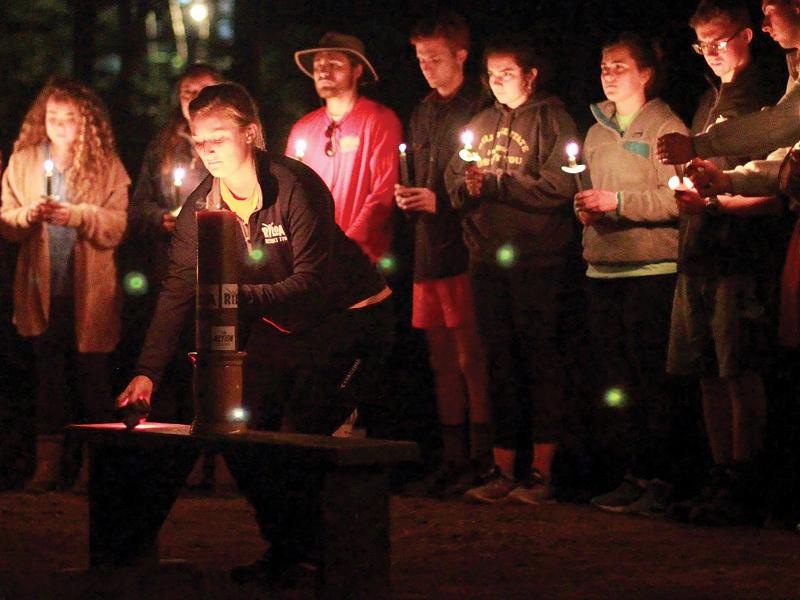 Phil Giordano, a member of the Rotary Club of Scarborough, Maine, and the executive director of the Camp Hinds RYLA, noticed the chemistry among program alumni who serve as camp staff. "Instead of just coming together one week out of the year, they started getting together many times during the year," he says. "They wanted to do more and be more." So he broached the subject of chartering a Rotary club tailored to them. "I started texting, and within 15 minutes I had 10 to 15 people wanting to start." He and Marty Helman, a past district governor and member of the Rotary Club of Boothbay Harbor, Maine, saw an opportunity to create a club built around these highly engaged members of the Rotary family.
"Rotary has some absolutely marvelous youth programs," says Helman, a staunch proponent of Rotary's evolution. But once the program is over, she says, too often "we say, 'Have a nice life. Go look for a Rotaract club, if there is one.' There's no reason why a young person has to go through Rotaract to become a Rotarian.
"Members are in their first adult experience in a volunteer organization, so they need some guidance," Helman adds. "Not in how to run a meeting or work with each other. But in expectations, how to communicate with other Rotary clubs, process points. That's why we've got tenured Rotarians helping."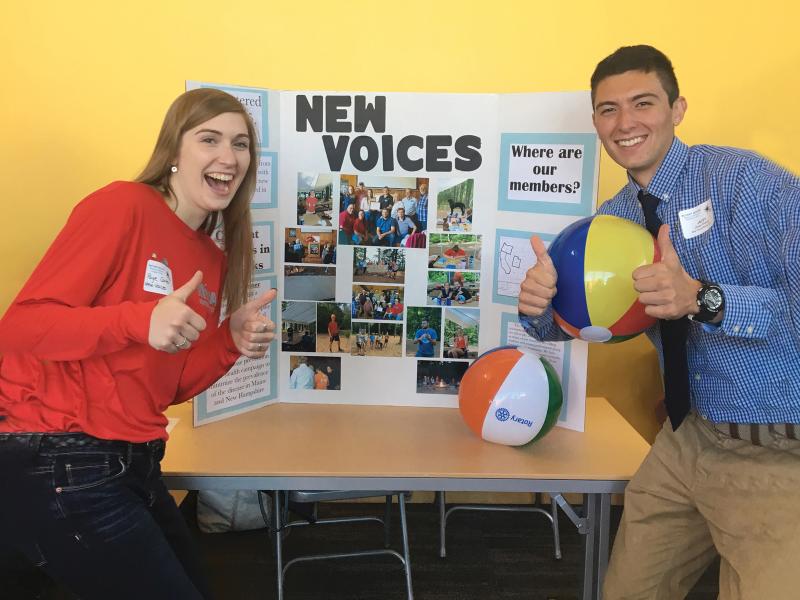 After attending RYLA camp in high school, Sam Klemarczyk, now the club's co-president, remained active in Rotary through college but was struggling to stay involved. "I moved to Raleigh, North Carolina, and I'm transitioning into a new job. The flexibility of New Voices was a big thing. It helps open a lot of doors," says Klemarczyk, 25.
New Voices requires five hours of service a month, not counting the work overseeing RYLA. "We've completely gotten past the obstacle young professionals face, which is the idea that they are not ready for Rotary," Klemarczyk says. One club initiative is a project to raise awareness of Lyme disease, a potentially debilitating infection transmitted by tick bites. "The focus is on creating a coloring book targeted to elementary school students about when you're outside in the fields and woods," says Caitlin Morrison, co-president-elect and a cellular and molecular biology student at the University of Rhode Island. "It also consists of informational posters and cards at RYLA each year. In Maine and New Hampshire, everybody knows five-plus people who have been affected by Lyme disease."
While the camp "defined the kind of person I wanted to be and my commitment to others, I like how being a Rotarian is a long-term commitment," says Morrison. "I have something I can stay with for many years to come.
— BRAD WEBBER
• This story originally appeared in the May 2020 issue of The Rotarian magazine.