Class project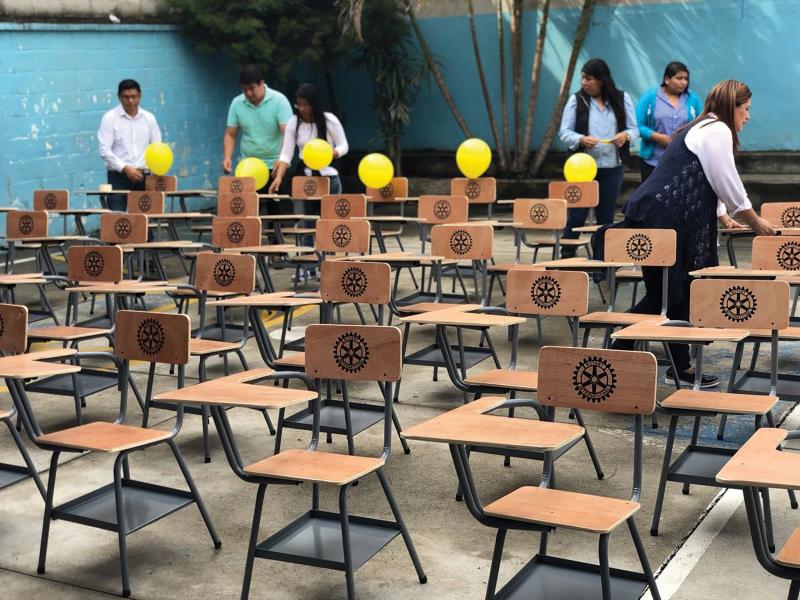 Nestled in the hills of Guatemala City, Colonia Trinidad is a neighborhood at odds with itself. "It's a well-off area with huge apartments and lots of construction," says Mónica Davila. "But we also have areas that are home to a lot of poor people."
Davila is president of the Rotary Club of Guatemala Vista Hermosa Uwara, a satellite of the Rotary Club of Guatemala Vista Hermosa. While volunteering at a shelter for orphans, members of the Vista Hermosa Uwara club learned about Escuela Republica de Alemania, a school in Colonia Trinidad attended by 150 children between ages seven and 13. Some of the students live at the shelter, including some who lost family members when the Fuego volcano erupted in 2018 and killed at least 190 people. All of the school's students live in poverty.
The school building was in bad shape, with rotting wood and problems with the roof, and had few of the resources needed for education. "Most of our club members live close to that school," Davila says, and after seeing the conditions under which kids in their neighborhood were trying to learn, the members of the Uwara club knew what had to be done.
"We are trying to make a model school at Republica de Alemania," she says.
In a three-month fundraising drive, the Uwara club members raised $1,000 and got additional support from District 4250 (Belize, Guatemala, and Honduras). In May 2018, they installed 100 new desks in classrooms. In February 2019, they set up a computer lab using donated equipment from a local call center.
"We are trying to make a model school at Republica de Alemania."
The Uwara club has more plans for the school, including replacing the remaining classroom desks, fixing the roof, and stocking a library.
The work of the Uwara volunteers has inspired parents at the school to pool their own funds to help pay for some renovations.
María Valladares, a new member of the Uwara club, says her experiences at Republica de Alemania have confirmed to her how important becoming a Rotarian was. "I joined this club because the members are dedicated to education and helping children," she says.
The Uwara volunteers see what a difference they're making whenever they come back to the school. In February 2019, when they arrived to build the computer lab, the students were excited to show off how well they had taken care of their desks. "They said, 'Can you come and see our desks? We have papers in them!'" Davila says.
— FRITZ LENNEMAN
• This story originally appeared in the August 2019 issue of The Rotarian magazine.