Can capitalism save the world?
Businesses are increasingly pursuing purpose alongside profit
By Andrew Baker
Per Saxegaard's epiphany came after a divorce. "For years, I'd been working as hard as I could to make money," says Saxegaard, a Norwegian investment banker. "Everyone I went to business school with was doing the same thing, racing to get rich, working all the time. But when my marriage broke down, I realized I'd been neglecting everything else. I'd been neglecting meaning."
Saxegaard had to make a change, and he knew the change had to affect everything – not just his personal life, but also his business practices. "I needed to be inspired," he says. "Money can motivate, but there's no amount that can inspire. You need a higher purpose."
Around the world, in multiple industries, people are having epiphanies like Saxegaard's, then trying to articulate, practice, and popularize the idea that capitalism is about more than next month's profit margins – that business has the power to shape the world, which gives businesspeople a responsibility to shape it for the better. This doesn't have to mean making less money. To the contrary: Doing good, they insist, is fundamentally good business.
These aspiring reformers aren't all united in a single movement, but many of their ideas are distilled in the concept of "conscious capitalism" coined by John Mackey, best known as the founder and CEO of Whole Foods, and Raj Sisodia, an academic who has long studied successful companies that pursue purpose and meaning alongside profit.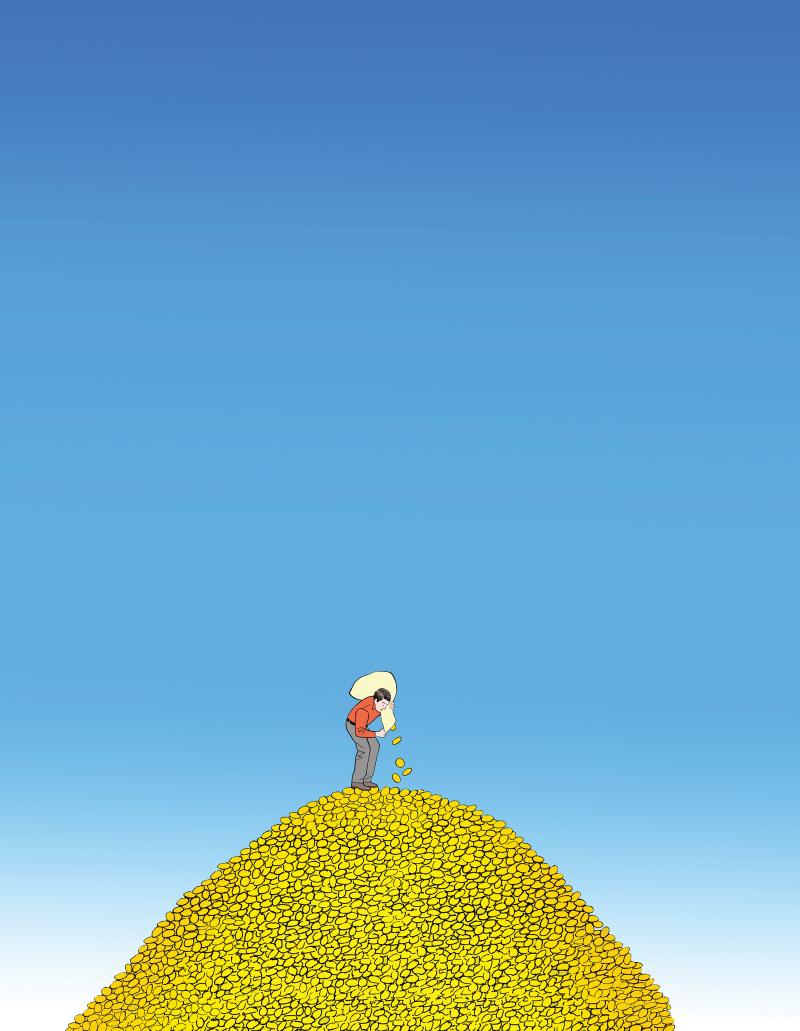 In 2005, Mackey co-founded FLOW (Freedom Lights Our World), a nonprofit aimed at turning these concepts into a movement. Sisodia helped run a similar nonprofit called the Conscious Capitalism Institute; today the two have merged. The organization, Conscious Capitalism Inc., consists of chapters in over 20 U.S. cities and 13 other countries. Each year, it hosts an annual conference and a "CEO Summit" for business leaders looking to support one another.
"Conscious businesses come in all shapes and sizes," says Sisodia. "But they tend to have a few things in common. They seek a higher purpose; they try to balance the concerns of all their stakeholders.
"People absolutely crave purpose," he says. It is hard to motivate people to the levels of creativity, innovation, and organizational commitment that are required for long-term success and impact without a higher purpose. Conscious capitalists look for ways that everyone affected by a business can thrive together over time, he explains. "When we talk about stakeholders, we don't just mean customers and investors," says Sisodia. "We also mean employees, suppliers, society, the environment – truly everyone who is touched by your business."
Purpose-driven businesses require strong, thoughtful leadership. "In today's business culture, the pressure to increase short-term gains can be immense," says Sisodia. "This can make prioritizing higher purpose and stakeholder integration very difficult – especially because it often involves increasing upfront costs."
According to Sisodia and Mackey, higher purpose and stakeholder integration bring tangible bottom-line benefits, a trend that has accelerated as consumers, especially younger ones, become more interested in how the products and services they purchase affect the world. In numerous global surveys, increasingly large numbers of consumers have indicated the importance of brands' social purposes and impact in their buying decisions. Companies that want to thrive have to care about these questions, too, or risk losing customers.
This is different from "corporate social responsibility," or the practice of setting aside profits for charitable donations. While donations can be worthwhile, the focus is on how business decisions themselves could – and should – be a force for good in the world. Done right, making a profit isn't the sort of thing you have to compensate for by giving to charity.
The Four-Way Test bears a striking resemblance to the core principles of conscious capitalism. In fact, last November, Rotary recognized six Rotarian business owners and two businesses (Coca-Cola Pakistan and Mercantil Banco Universal) with a new award for their responsible business practices at the annual Rotary Day at the United Nations.
Indian Rotarian Suresh Goklaney, executive vice chairman of Mumbai-based Eureka Forbes, was one of the Responsible Business Award winners. His epiphany moment was, in a sense, the flip side of Per Saxegaard's: Instead of realizing that business wasn't enough without purpose, Goklaney realized how crucial business practices could be to purposeful progress in the world.
As a child, he had watched his father help the poorest and most disadvantaged members of their community, exhausting himself with a constant cycle of seeking charitable contributions and applying for grants. Goklaney admired his father's purpose – improving the lives of their countrymen – but was frustrated by the shortcomings of his methods.
"The donations he spent his life chasing after did some good, of course," says Goklaney. "But over time I started thinking he could do better by connecting his sense of purpose with the power of business. I thought that would lead to some more permanent and fundamental changes for people."
The marriage of purpose and profit-seeking is evident in Goklaney's company. Since its founding in 1982, it has sold affordable devices that help people purify water for domestic use, reducing their exposure to diseases that could kill them, interfere with their education, or impede their ability to provide for their families.
But Eureka Forbes' higher purpose – bettering the daily lives of Indians, as Goklaney's father always wanted – extends beyond the products it sells. The company hires salespeople who might otherwise have a hard time building professional careers in India. "When we're hiring, we don't seek out people who went to big-name schools," says Goklaney. "We look for people who have a hunger – to make a living, yes, but also to contribute to society, to make their country better. They might need a little more training. But it's worth it, because they have that hunger."
Long ago, he explains, he realized that businesses have the potential to meet certain needs in ways that no other organizations can match. "I'm not just talking about making things people will buy, though that's obviously crucial," he says. "I mean the need, whether as consumer or employee, to feel like a part of something valuable and meaningful. Giving people that feeling motivates everything I do. It's in my DNA now, and it should be in the DNA of any organization looking to be a positive presence in society."
Steady profits have allowed Eureka Forbes to be a major player in Rotary club projects dealing with clean water in India. After the earthquake and tsunami of 2004, the company partnered with Goklaney's club, the Rotary Club of Bombay, on a project to install water purification plants in slums where residents could not afford individual home purification systems. The project was set up to be self-perpetuating, and continues today. "We make agreements with communities," says Goklaney. "They get to buy water cheaper than they could get it anywhere else. The proceeds pay the salaries of a group of local women who manage the plant's finances. Any extra proceeds are set aside as seed money for more plants in other neighborhoods."
In 2007, Saxegaard founded the Oslo-based nonprofit Business for Peace Foundation. Each year, the organization convenes a panel of Nobel laureates in peace or economics to identify and award corporate leaders from around the world who practice capitalism in a way that ethically creates economic value while also creating value for society.
Saxegaard says Rotarians are an important part of a new conversation about values-based businesses. "You can't just be making money, and Rotarians understand that. You have to be creating value, solving problems. You have to be able to look in the mirror and say this is the type of businessperson I am, this is how I'm improving society and the world." He recommends asking a few basic questions that apply to all types and sizes of businesses: Who are your customers? What does your product do for them? Could it do more, or do it better? Where do your supplies come from, and why? What communities do you exist in? In each, are you a good community member?
Skeptics doubt the claim that business can solve problems traditionally considered to be in the realm of government regulation. Sociologist and author Nicole Aschoff has criticized Mackey and Sisodia as "mythmakers." "I think they're well-intentioned," Aschoff says. "But their arguments don't acknowledge the severe limitations of what you can do with a business as your vehicle for positive change." This is especially true for complex issues such as the environment. "The idea that a company can treat the environment and investor returns as equally important simply isn't true. Big, urgent social problems need political solutions, and those solutions can only come from models and movements that aren't grounded in the need to generate a profit."
Others have questioned Sisodia and Mackey's data. Business scholar Chong Wang challenged their conclusion that businesses following a more purpose-driven approach outperform their competition. (Among other problems, Wang pointed out, they had hand-selected the companies on which they based the claim.)
Sisodia acknowledges that more work needs to be done to figure out why, exactly, some highly conscious companies succeed while others don't. "The data just does not exist for a large-scale empirical study," he says. "What we know is that some businesses have organized themselves around higher purpose and enjoyed great success. That's our starting point. For the movement to grow, people in the conscious business community are going to have to figure out new ways of talking to each other – new ways of sharing data and experience to figure out what works."
Rotarians could be a vital part of that conversation. "A lot of what goes into conscious business is finding networks of conscious collaborators," says Sisodia. "From what I know about Rotary, it's a net-work full of exactly this sort of people."
-- Andrew Baker's work has appeared in the Guardian, Elle, and New York Observer.
• Read more stories from The Rotarian