Secondhand treasures book sale raises $95,000
When five trucks arrived at a secondary school in the city of Venlo in the Netherlands, members of the Rotary Club of Venlo-Maas en Peel were ready.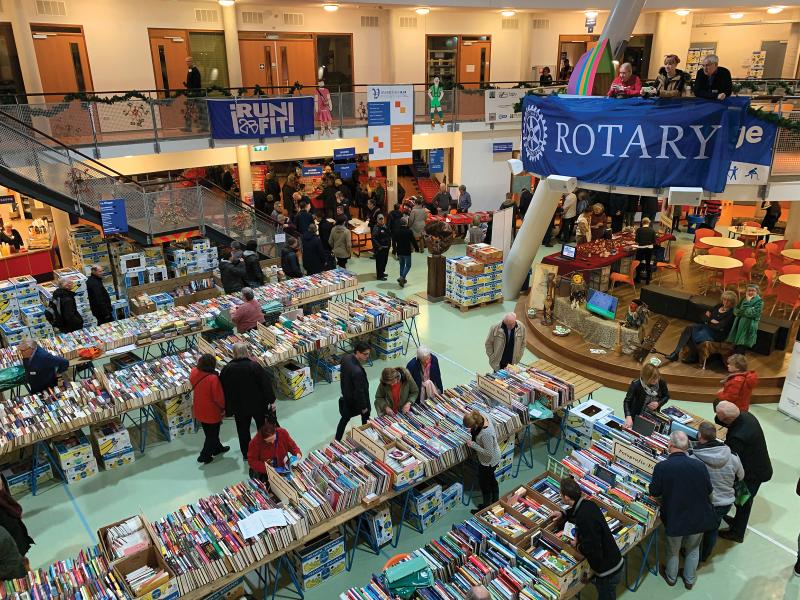 The trucks were filled with items to be sold at the club's 33rd annual book and record sale. The seven-day event in early January raised $95,000 that will go toward projects that improve the lives of children in Brazil, Malawi, Peru, and Sri Lanka.
In partnership with the Society of St. Vincent de Paul, the club mustered about 200 volunteers, including people who are not Rotary members, who made sure the event went off without a hitch. About 10,000 book and record aficionados from throughout the Netherlands, and from other countries including Germany and Belgium, attended the sale and took home 60,000 books and 15,000 records.
The club members work throughout the year to organize the fair. The club has drop-off points for book and record donations, and volunteers sort through them twice a week.
The items are categorized by genre, and a coordinator responsible for each category makes the final decision on what will be included in the sale. Most books sell for between 50 cents and $2.50, but those that are new or special can cost between $3 and $50.
Sometimes the club receives a donation of something unique. A few years ago, a dossier of documents related to the history of the city of Papendrecht brought in $8,000. The oldest of the documents, which the city bought, dated to 1328.
"The city of Papendrecht organized a special exhibition with these documents," says club member Peter Elbers, noting that the documents contained previously unknown information about the city's history.
After 33 years, Elbers has some tips on how to organize a successful book and record fair. Most important, he says, is to plan from the start to make it an annual event.
"Don't try to organize such a fair only once," he says. "When people recognize the quality of what you are selling, they will come back."
A reliable volunteer workforce is also a must. Club member Jaap Verhofstad brought his children to help set up and break down the fair. "My children have had a few hours of fun helping out at the fair during the sale," he says. "Our 11-year-old twins are too young for the heavy work — but in a few years we will have two more strong men."
— Annemarie Mannion
• Read more stories from The Rotarian