Young inventor of eco-friendly bricks comes full circle
Binish Desai began working on an eco-friendly brick made out of recycling and waste, when he was 11. The former Rotary Youth Exchange student, inventor, and entrepreneur credits Rotary with giving him the support to pursue his dreams. Now he's giving back through a new Rotary club.
by Geoffrey Johnson photography by Chaitali Mitra
Every hero has an origin story. "I was 10 years old when the entire journey started," explains Binish Desai. It began with a cartoon called Captain Planet, an animated TV series from the 1990s about an environmentalist with superpowers. Desai can still recite the show's refrain: Captain Planet, he's our hero / Gonna take pollution down to zero! "That tagline stuck in my mind," he says. "I wanted to do something to help Captain Planet."
Growing up in Valsad, a city on the Arabian Sea in west-central India, Desai was also a fan of Dexter's Laboratory, another animated TV show, this one about a boy scientist. "So I created my own lab in the corner of our living room in a TV cabinet. And I would always carry something called a 'bag of ideas,' where I would jot down different innovations of mine."
For instance, having learned about evaporation and condensation in school, he noticed the steam that escaped from the pressure cooker when his mother prepared dinner. He created a device to capture that steam, which would then return to its liquid state — water that could be used for gardening. "That was my first invention ever," he says.
"There is nothing that is useless in this world," Desai insists. "The concept of waste does not exist in nature. It's human consumption that creates it, so it's our responsibility to get rid of it. And in the process of converting trash into treasure, we can also generate a lot of employment."
In the nearly two decades since his Captain Planet days — Desai turns 27 this month — he has come up with more inventions; built and lost a company; founded, with his wife, several women's empowerment centers; and generally concocted ways to improve the lives of everyone in his very broadly defined community. Central to his success has been his involvement with Rotary, a relationship that was sparked by a family connection and nurtured by a year in the United States as a Rotary Youth Exchange student. Now, as a charter member of the Rotary Club of Vibrant Valsad, his life in Rotary has taken flight.
Somebody hand that young man a cape.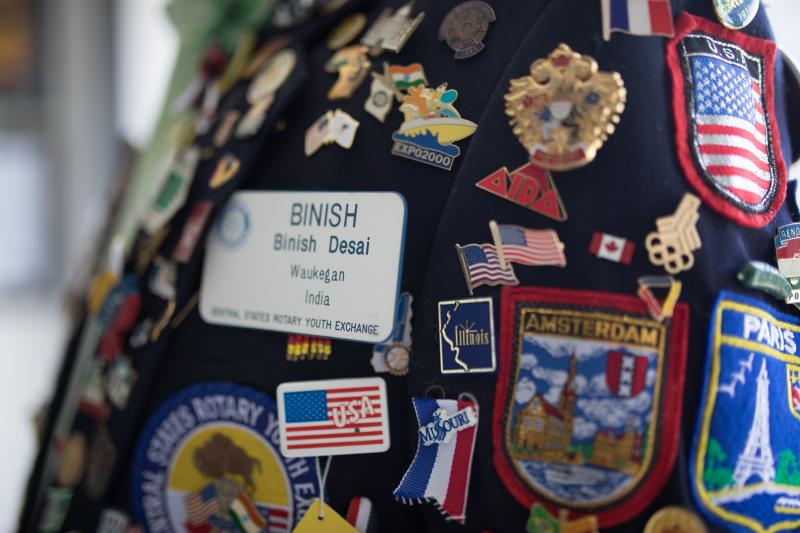 A lifetime of inventing
As Binish continued his scientific explorations, he kept inventing. "The one that led me to the person that I am today," he says, "was the brick. That happened when I was 11 years old."
One day in school, his best friend stuck a wad of chewed gum beneath a desk — and as fate would have it, the gum ended up getting stuck to Binish's pants. He peeled it off as best he could and wrapped it in a piece of paper, intending to throw it away when class was over. Then he forgot about it. At the end of the day, when he finally retrieved it from his pocket, it was rock hard. "I thought, this is really different," he recalls. "I said, OK, I can make stone out of this. I was just a curious kid trying to figure out, why did this happen?"
He formed a new ambition: One day he would build the world's least expensive house — and he would build it with bricks made of chewing gum and waste paper.
At this same time, in school, Binish was learning about how huge numbers of people were living in crowded and unhealthy slums. He formed a new ambition: One day he would build the world's least expensive house for those people — and he would build it with bricks made of chewing gum and waste paper.
Over the days and weeks and years that followed, Desai experimented with different ingredients and proportions, always trying to build a better brick. With each iteration he sought to understand what was lacking and what could be improved. He made small molds out of cardboard and began designing and processing small, durable bricks, with plans to build a dollhouse. "I had no idea how," he says. "I went to cybercafés and looked up stuff on the internet. That's how I learned the basics about how to construct a house."
When he was 15, Desai completed the dollhouse using his bricks. He had demonstrated to his own satisfaction that his plan to build the world's least expensive house was sound. "I started talking about my plan to my family and my friends," he recalls. "People started laughing about it. 'You have gone crazy. How can you make something out of paper and chewing gum? It's not going to work.' "
Finding confidence in Rotary Youth Exchange
At 15, Desai was a self-described introvert, and his self-esteem was low. With people laughing at his ideas, he had begun to doubt himself. But fate had another twist in store for the young inventor.
"In 2009 I got selected as a Rotary Youth Exchange student," he says. "That's why I owe a lot of who I am today to Rotary."
Desai had applied for a short-term exchange, but things headed in a different direction when he went in for his interview. He told the Rotarians about his plans to build the world's least expensive house, and he finally found the receptive audience he had been seeking. The Rotarians encouraged him to apply for a longer exchange, and he spent his junior year at Waukegan High School in Illinois, about 40 miles north of downtown Chicago.
One night, over a dinner of fried chicken, the floodgates opened. In an instant, the introvert had vanished, and he began telling his host parents, Patrick Jimerson and Theodora "Teddy" Anderson, about his bricks and his plans for the world's least expensive house. After listening attentively, Jimerson asked if Desai had a patent for his bricks. (He did not.) He also suggested that Desai might want to pursue this as a career.
By the end of his exchange year, Desai says, he had transformed into a different person. "I was friends with everyone, and everywhere I went, I would talk to people. I made new friends because I started sharing my inner thoughts about how I viewed the world." With Jimerson's help, Desai secured a patent for the formula behind his bricks. And when he returned home to India, he knew the exact direction he wanted his life to take.
Jimerson died in 2016, but Desai returns to Waukegan each December to visit with Anderson, just as he promised Jimerson he would. "Rotary Youth Exchange changes you forever," he says. "Once an exchange student, always an exchange student. Now I have a family all around the world."
Founding an eco-friendly company
Back home, Desai announced his plans to start a company, called B-Dream, to manufacture his eco-friendly bricks from chewing gum and paper waste. The response was mostly negative. A profile of him in the local newspaper concluded (as Desai recalls) that he was "either an immense genius or the craziest person I've ever met. Only time will tell."
Even his parents expressed their doubts, convinced that their son was going to throw away his life on an "imaginary" endeavor. Part of their concern stemmed from their fears about how the rest of Valsad would view his plans. "My family had quite a name in the community," says Desai. "Someone working with waste and coming from a family that was socially prominent was kind of taboo. 'Hey, he's bringing down the family's name.' All that pressure made my parents think they could not support this craziness of mine."
Desai was undeterred. After graduating from high school, he enrolled at Veer Narmad South Gujarat University, where he would earn a degree in biotechnology. (He would go on to earn an advanced degree in environmental engineering.) While working toward his undergraduate degree, he persuaded a local paper mill to let him take over a small abandoned parking lot on its property. The mill was already paying a large sum to another company to haul off its paper waste; in exchange for the lot and a significantly smaller sum of money, Desai agreed to haul away some of that waste himself. He also persuaded a chewing gum manufacturer to give him its offcut waste. (In the process of making chewing gum, Desai explains, some of the gum base is cut and thrown away before the sweetener is added.) With those materials and his patented blend to hold them together, Desai now had everything he needed.
Working in the open parking lot, Desai began making bricks. "I was the labor," he says. "I would only get in two to three hours a day, because it would be evening by the time I reached the place. Working there was difficult, and then I had to go back home because I had an early morning train to catch to school." Despite the difficulties, after eight months, he had 4,000 bricks. The paper mill needed a watchman's cabin, which Desai built, successfully demonstrating the feasibility of his vision. (Eventually the cabin was dismantled and the durable bricks were used to build the office from which Desai works today.) "I had made my first house," says Desai. "Now it was time for me to start mass production."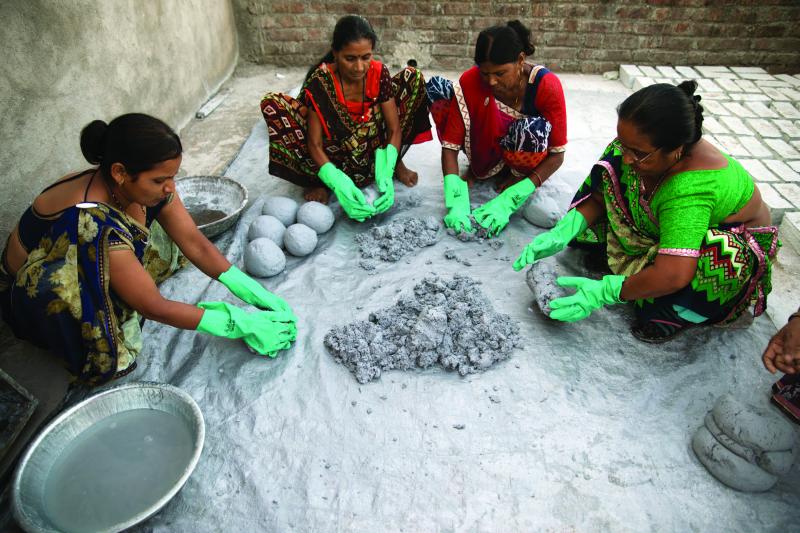 Houses and toilets from recycled bricks
Desai used his bricks to build about 70 houses, but he found they were in even greater demand for the construction of public toilets. In 2014, Indian Prime Minister Narendra Modi had launched a nationwide campaign called Swachh Bharat Abhiyan, or the Clean India Mission. Its goal was to reduce litter, encourage recycling, and end the practice of open defecation. Because Desai could manufacture public toilets at 40 percent of what it cost his competitors, his product was in great demand.
The toilets were also Desai's ticket back into Rotary. "Rotary has been running in my veins ever since I was born," he says. His grandfather was an honorary Rotarian, and since 1994 his father has been a member of the Rotary Club of Valsad, the same club Desai joined in 2015. As ever, he had grand ambitions. "It's easy to become a Rotary member, but it's very difficult to become a Rotarian," he says. "I wanted to be a Rotarian."
Desai began by proposing a sanitation project to the club's president: installing two public toilets made with his bricks in a rural village near Valsad. His role model was none other than Rotary's founder. As Desai recounts with some delight, "Paul Harris' first service project was also a community toilet," part of a "comfort station" movement in Chicago in 1907. The toilets in the village were the first of several that Desai would install with his club, but his experience there had a greater impact on his thinking than he expected.
"We call them women entrepreneurs, not women workers. To honor them, all of these products bear their fingerprints. It gives uniqueness to the products we make."
As the Rotarians installed the toilet, a woman approached Desai. "Why are you building a toilet here?" she asked angrily. "I cannot feed my own daughters. How would I be able to maintain this thing?" Desai had no answer. He wanted to help her, but he didn't know how. The answer would come in time.
Desai's business thrived, but needing investors to provide the funds to fulfill his contracts to build toilets across India, he slowly lost control of his company. Ultimately he was forced out and left with nothing — except for his patent on the binder that was essential to the manufacture of his low-cost, environmentally friendly bricks. Desai started a new company, EcoEclectic Technologies, which works with industrial companies to recycle paper, plastic, and metal waste into products such as paving blocks and artificial wood panels. "That's what I like to call a disruptive innovation," he says. "It's something that changes the perspective of people in a positive way. They start seeing things in a way that helps change the community. It's not just about creating a particular product, but actually being helpful and breaking through the barriers that society has created."
Starting a new Rotary club
Desai analyzes his products by scrutinizing the "triple bottom line," looking at things from financial, social, and environmental perspectives. "All three things together, kept under one balance," he says. "That's the basis of all our products." That kind of thinking earned Desai a spot on Forbes' 2018 list of Asia's top social entrepreneurs under 30. It also earned him a new sobriquet: the Waste Warrior.
The new company also provided answers to the questions posed by the woman upset by the installation of a public toilet in her rural village. With his wife, Dhriti — the couple married in January 2019 — Desai founded a micro-social enterprise called Eco Lights Studio. The company employs women in rural India to make lamps, clocks, jewelry, and other products from industrial waste. The women work from their homes on their own schedule and earn significantly more than they would at the menial jobs otherwise available to them. "We call them women entrepreneurs, not women workers," says Desai. "To honor them, all of these products bear their fingerprints. We highlight this. It gives uniqueness to the products we make."
Desai had one more grand plan up his sleeve: "I got together 30 young professionals and I said, 'Let's start a new Rotary club and create a difference in the community.'" Chartered in October 2018 with a membership that included many second-generation Rotarians, the Rotary Club of Vibrant Valsad took on, as one of its first projects, the creation of a women's empowerment center, a facility where local women can acquire the skills to make a better life for themselves and their families. Eco Lights Studio is a partner in the venture, and Desai intends it to serve as a model for women's centers in other towns. Today, his once-trepidatious parents express pride in their son's accomplishments.
"The main idea is not just to create employment, but also to uplift these women," says the Waste Warrior. "It's always been my goal to help someone in need. I hope to give back to Rotary and to the community what Rotary has given to me" — exactly as Captain Planet and Paul Harris would have it.
• This story originally appeared in the August 2020 issue of The Rotarian magazine. Additional reporting by Andrew Chudzinski.