Aid for an ailing planet
Rotary members respond to worldwide climate-related disasters
By Etelka Lehoczky, with reporting by Seoha Lee
Ioannis Chalikias describes the recent wildfires that have raced out of control across the Greek island of Rhodes, where he makes his home.
"The effects of climate change are now evident here as well," says Chalikias, a member of the Rotary Club of Rhodos, about the July and August fires. "The increase in temperature, combined with the strong winds, did not allow the fire department to put out the fire immediately. The hot ground rekindled the fires. As a result, they spread to a very large part of the island."
Countless people around the globe have endured climate-related disasters this year. Record temperatures have fueled wildfires from North America to North Africa, while unusually heavy rains have caused flooding from central Europe to the Pacific Rim.
"The anomalously high temperatures during this year's summer, which broke records in several places, would have been highly unlikely in a world without climate change," says Mariam Zachariah, a research associate at the Grantham Institute – Climate Change and the Environment at Imperial College, London. "We now see unusually high amounts of rainfall during shorter periods, triggering landslides and flash floods – again, consistent with our knowledge that a warmer atmosphere can hold more moisture and therefore lead to heavier showers."
Rotary International President R. Gordon R. McInally and Trustee Chair Barry Rassin addressed the situation in a letter to all members.
"July 2023 was the hottest month in recorded history by a wide margin – and perhaps it's time that we sent a disaster condolence letter to our ailing planet," they wrote. "But this is not a message of defeat and despair. The Rotary world has stepped up in this time of crisis to offer immediate relief."
Rotary members around the globe have taken action to assist people affected by wildfires, floods and landslides. Here's how.
Hawaii, United States
At least 111 people have died and more than 1,000 are still missing following devastating wildfires in Maui, Hawaii. Rotary is collecting donations to support recovery and provide aid to those affected.
Rotary District 5000 (Hawaii, USA) is collecting monetary donations to support response and recovery efforts. The Rotary Club of Kahala Sunrise, Hawaii, is asking for physical donations for those affected by the wildfires in Maui.
Greece
Three successive heat waves led to deadly wildfires in Greece in July and August, killing at least five people. On the island of Rhodes, more than 20,000 residents and tourists were forced to evacuate.
Rotary members on the island immediately sought ways to help.
"We had one member who traveled to the areas where the fire was," says Vasileia-Nektaria Moutafi, president of the Rotary Club of Rodos-Kolossos. "One of the first things he told us was that the firefighters needed more hoses and other equipment."
Many of the hoses the firefighters were using had been damaged by the heat. Rotary members got specifications for new hoses from the firefighters, ordered them, and delivered them to the places around the island where they were most needed. The members also donated gloves, masks, shovels, and sprayers.
"The sprayers can be worn like a backpack, and they can put out smaller parts of the fire," club member Ioannis Achladiotis explains.
After that, members focused their attention on helping the thousands of people fleeing the fires.
"It was amazing how all the volunteers acted as one big family and one team," Moutafi says. "This was from all age groups, including young people from 14-15 years old. It was a combination of social media and word of mouth – just picking up the phone and calling each other."
Some volunteers helped set up shelters and transported people there on buses and boats. Others provided beds, linens, toiletries, food, medicine, and baby food. Club members who are doctors and social workers donated their services. The Rotary clubs of Rhodos and Rodos-Kolossos have also started two fundraisers that have more than US$10,000 in donations pledged.
The members didn't forget the island's animal population. The native deer, called dama dama deer, are a beloved symbol of Rhodes. Rotary members set out food and water and tried to guide the animals toward safe areas.
"Physically and mentally, our members have dedicated themselves to doing everything possible," Moutafi says. "I feel very proud."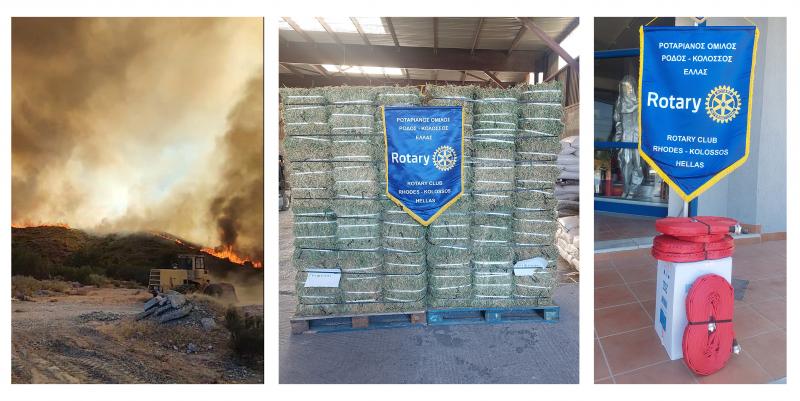 Pakistan
Pakistan is still working to recover from massive flooding last year that killed at least 1,700 people and left millions more without homes. More flash flooding this year has already led to the deaths of about 200 people.
Rotary clubs across the country have taken the opportunity to not just rebuild destroyed villages, but to build them better. They've erected shelters, upgraded water and sanitation systems, and improved health and hygiene facilities for about 200 families in two villages. In August, the project is expanding to six more locations.
"Our members in Pakistan thought this to be an ideal opportunity to influence change in our villages," says Muhammad Faiz Kidwai, a Rotary International director and member of the Rotary Club of Karachi Karsaz.
The new buildings are designed to have zero carbon impact. Instead of materials like concrete, which has a large carbon footprint, they're constructed of bamboo, mud, and lime. They're also elevated above ground level to help withstand future flooding.
"The shelters are not just resilient to disasters, but environment-friendly too," Kidwai says. "The best part is that the labor was provided by the villagers. They built these shelters to improve themselves."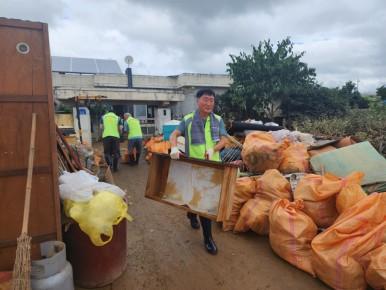 Korea
In Korea, heavy rains and landslides in July killed at least 47 people and left more than 10,000 homeless. The devastation was spread across the country, but so is Rotary.
In eastern Bonghwa County, about 50 members from five Rotary clubs in District 3630 visited homes that were damaged by landslides. They spent more than 10 hours removing furniture and household items, cleaning inside the homes, and clearing away piles of dirt outside.
"The actual scene of the damage was much worse than the pictures show," says Jong-il Kim, secretary of the Rotary Club of Bongwha. "It was dangerous and scary because the house was about to collapse, but we carried out the work carefully to ease the worries of the residents."
In Geumsan County to the southwest, about 50 members from four Rotary clubs in District 3680 cleaned up a restaurant that had been buried in silt from a mountain landslide.
And in the city of Cheongju, in the central province of North Chungcheong, a flooded underpass killed at least 13 people. Waist-high water also caused severe damage. Members of the Rotary Club of Cheongju-Musim spent about six hours cleaning flooded homes and stores.
"The residents told me that they were so grateful that we came, and that it gave them the courage to go on with their lives," says Joung Ho Kim, the club president. "But their faces were still filled with worry, and I can't help but think of ways to help them in the future."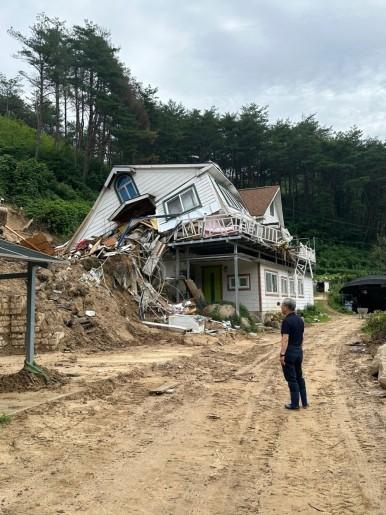 Algeria
The thickly forested region around the Algeria-Tunisia border is prone to fires. Even so, the wildfires that have erupted all over the area since last year are more intense than ever before.
"These fires spread quickly, helped by strong winds. There were many casualties," says Abderrahman Ali Khodja, a member of the Rotary Club of Alger Espérance.
Khodja's club has been providing essential support to the village of Igreb, in the Djurdjura mountains, for eight months.
"We took charge of a landlocked village of 800 inhabitants. It was totally ravaged by the flames," Khodja says. "All the olive trees in the town had been charred. The population lives essentially from olive growing, oil processing and the sale of olive oil. They have lost almost all their olive trees. It's their only source of income."
First, the club members distributed food and hygiene products to residents. As winter approached, they donated blankets and heaters. Then they organized the distribution of building materials. Most recently, they donated six sewing machines and arranged for 30 women to learn how to use them.
"When we finished … it was an intense moment for us," Khodja says. "The joy of the women sewing outfits for their children brought tears to our eyes. What happiness, what pleasure, to give joy to those who need it."
— 18 Aug 2023