Our clubs
Multiplier effect
Rotary Club of Vancouver Yaletown, British Columbia
At first glance, everything about the Rotary Club of Vancouver Yaletown seems modest: its meeting space (a cozy conference room in the lobby of a downtown high-rise); its roster (11 members at the start of this Rotary year); even its short list of past presidents (several of whom have held the office more than once in the club's 10-year history).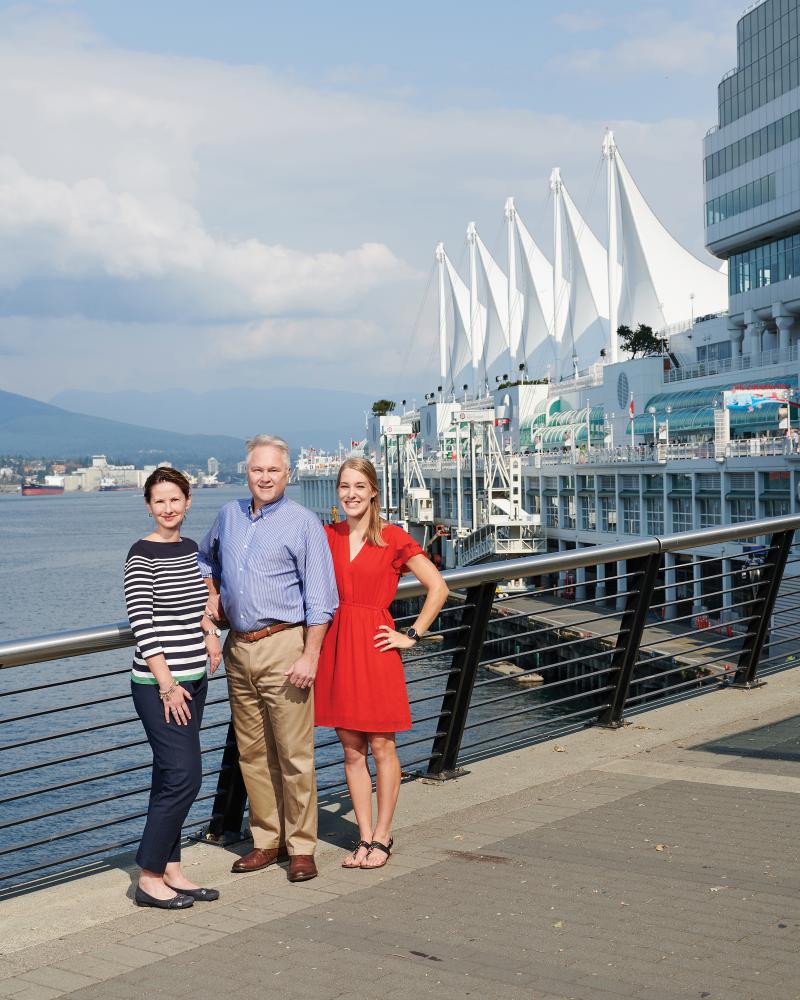 But Yaletown's achievements are disproportionate to its size. The secret to the club's success? Every member is an active member.
"We're a small club, but we do great things," says Neil Mort, who is in his second term as club president. "They call us 'the little club that could.'"
Indeed, the calendar that Mort projects onto the wall during a recent meeting is packed with activities: fellowship and service opportunities; networking, fundraising, and outreach events; and a celebration of the club's first decade.
Yaletown Rotary was founded in 2008 by Rotarians who wanted a structure that was more economical and convenient than their traditional clubs. They meet for one hour right after work, with no meal, and plan social activities and patronize local businesses together.
The club is a favorite of out-of-town Rotarians. "We have visitors all the time because of our location," says Jane LePorte, club secretary and youth services director. The Yaletown neighborhood sits at the southern end of Vancouver's downtown business corridor, about a mile from where the cruise ships dock at Canada Place. High-rise buildings tower above street-level boutiques and sidewalk cafés. Restaurant menus reflect the city's many cultures. A few blocks from the club's meeting place, water taxis zip back and forth across the False Creek waterway to the Granville Island Public Market. A popular bike path parallels the park-lined shore.
As members joke around and discuss plans for their 10th anniversary party — which, it appears, will likely include either polka dancing or the use of a club member's recently acquired karaoke machine — it's clear that this isn't just a Rotary meeting; it's a gathering of friends.
The club's outgoing nature is reflected on its active social media accounts. Its Instagram page has more than 600 followers, and members recently used Facebook to launch a fundraising campaign called the Every Drop of Talent Challenge, which called on supporters to post a video of themselves performing their talent, then tag three friends to do the same or to make a donation.
Another tip for small clubs? The Yaletown Rotarians piggyback on other groups' outreach events, such as a Canada Day celebration put on by the Rotary Club of Lionsgate, which drew more than 20,000 attendees to a park in North Vancouver, a town across the harbor from Vancouver. Yaletown Rotary hosted a booth that featured a small pool filled with dirty water. "People came by and said, 'What's that?'" says Karen McDiarmid, membership chair and two-time past president. "We said, 'Do you want to drink this water, or do you want to drink clean water?' Then we'd get a conversation started."
The Yaletown club's focus on clean water came after hearing a presentation on rainwater collection last year. The club decided to partner with the Rotary Club of Hurlingham-Nairobi on a project that aims to bring fresh water to four rural schools in Kenya via a rooftop collection system.
"There's a desperate need for water there," Mort says. "They simply don't have a water source that's close by and sustainable." During the dry season, children sometimes have to walk up to 20 kilometers per day to fill a 5-gallon bucket with water of questionable quality. "That's all they do all day," he says. "They don't go to school."
At the Canada Day event, a volunteer face painter and a stack of coloring pages kept kids busy while their parents learned about the project. The back of each coloring page featured information and a link to the club's fundraising page. "We decided as a group to commit to the project," says Mort, who traveled to Kenya for a site visit last year. Other members are promoting the project on social media.
There are challenges to being a small club, but there are also advantages. Unlike some clubs that have time for only a few members each week to share their news and contribute "happy dollars," at Yaletown meetings, every member shares a happy thought each week and drops some coins in a can.
When everyone is engaged, a little can go a very long way.
– Kim Lisagor
• Read more stories from The Rotarian