6 questions about
Restoring the home of Rotary's founder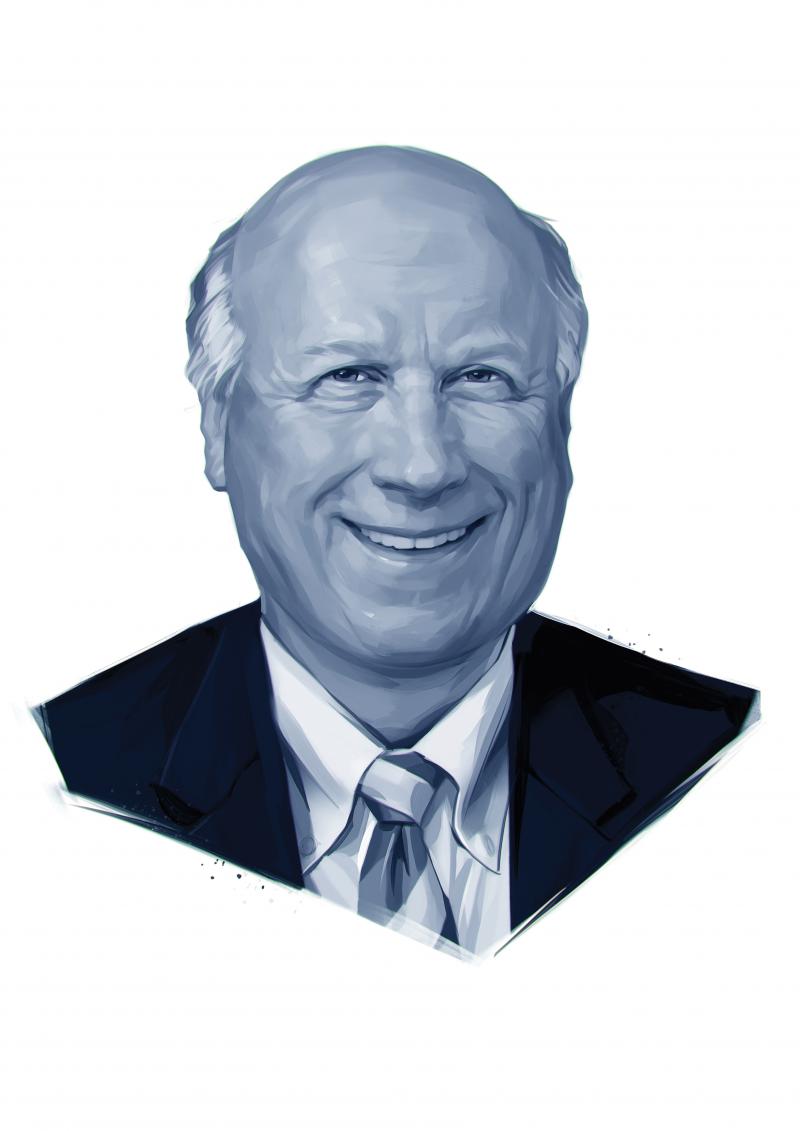 with Robert C. Knuepfer Jr.
2017-19 RI director; restoration project chair
1. You've been working on the restoration of Paul Harris' home in Chicago for several years. What does it look like now?
The exterior is mostly finished. We put a large addition on the back of the house that accommodates at least 40 to 50 people. We envision that any Rotary-centric organization, from Interact to Rotaract to Rotary clubs, could rent it as meeting space. We're still working to restore the interior to what it looked like in 1947 when Paul Harris passed away. He lived there from 1912 to 1947, so we are using old photographs to replicate the furniture and decor of the time. We will also display artifacts, like a baseball Paul Harris threw out at a Cubs game in the early 1900s.
2. Have there been any surprises during construction?
When we restored the kitchen to its original footprint, we discovered a staircase to the second floor. A subsequent owner had enlarged the kitchen and in doing so closed off the stairwell. We also found a small opening in the wall between the original kitchen and the living room. It was a little pass-through that the Harrises added so Jean could easily pass Paul his tea. A later owner had also remodeled the area above the enclosed porch to build a fourth bedroom. We took out that bedroom to restore the balcony where Paul Harris liked to sit outside. He loved nature. The homes in the area are on wooded lots, and there used to be a forested park across the street. It was an affluent neighborhood in the early 20th century.
3. Why is this project important to you?
From a historical perspective, this is an iconic residence. From an American point of view, it's the Mount Vernon of Rotary — the home of our first president. Many other early Rotary members also gathered there. Founding member Silvester Schiele lived directly behind Paul Harris, and it's said they wore a path between their back doors as they plotted the future of Rotary.
4. What do you need in order to finish?
Our fundraising goal is $5 million. We need $2 million to pay back loans and finish construction. The other $3 million will be used to create an endowment that will maintain the property in perpetuity. We have already raised $1.5 million, and we hope to raise the rest by the end of this year.
5. How can clubs help?
There are many ways to participate financially — from modest gifts to major ones. There are also naming opportunities. For example, a club could buy an engraved brick to go in the driveway for $1,000. Each room in the house is available for naming. The information is at paulharrishome.org. Members can also reach out to me directly at rknuepfer@rotaryone.club.
6. What do you hope people who visit the home will take away from the experience?
The knowledge that Rotary is the greatest humanitarian organization in the world. Restoring the home of our founder will allow generations of Rotarians — including those who have not even been born yet — to learn more about Rotary and see what life was like in the early 1900s, when the Rotary story began. That's a legacy that will last forever, and I hope others will agree and share in that vision.
— Vanessa Glavinskas
• Illustration by Viktor Miller Gausa
• This story originally appeared in the July 2019 issue of The Rotarian magazine.