International Inspiration
A princess, 3 prime ministers, and a former first lady join 25,000 in Toronto to celebrate Rotary's good work and plan more of it
By Arnold R. Grahl and Geoff Johnson Photos by Alyce Henson
Toronto, the Capital of Nice, opened its arms this week to welcome 25,188 Rotarians from around the world, who came to Rotary's annual convention looking for inspiration — and finding it.
Whether it was by seeing old friends in the hallways, making new connections in the House of Friendship, or listening to eloquent speakers at general sessions, attendees found plenty at the 109th Rotary International Convention to remind them of the fellowship that binds them and the diversity that Rotary embodies.
"Now, we are sisters forever," said Rhonda Panczyk, of the Rotary Club of Rochester, Michigan, USA, after spotting and embracing Ijeoma Pearl Okoro, past governor of District 9141 (Nigeria). The two women had met at the West African Project Fair last year, partnered on an immunization drive, and kept in touch on Facebook.
First-time convention goer Serge Sourou OGA from Ghana said that meeting people from all over the world was definitely the highlight of the convention for him.
During the four-day event in Toronto, Ontario, Canada, speakers praised, prodded, and partnered with Rotary. Her Royal Highness The Princess Royal, Princess Anne, expressed thanks to Rotary for taking a central role in working to eradicate polio. Former first lady of the United States Laura Bush challenged Rotarians to keep early childhood education a priority.
Helen Clark, former prime minister of New Zealand and one of the architects of the United Nations Sustainable Development Goals, joined RI President Ian H.S. Riseley for a discussion about gender equality and the crucial link between the environment, poverty, hunger, and peace.
In a video message, Haitian Prime Minister Jack Guy Lafontant addressed the convention before the announcement of the creation of HANWASH, a collaboration between Rotary and the Haitian government's water agency that will tackle that nation's water and sanitation challenges.
Canadian Prime Minister Justin Trudeau, accepting Rotary's Polio Eradication Champion Award, thanked Rotary for working with governments worldwide to eradicate polio. Rotarians play a critical role in the fight to end polio, Trudeau said. "Together we will make that happen."
The convention got its unofficial start Friday, 22 June, with a two-day Rotary Peacebuilding Summit that featured a speech from Dr. Tererai Trent and insights into Rotary's partnership with the Institute for Economics and Peace.
Monday's general session included powerful personal stories from John Hewko, Rotary's general secretary, and Caryl M. Stern, president and CEO of UNICEF USA. Both had parents who had fled Europe as refugees during wartime. In the sessions that followed, other speakers discussed various aspects of Rotary's six areas of focus.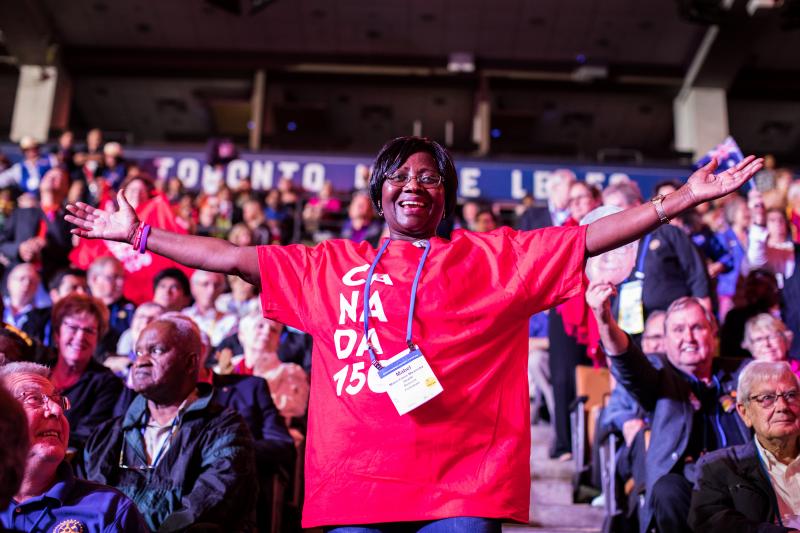 Rotary is about service, and Rotarians had plenty of opportunities to be inspired to do bigger and better projects during the general sessions and breakout sessions.
LeapFrog co-founder Jim Marggraff, of the Rotary Club of Lamorinda Sunrise, California, USA, described the Dari and Pashto versions of the popular education tablet that his company created to teach Afghan women literacy skills. Marggraff also talked about the ways his company has been partnering with Rotary to develop virtual reality technology to advance service efforts.
Dr. Isis Mejias, a former Rotary Ambassadorial Scholar and member of the Rotary E-Club of Houston, Texas, USA, stressed the importance of water, sanitation, and hygiene. And former Rotary Youth Exchange student Dr. Jane Nelson explained how Rotary can work with the business community to make a difference in economic development.
The convention was also filled with enthusiastic young men and women who had gathered to celebrate Rotaract's 50th birthday.
The convention concluded Wednesday with an appearance by the Fab Fourever, who sang, in German, two early songs by the Beatles. The Beatles honed their performance skills in Hamburg, the site of next year's convention.
John T. Blount, the 2019 Hamburg convention chair, encouraged each person at the Air Canada Centre to take a selfie with the person next to them and send it to a friend with the message, "We're having a great time in Toronto and want to see you next year in Hamburg."
Sixteen former Rotary presidents and their partners appeared on stage, and Rotary's next president, Barry Rassin, motivated convention goers by speaking on his 2018-19 theme: Be the Inspiration.
And in a gracious gesture to his successor, Riseley finished his closing remarks by urging listeners: "It is vital that we be the inspiration."
The 2019 Rotary International Convention will meet in Hamburg, Germany, 1-5 June.
More convention coverage